NEW YORK (TheStreet) -- For most companies, Twitter (TWTR) provides a place for self-promotion. A vehicle for customer engagement.
For Sears Holdings (SHLD), Twitter often spotlights the company's failure. Not the standard somebody erred in judgment and tweeted something offensive failure. But the organization-wide, attitudinal and operational failure that defines Sears.
Over the weekend, I was in Toronto. While on Yonge Street by the Eaton Centre, I snapped pictures of the Sears store that, at one time, anchored this mall.
Now the store's empty, leaving a hole in the heart of Toronto, literally and figuratively.
Toronto will be fine. It's a vibrant city. If it can live and thrive through Rob Ford, it will persist without Sears in the Downtown Core. But the results of Sears's patheticism sting a bit more elsewhere, particularly in smaller towns and resurgent places such as Oakland.
Anyway, the response from the official Sears Twitter account to my posting of these images is telling. It speaks to the cluelessness -- the culture of obviousness -- that mires so much of physical retail.
Here are the images and, after the click to Page Two, the Tweet that shows that Sears lives in a different world than the rest of us. One marked by delusion and blissful ignorance.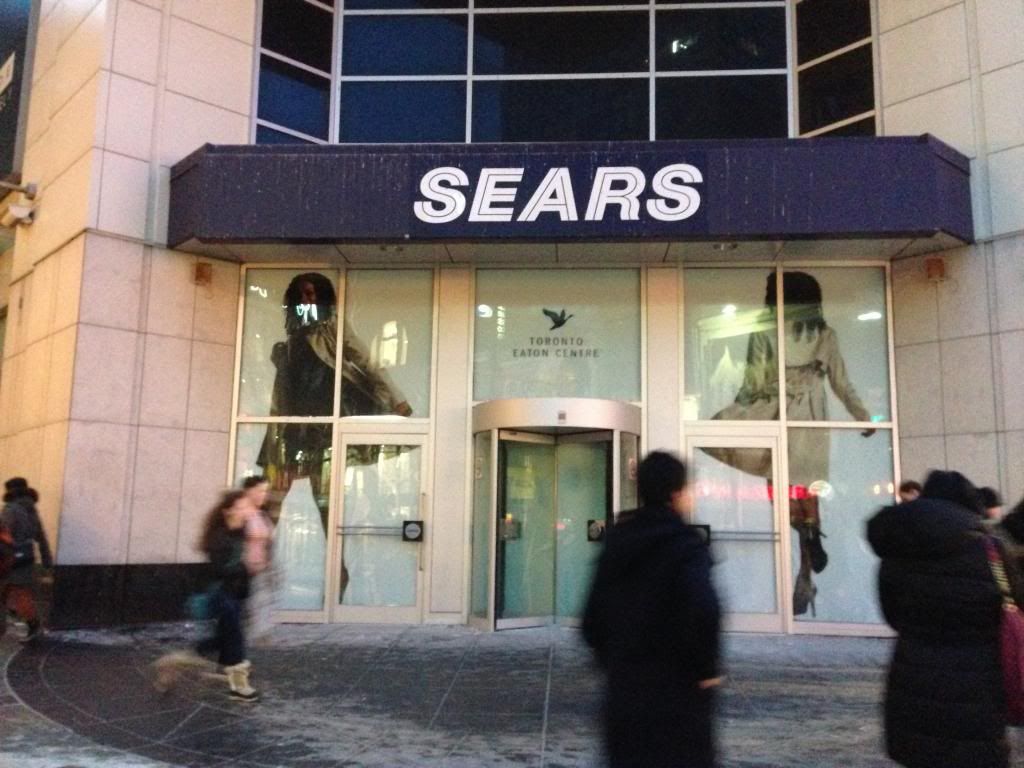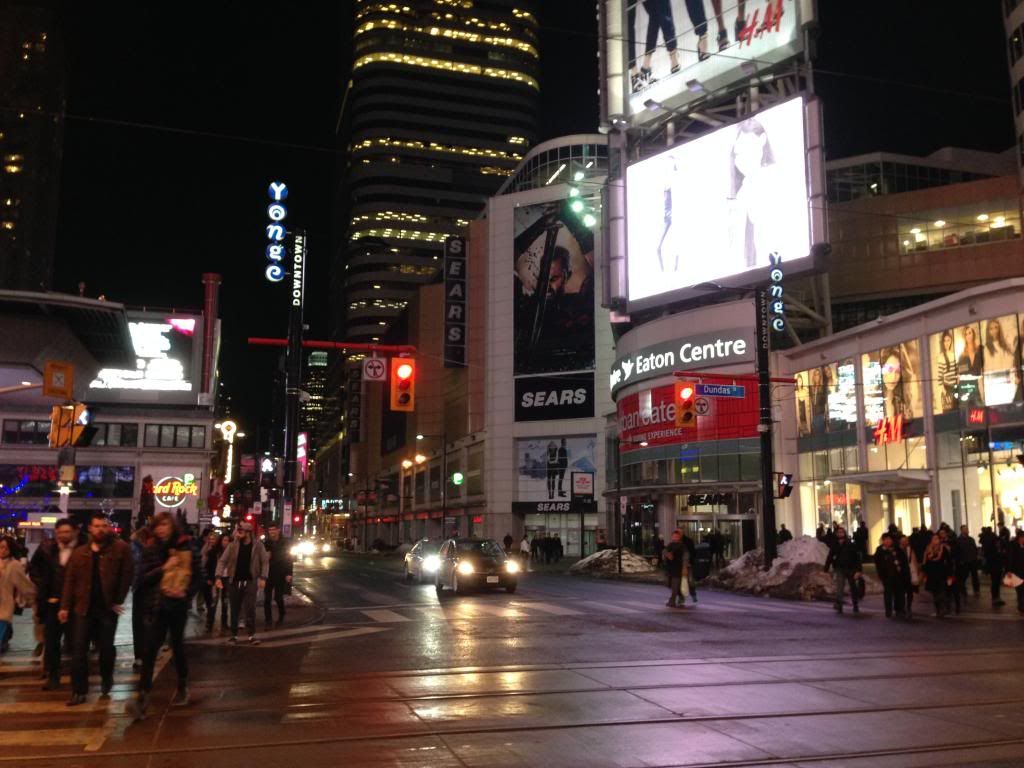 @der_felix606 @BrianSozzi @Rocco_TheStreet Don't forget you can ALWAYS find us online: http://t.co/7qas26EjH0. :)

Sears (@Sears) March 8, 2014
That response might seem benign, but it's not. And I'll tell you why.
Sears -- from whomever runs its Twitter account to its delusional CEO Eddie Lampert -- operates from the most basic level of thought.
Because you can ALWAYS find (Sears) online the company seems to think it has addressed its problems. However, in all actuality, the comment and, more importantly, the innocent and well-intentioned sentiment that triggered it is the problem at Sears.
Catching up with the rest of the world, after a decade-long butt kicking by Amazon.com (AMZN), in no way indicates accomplishment at any level. In fact, each time I hear Sears or Best Buy (BBY) or J. C. Penney (JCP) mention a rise in online sales -- and hold it up as some sign of progress or, worse yet, success -- I get more pessimistic about their long-term prospects.
Amazon is not successful simply because it sells merchandise online. Amazon is successful because it provides a compelling proposition to consumers. For years it has visioned and effectively created a complete e-commerce ecosystem that lures people in to the cult of Amazon Prime.
If all you had to do to be a successful retailer is put your junk online, we'd all be CafePress (PRSS) millionaires.
Clearly, Sears doesn't understand this. It can't quite wrap its head around the gravity of the situation it's in.
That in one of the most highly-trafficked areas in the one of North America's most vibrant cities, it had to close its brick and mortar doors. The sidewalk outside of its now-shuttered flagship Canadian location carries thousands, if not millions of bodies per day. Yet Sears couldn't make this prime real estate work.
And we could talk about downtown Chicago as well as other failures.
Sears isn't closing these stores because its consumer moved online. If it thinks that's the trajectory it's working within, it's more delusional than even its Twitter account and Lampert's narcissistic public comments let on.
If it were that simple -- you can ALWAYS find us online -- Apple (AAPL), for example, would have no physical presence. But it does. And it continues to grow. Because Apple's a viable brand, selling products people want in environments they like to be in.
Apple's physical presence drives Apple's online success. And vice versa.
With its present leadership setting the tone, Sears will remain five to ten years behind the curve. It will chase what it thinks names such as Amazon.com and Apple have done to find otherworldly retail success. But it doesn't have anything beyond a horribly shallow understanding of what they did to achieve it.
--Written by Rocco Pendola in Toronto, Ontario, Canada