Class of service aside, I experienced something on this flight I have never experienced before. And even though I fly quite a bit, it was weird. I'd go so far as to say it was unsettling.
Prior to takeoff for about 15-20 minutes, immediately after we departed for a few minutes and for longish stretches during the final hour or so of the flight, I (or we, as this was not lost on my fellow passengers) could hear dogs barking in the cargo hold below the business class cabin. I'm not sure what the rules and regulations are that govern the transport of live animals, but, boy, when the barking was in full effect, I felt like I was watching one of those animal cruelty television commercials. The ones narrated by Sally Struthers that feel like they never end as they proceed to rip your heart out.
Mind you, I'm not griping about any emotional or sensory discomfort this might have caused me ... I just felt bad for the dogs. Maybe science shows that through the barking the dogs were just fine, but, even still, I'd never put my dog through that. Somebody needs to administer a stronger sedative or do something different next time around.
My other gripe -- and I don't mean to provide fodder for Louis CK -- but no WiFi!
In 2014?
How can you call it business class without WiFi? There's no excuse for no WiFi. Strike a deal with GoGo (GOGO) and make sure every plane that leaves the ground, no matter how long it will be in the air or where it's going, has WiFi.
Other than that, business class in the international business class configuration on Air Canada was pretty good. But it's a luxury I wouldn't suggest affording yourself unless you can really, really, really afford it.
Is it worth an upgrade fee of roughly $800 (you can do this at check-in) on top of a base fare of just under $400 one-way (that's what I paid when I booked the flight in December for a preferred seat in row 12 of economy class) or between, from what I gather, $1200 to well north of $3,000 at the time of booking?
Absolutely not. So if you're not a millionaire, don't do it. You're much better off blowing that cash elsewhere or saving it.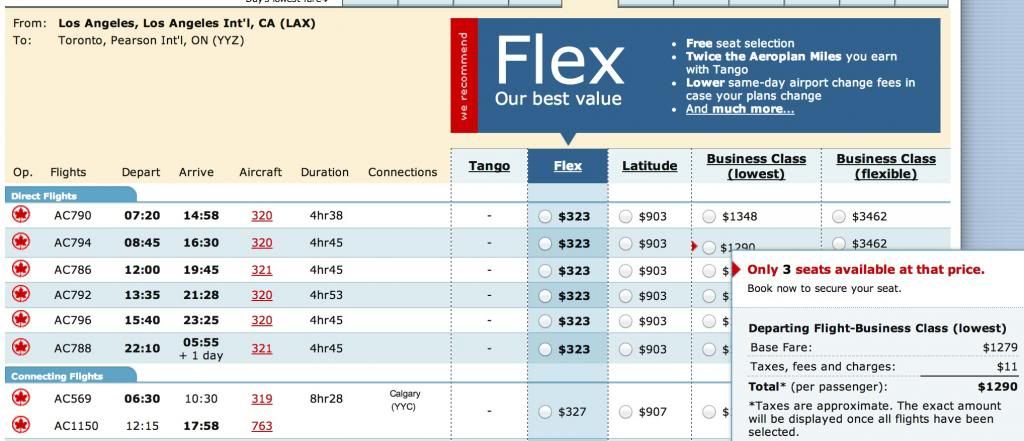 I'd take Virgin America's first class service in a heartbeat. You can upgrade to it, most of the time (at check-in), for around $300. And, while you don't get the private pod or lie-flat seat, you get pretty much everything else the way more expensive business class on Air Canada offers.

In fact, I reckon Sir Richard Branson needs to fashion and commission a license plate frame that reads: I'd rather be flying Virgin America.
The seats on Virgin are just as comfortable. The food selection on par. And the drink selection much better. Virgin also wins on entertainment options with live television. Though, as a honorary Canadian, who grew up on the border and loves Canadian TV, it was fun to be able to watch (limited) on-demand programming from the CBC. I spent a good two hours with Peter Mansbridge and George Stroumboulopoulos interviewing everybody from the great Bobby Orr to awesome Canadian astronaut Chris Hadfield.
So, onto the experience, in pictures ...