NEW YORK (TheStreet) -- Inspired by Henry Blodget's fine work earlier this year at Business Insider, I decided to chronicle my experience flying business class. While Blodget flew Lufthansa from New York to Dusseldorf in what looked like an extra large first class seat, I experienced business class in my own semi-private pod with a full-recline, lie-back seat on Air Canada.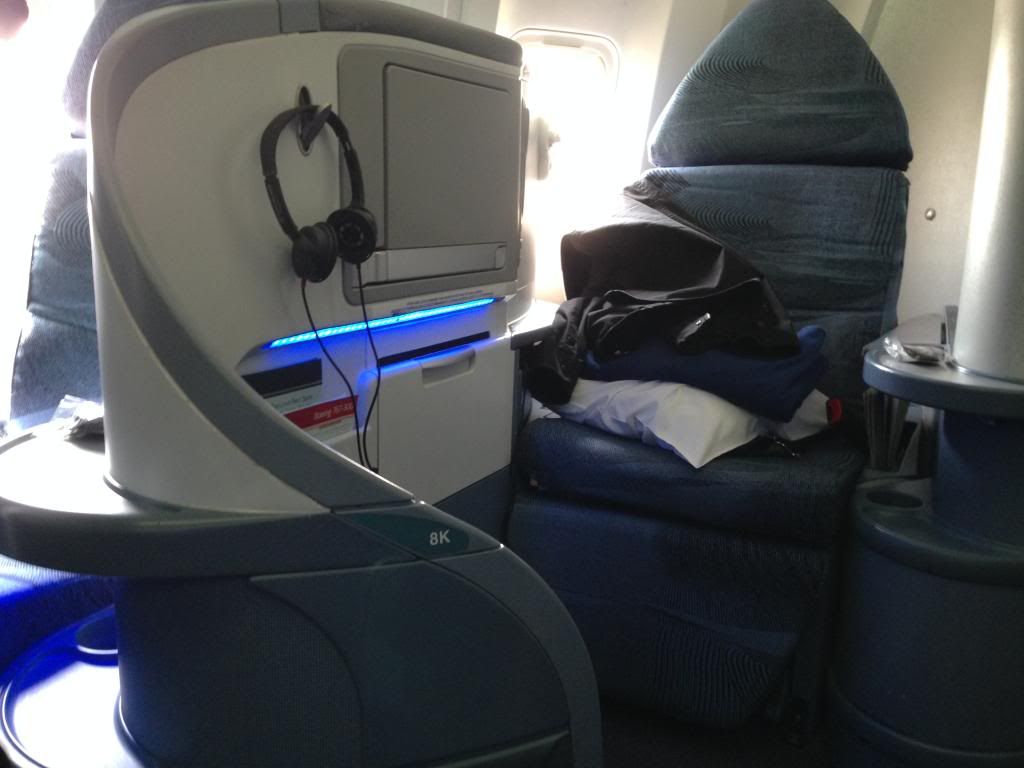 That was one of my neighbor's seats. I'll include more vantage points later in this article.
The media relations folks at Air Canada tipped me off to an important distinction regarding the class of service I flew. On my flight -- number 792 from Los Angeles to Toronto aboard a Boeing (BA) 767-300 -- I received business class service with Air Canada's international business class seating configuration.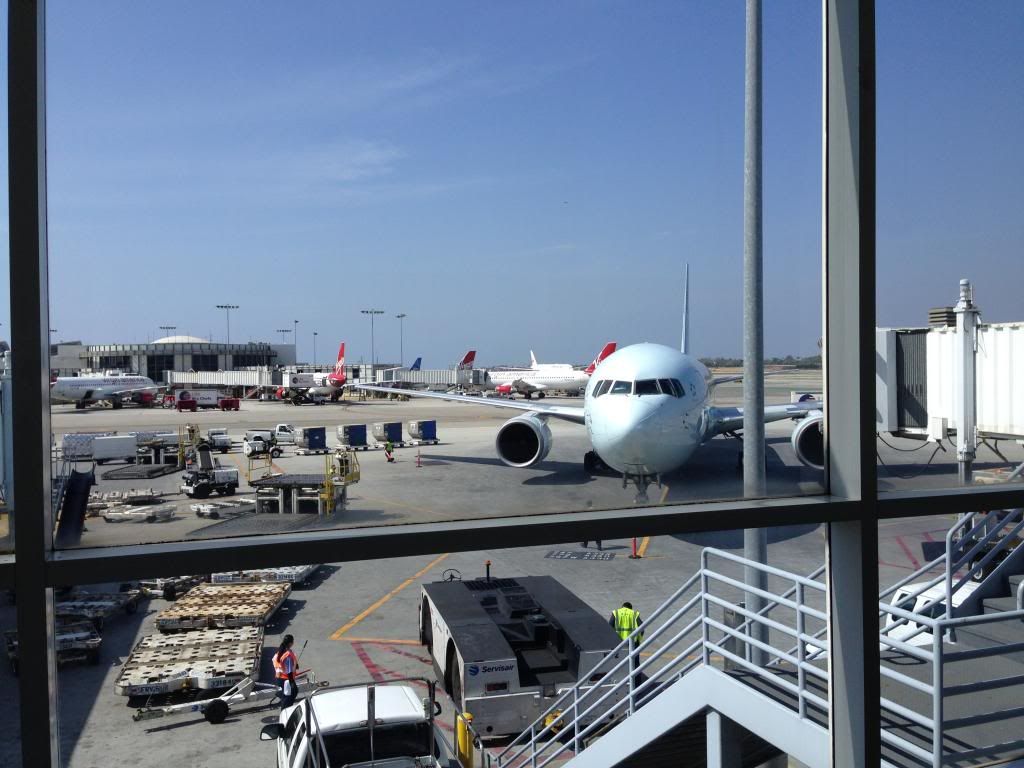 Fine jet, though I would have rather been on one of these monsters (which I have never flown before) or one of those Virgin America (after they IPO we'll be writing that as a ticker symbol!) Airbus numbers I most often hitch a ride with seen in the background above.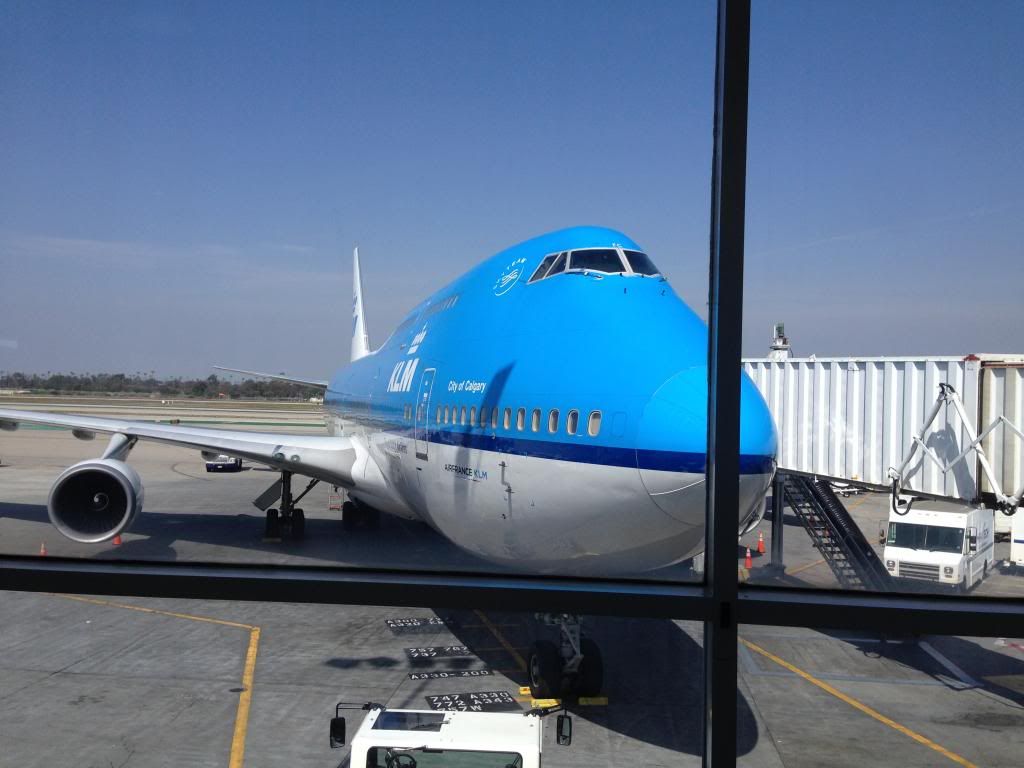 Anyhow, the cabin on Air Canada is situated the way it would be on a long-haul international flight. In fact, the Boeing aircraft I was on flies these routes. But the service is not the same. It's stepped up on routes that venture outside of North America.
On subsequent pages of this article, I'll illustrate the experience with blow-by-blow pictures, captioned with a few words (or more) beside each.
But first, some thoughts, including a critical one or two.

Class of service aside, I experienced something on this flight I have never experienced before. And even though I fly quite a bit, it was weird. I'd go so far as to say it was unsettling.
Prior to takeoff for about 15-20 minutes, immediately after we departed for a few minutes and for longish stretches during the final hour or so of the flight, I (or we, as this was not lost on my fellow passengers) could hear dogs barking in the cargo hold below the business class cabin. I'm not sure what the rules and regulations are that govern the transport of live animals, but, boy, when the barking was in full effect, I felt like I was watching one of those animal cruelty television commercials. The ones narrated by Sally Struthers that feel like they never end as they proceed to rip your heart out.
Mind you, I'm not griping about any emotional or sensory discomfort this might have caused me ... I just felt bad for the dogs. Maybe science shows that through the barking the dogs were just fine, but, even still, I'd never put my dog through that. Somebody needs to administer a stronger sedative or do something different next time around.
My other gripe -- and I don't mean to provide fodder for Louis CK -- but no WiFi!
In 2014?
How can you call it business class without WiFi? There's no excuse for no WiFi. Strike a deal with GoGo (GOGO) and make sure every plane that leaves the ground, no matter how long it will be in the air or where it's going, has WiFi.
Other than that, business class in the international business class configuration on Air Canada was pretty good. But it's a luxury I wouldn't suggest affording yourself unless you can really, really, really afford it.
Is it worth an upgrade fee of roughly $800 (you can do this at check-in) on top of a base fare of just under $400 one-way (that's what I paid when I booked the flight in December for a preferred seat in row 12 of economy class) or between, from what I gather, $1200 to well north of $3,000 at the time of booking?
Absolutely not. So if you're not a millionaire, don't do it. You're much better off blowing that cash elsewhere or saving it.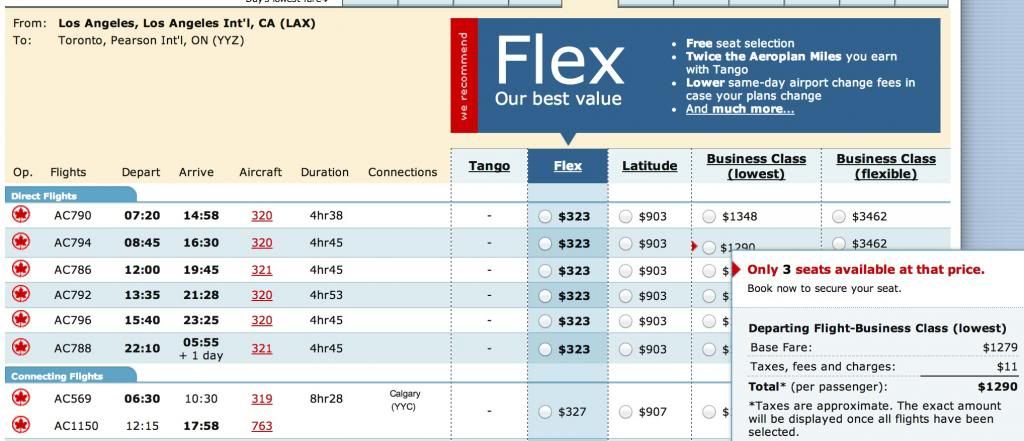 I'd take Virgin America's first class service in a heartbeat. You can upgrade to it, most of the time (at check-in), for around $300. And, while you don't get the private pod or lie-flat seat, you get pretty much everything else the way more expensive business class on Air Canada offers.
In fact, I reckon Sir Richard Branson needs to fashion and commission a license plate frame that reads: I'd rather be flying Virgin America.
The seats on Virgin are just as comfortable. The food selection on par. And the drink selection much better. Virgin also wins on entertainment options with live television. Though, as a honorary Canadian, who grew up on the border and loves Canadian TV, it was fun to be able to watch (limited) on-demand programming from the CBC. I spent a good two hours with Peter Mansbridge and George Stroumboulopoulos interviewing everybody from the great Bobby Orr to awesome Canadian astronaut Chris Hadfield.
So, onto the experience, in pictures ...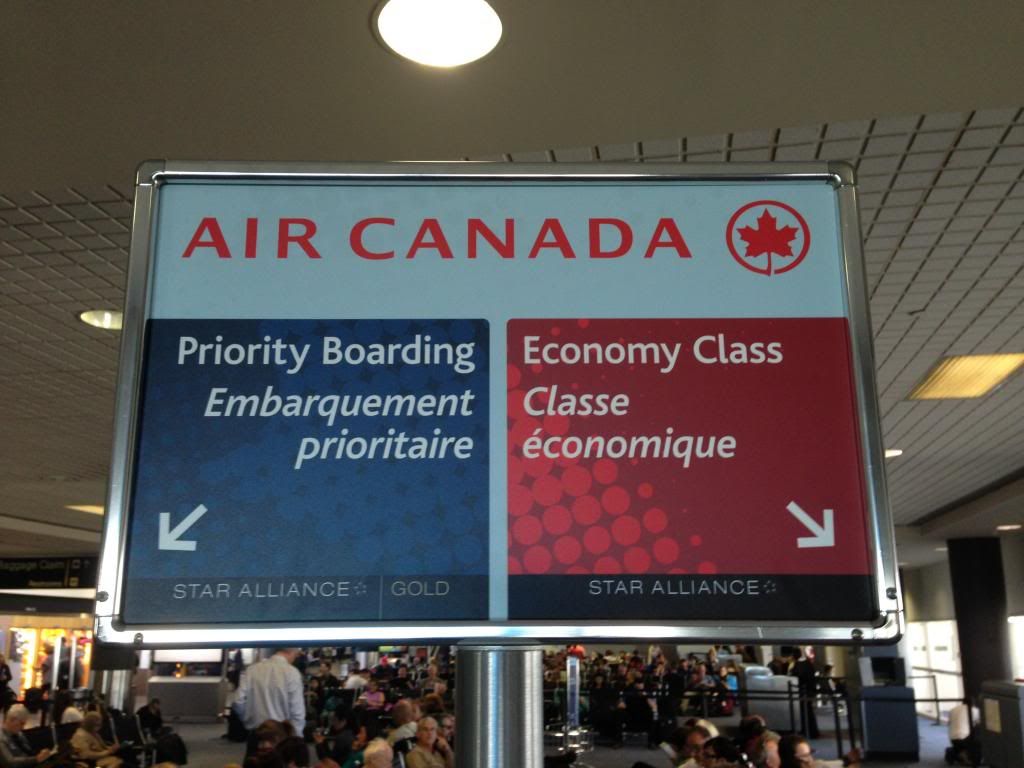 I was thoroughly unimpressed with the boarding process.
While Air Canada creates separate lines (which, in practice, turn into masses of in a hurry to go nowhere humanity), it doesn't really segment the boarding process.
In theory, priority ticket holders have their own line yet they're processed onto the plane at the same time as the folks filing through the economy line. At least that's how it was for my flight.
On a Virgin America flight, a priority ticket provides not only a priority pass through airport security, but pre-boarding onto your flight. I don't understand how an airline can bill priority service without that feature.
Anyhow ...
Some better looks at the seat, which is definitely one of the better ones I have ever flown in.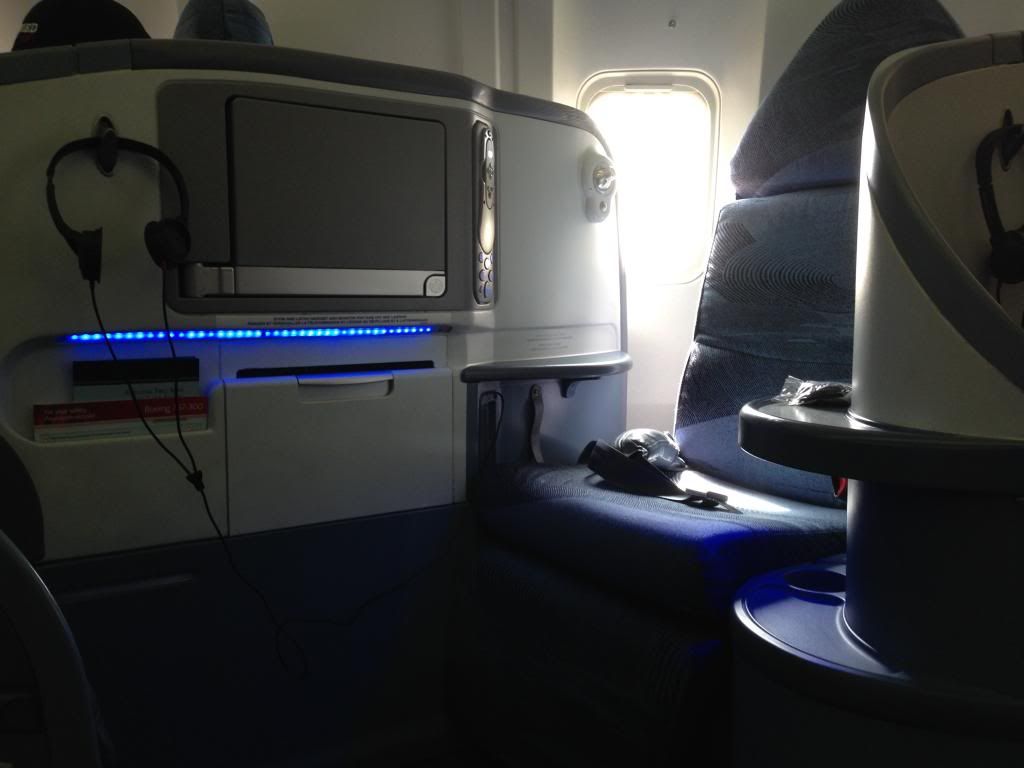 Admittedly, I'm short at five feet, six inches tall, but you can get an idea of how spacious these seats are in this shot. When sitting up almost straight, my feet barely reach the footrest on the opposite side of my pod.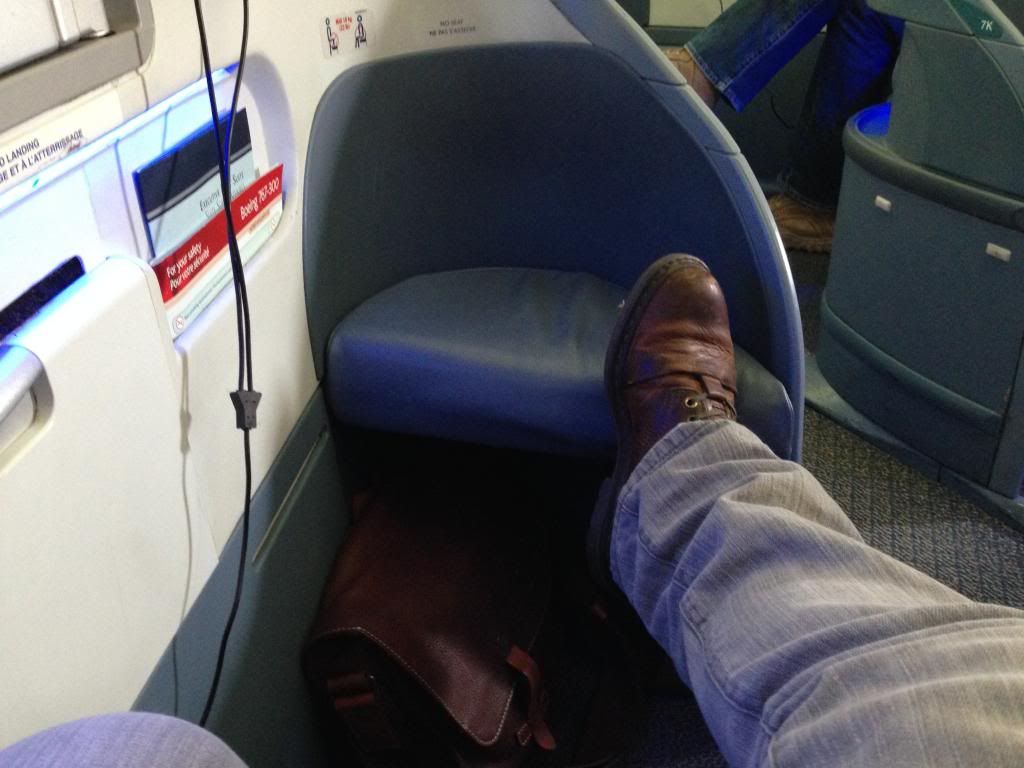 Onto the service and other features of the seat ...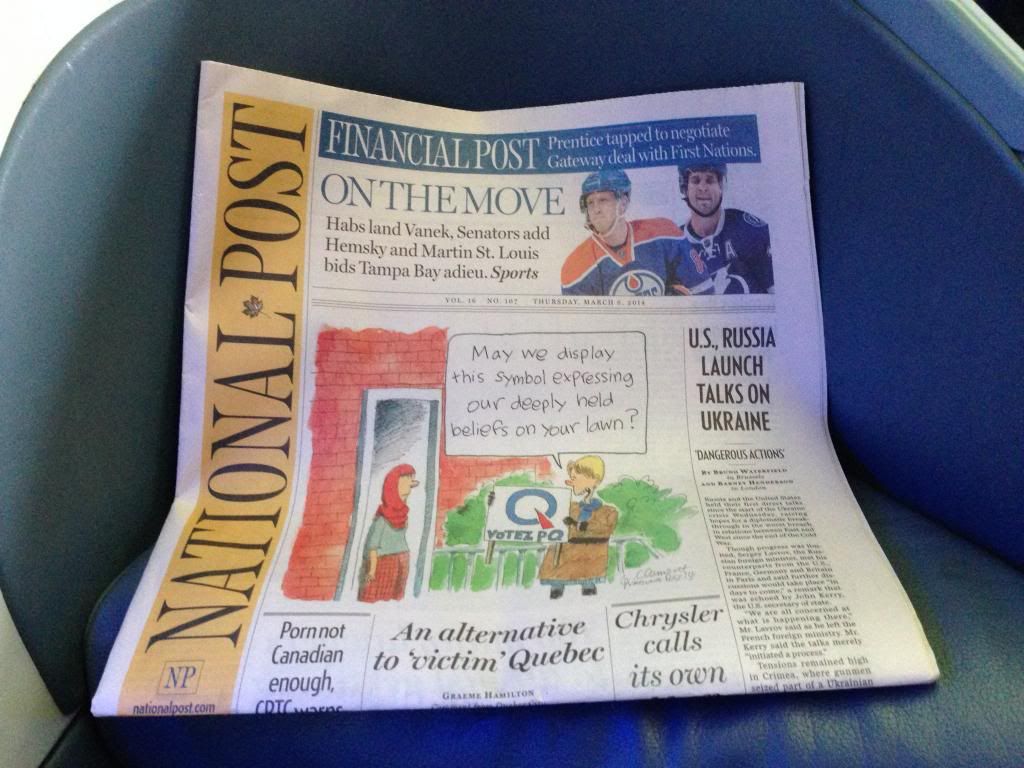 Pretty standard, but you get your choice of newspaper -- Canada's National Post or The Globe and Mail. And, of course, there's hockey on the front page.
As a big hockey fan (the trip, after all, was made expressly to see the Leafs play this past Saturday night), it's always great being in Canada. The country lives and breathes hockey. And the culture exudes it. You can't escape it.
Former Maple Leaf and current Los Angeles Kings scout Alyn McCauley was on my flight. I presume he was in town to watch the Leafs on Saturday because they'll be playing in LA this Thursday. And the customs guy talked to me about hockey for a good five minutes during my interrogation.
And there's the NHL-branded Enterprise Rent-A-Car counter: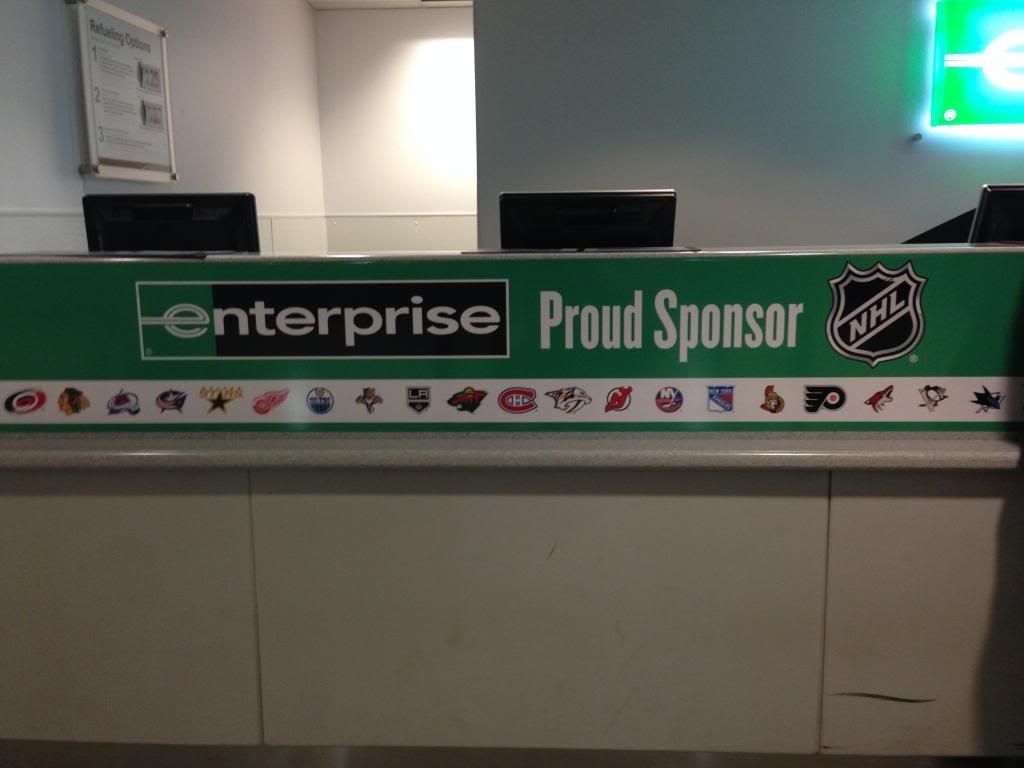 Back to the flight ...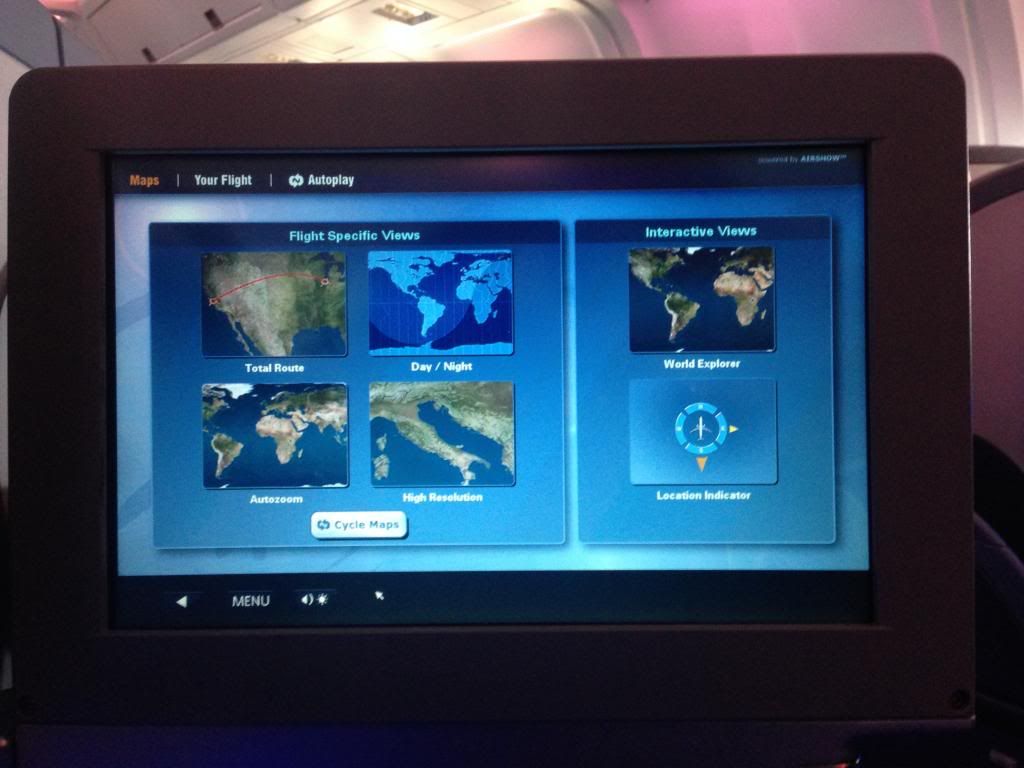 That's the best flight map I've seen on the screen that swings out from the console.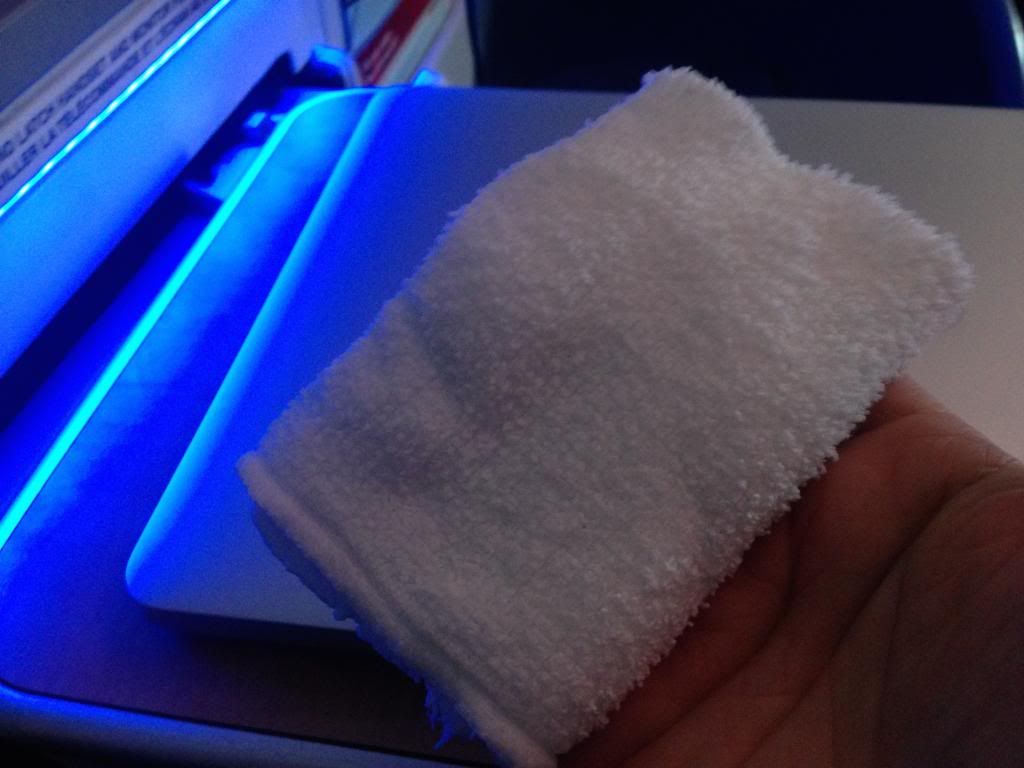 A nice warm washcloth prior to takeoff. Or was it just after?

This definitely came after takeoff.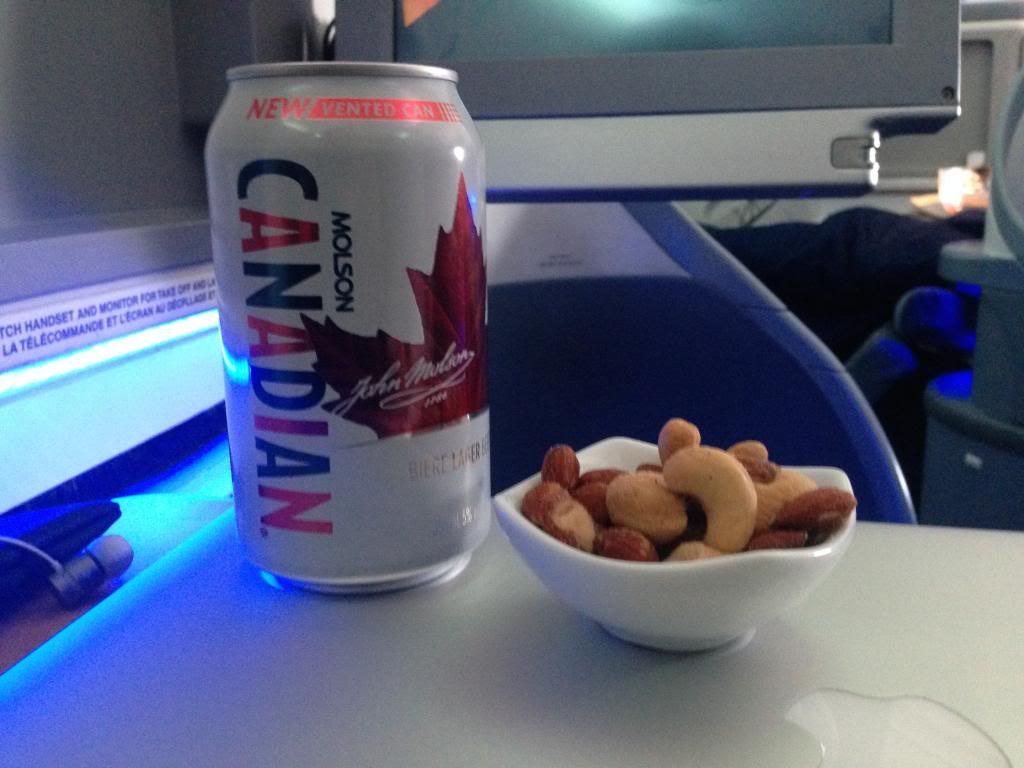 Followed by the appetizer, which I would classify as above average as salads go and excellent as airplane meal salads go. Though the lettuce wrapped up in the cucumber slice was a bit much.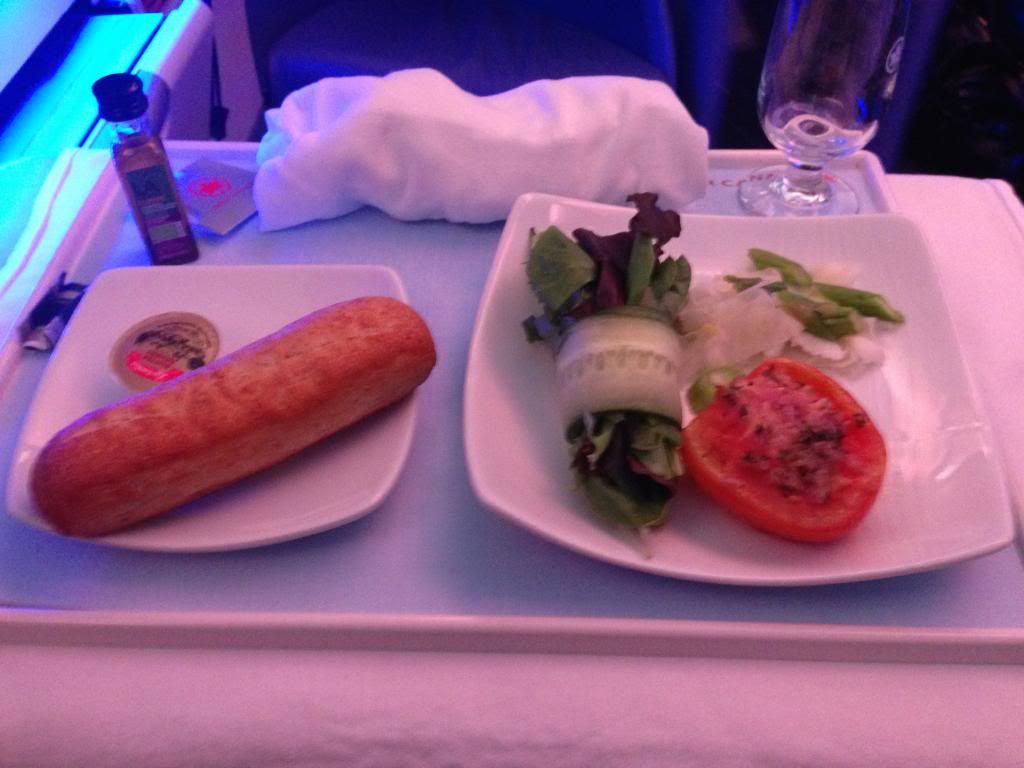 The salmon was really great. I can't cook it this well at home.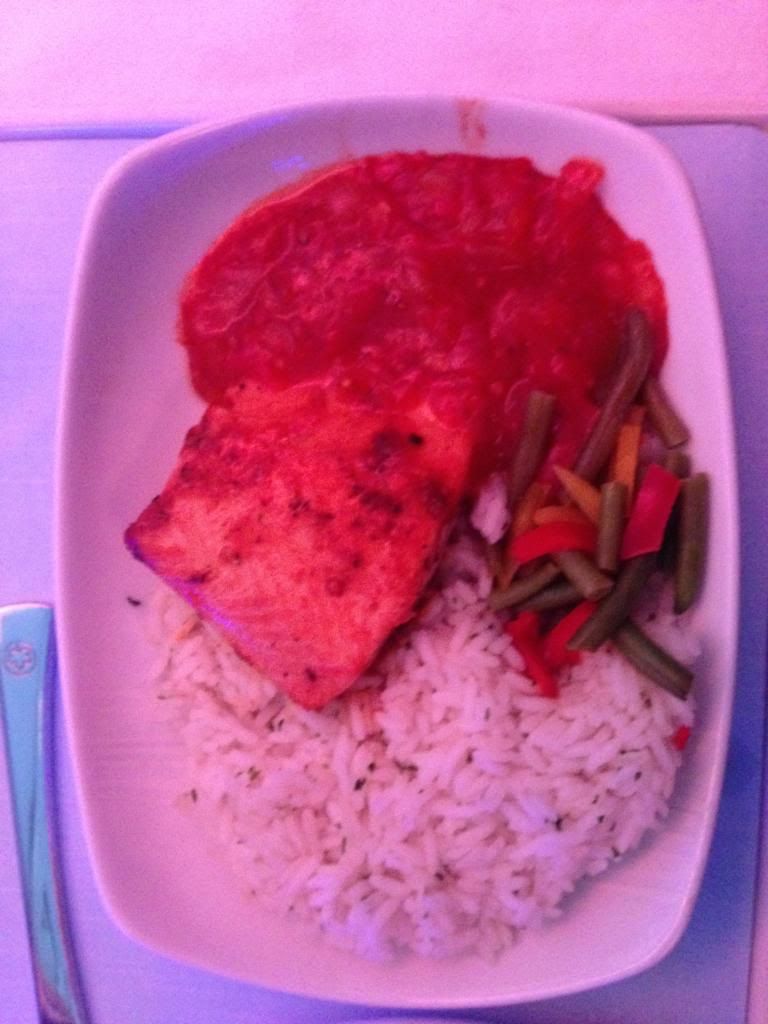 It seemed to me, however, that most other passengers ordered the beef.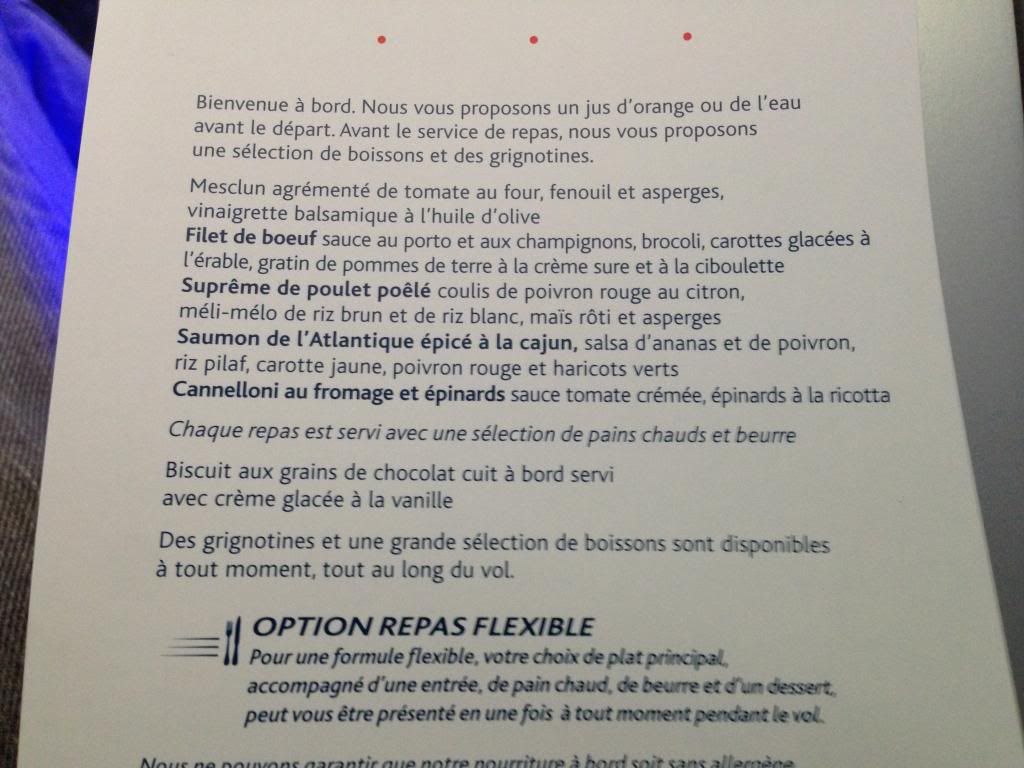 And dessert ...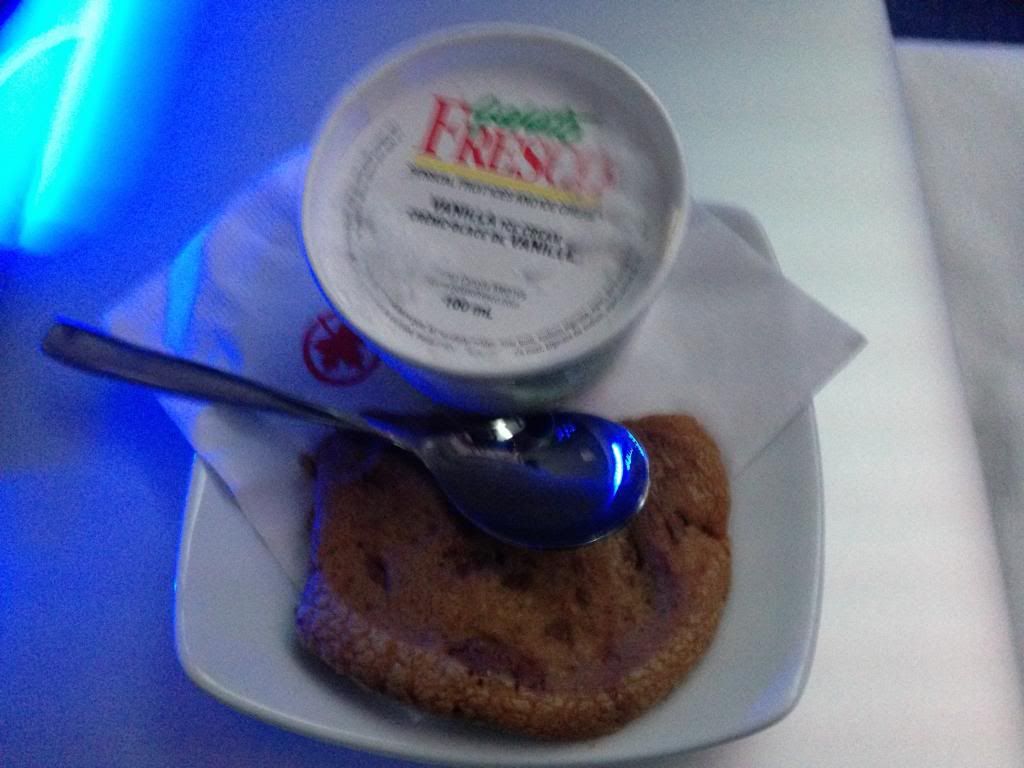 Apologies for the fuzzy image, but that's vanilla ice cream with a warmish chocolate chip cookie and a cold spoon.

I had plenty of time to play around with the various in-seat amenities, including your own personal electrical outlet, USB port and a place to plug in your own headphones in case you don't want to use the ones Air Canada provides.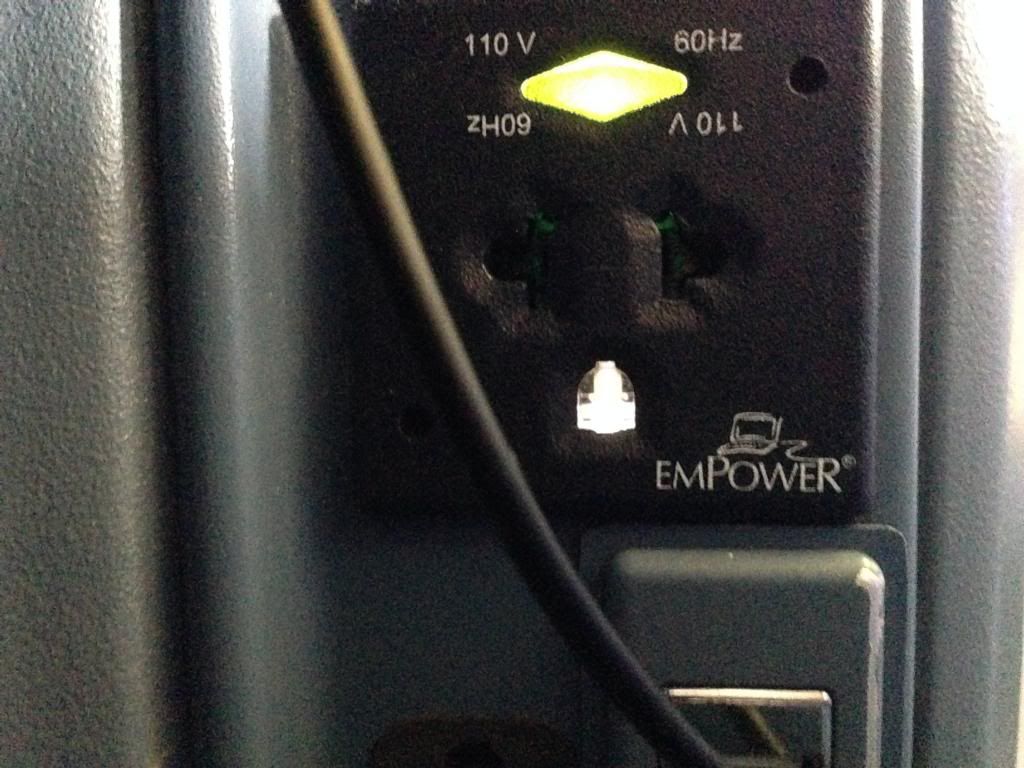 Like Blodget, it took me a while to figure out how to use the seat controls, which include a massager. I still don't know how to use them.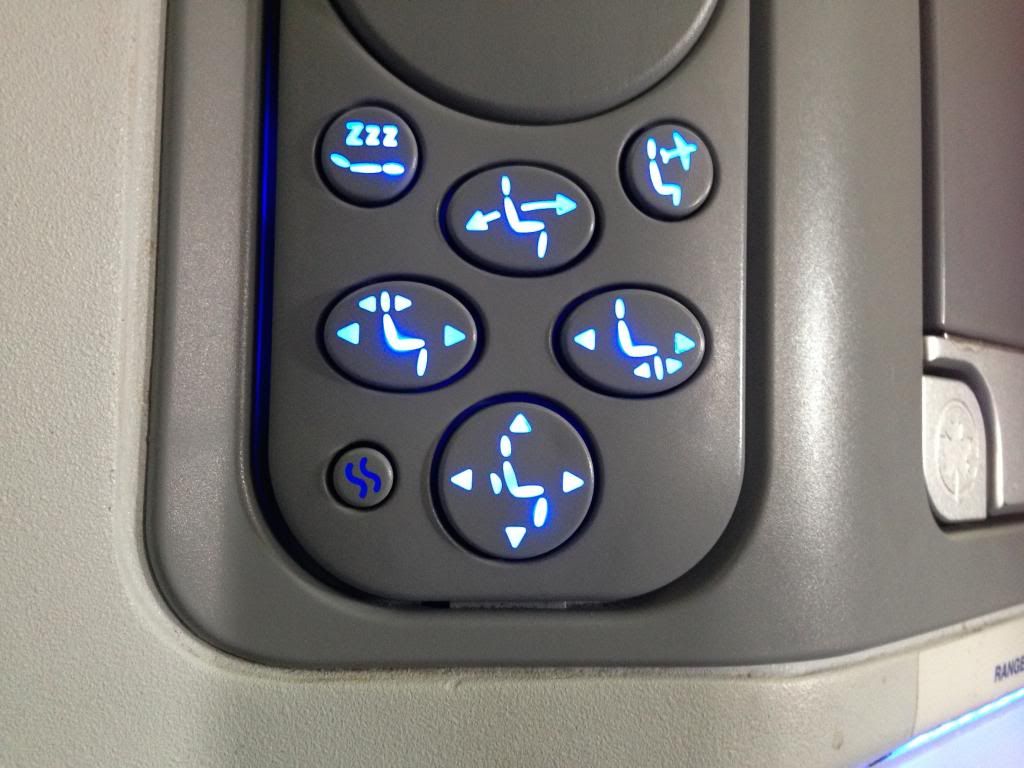 All of this and, as I was leaving the plane and walking out to the terminal, I questioned my sanity for exiting the wonderful weather of Southern California and entering this, albeit much improved mess in Toronto.
You can see the cold!
--Written by Rocco Pendola in Toronto, Ontario, Canada