NEW YORK (TheStreet) -- This point got lost in the sea of financial media and popular news stories disguised as regurgitated press releases, but Apple's (AAPL) rebranded attempt to dominate your dashboard will only be as good as Siri.
That's worth repeating: Anything Apple does in the automobile is only as good as Siri. And, right now, Siri's not very good.
I don't care if they call it CarPlay or iOS in the Car or the iteration I test drove last week, Eyes-Free Siri. As I discussed in my review of Eyes-Free Siri, experiencing Siri through your dashboard, as it stands, is no different than experiencing Siri the way you do when it's not connected to a motor vehicle's entertainment system.
The button you push in your car acts as a remote control for the home button on your iPhone (or iPad). From there, you execute standard Siri functions. For CarPlay to be anything beyond mediocre, Apple needs to make drastic improvements to Siri.
Whether Apple's platform powers it (CarPlay) or somebody else's (MyLink from Chevrolet), it all comes down to the quality of Siri.
I'm confident Tim Cook understands this and will act accordingly.
On a related matter, however, I'm not quite as optimistic.
As it stands, Pandora (P) is not integrated with Apple's CarPlay. I confirmed this Monday afternoon with the folks at Pandora. They're taking the high road on the issue, calling Apple "a valued partner" and touting the fantastic job they (Pandora) have done making Pandora part of countless in-dash platforms.
I'm not taking the high road.
While it could be the case that the two parties will get around to coming together, I get the sense that that might not be how things transpire. If indeed that's how Apple wants to roll ...
Tim Cook is out of his mind.
If he launches CarPlay without Pandora integration, it will backfire just as badly as, if not worse than, introducing attempt number whatever it is at Siri in the car with a less-than Siri.
I don't have to run through all of the numbers.
Clearly, Pandora is the most popular in-car app there is, save the possibility that maps/navigation apps outdo it or come close. Pandora consistently ranks as one of the top grossing apps in Apple's App Store. As of Monday, it was fourth.
Quite a few car buyers expect the ability to play Pandora in their car. And whether Apple integrates Pandora into CarPlay or not, people will continue to stream Pandora in their car, either via Bluetooth (without CarPlay) or a USB connection. I had to do the latter when I used Eyes-Free Siri in the Chevy Sonic I tested because, even though Chevy integrates Pandora, it wouldn't work via Bluetooth (I get into details in my story).
So the difference here is that CarPlay is Apple's platform in the dash ... not Chevy's MyLink or whatever else. If it doesn't include Pandora when it gets fired up, quite a few drivers will simply bypass it and stream Pandora anyway. That's because Pandora's an essential app and iTunes Radio doesn't measure up. Even if it did or does in the minds of some (these things are quite subjective after all), there would still be everything from outrage to inconvenience if Apple doesn't make the right choice and integrate Pandora.
Apple made the correct move by not booting Pandora from the App Store when it launched iTunes Radio. The CarPlay issue warrants the same course of action. Don't try to force iTunes Radio on people who want Pandora. It's simple as that. Apple doesn't need the embarrassment of backtracking on such a horribly ill-advised, anti-consumer and unnecessary decision.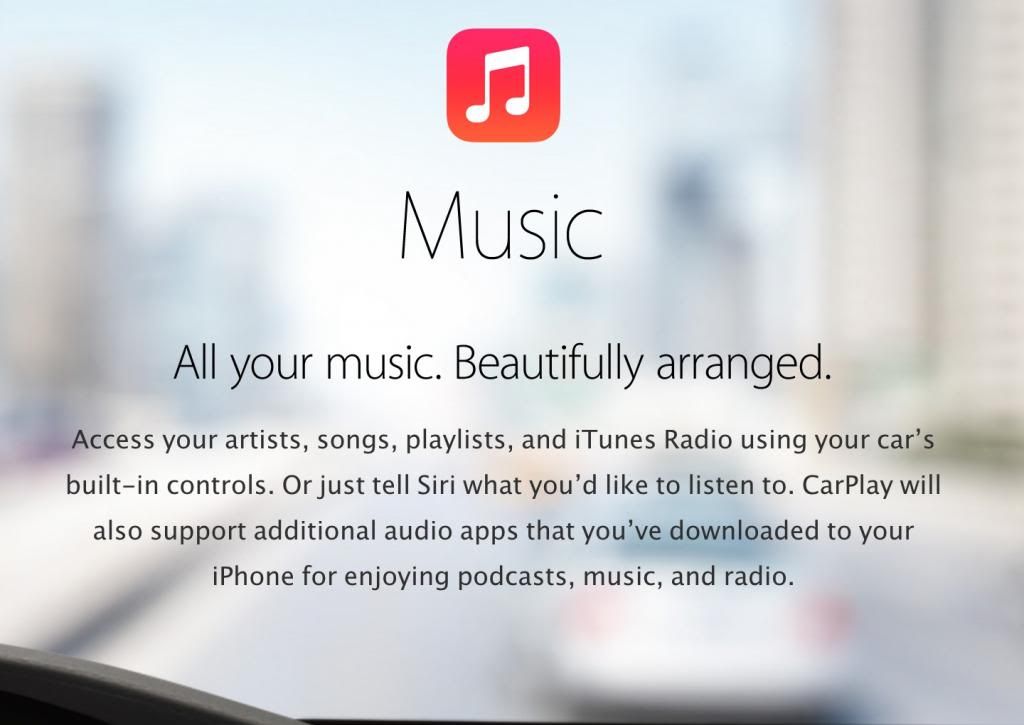 --Written by Rocco Pendola in Santa Monica, Calif.