NEW YORK (TheStreet) -- Up until a few years ago, email spam infuriated me.
In recent years, the amount I receive, even in accounts I set aside to sign up for newsletters and other free stuff, has decreased considerably. It's easier now to simply delete spam and move on. No emotion. After all, the spammers are playing a numbers game.
It's not personal.
Spammers blast as many emails as they can everyday, knowing full well their batting average will stink. But if they get a couple hits, there's half a chance they'll reach whatever goals they set for themselves.
I don't provide the same benefit of the doubt -- or whatever you want to call it -- to social media behemoths Twitter (TWTR) and Facebook (FB).
We've heard so many gripes about Facebook advertising I'll largely ignore what's happening over there, other than to say ... it's getting much better. In fact, the app suggestions Facebook makes (I assume these are ads) continue to be more and more relevant. In fact, I've clicked through and spent money as a result of more than a few in recent months.
The key part of that last paragraph -- I assume these are ads.
That's the name of the game on social media, particularly at Facebook and Twitter. Serve ads people either don't recognize as ads (even after you tell them they are) or welcome because they're so relevant ... or, to use the buzzword of the day, contextual.
Twitter continues to fail miserably in this regard. In fact, I can't remember the last time Twitter served me an ad that inspired me to do anything other than #sigh. When I see an ad on my feed, I, at best, move on (like I do with email spam) or, at worst, report the ad as spam and block the sponsor.
Here's an example I pulled just before writing this article. I didn't pull it because it's political. At least half of the ads that come across my Twitter feed qualify for inclusion.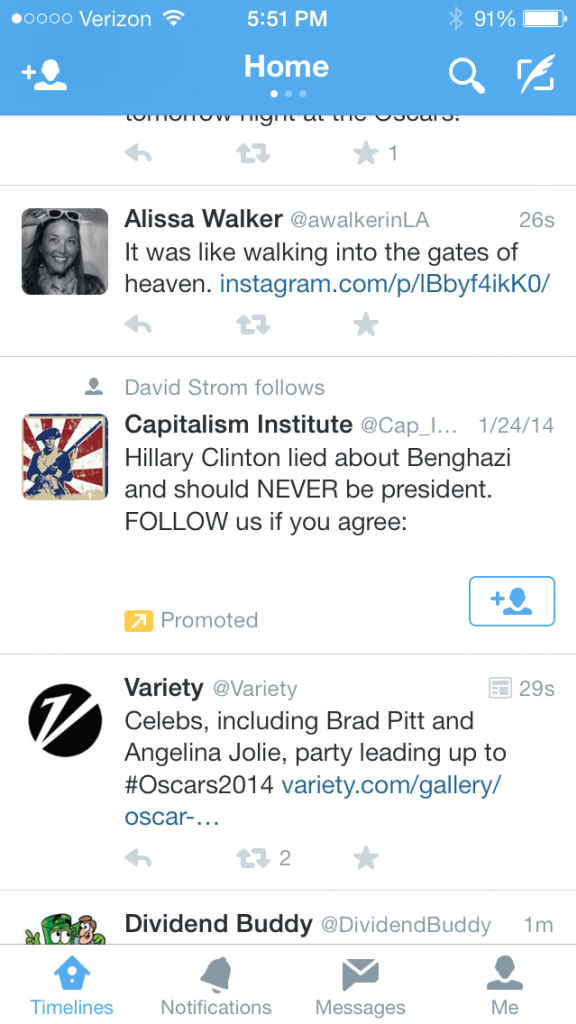 I assume I received this ad because I follow David Strom on Twitter and he follows me. Twitter can't possibly be using any other information when it serves this ad because it couldn't be any more irrelevant to me.

First, Twitter's betting against the odds serving a guy from Santa Monica a conservative political ad. (It so happens I actually have no opinion on the issue).
Second, if Twitter was doing what it should be doing -- loading my Tweet history into an algorithm -- it would realize that I might be the last guy, after Bill Clinton, who should receive this pitch.
It's not just irrelevant. It annoys me. It's a complete and total failure on Twitter's part, which makes me wonder a) if Twitter uses algorithms and, if it does, b) why they're so bad. There's no way to deliver advertising (or music) at scale in a relevant way without sophisticated algorithms. Without them, Twitter will continue to make basic errors (see the example at the end of this article) and turn its users off.
Does Twitter really want to put itself in a position where people are reporting their prime revenue generator as spam? Do they want to create a mini mutiny against their advertising clients? (I blocked Chobani over the weekend out of annoyance).
I warned readers not once, but twice shortly after the Twitter IPO. The media remains in a love affair with this company. Rather than cast a critical eye on the company's business, most of these cats, particularly in the financial media, work to protect the fruits of their schoolgirl crushes on Twitter CEO Dick Costolo. It's even worse in the tech media where some of the biggest names trade inside baseball Tweets with Costolo about dinner parties they attended together. As if this matters or does any good for their larger audiences.
Everybody wants to be @dickc's friend. And if they get a Twitter mention from him, the blood really flows to the tip.
Anyhow, here's what Dick said about Twitter advertising in November during a CNBC interview (at the link labeled "once") where, thankfully, Jim Cramer was around to deliver a meaningful line of questioning:
I'LL SAY THIS. BECAUSE OUR AD UNIT IS CONTENT FIRST, THE ADVERTISER TWEETS IT OUT ORGANICALLY TO THEIR OWN FOLLOWERS. IT GOES OUT FOR FREE TO THEIR FOLLOWERS AND THEN THEY CAN MAKE IT AN AD. THEY'RE PARTICULARLY RESILIENT TO BEING, FRANKLY, SPAMMY ADS. BECAUSE THEY DON'T WANT TO SEND SOMETHING ANNOYING OR INTERRUPTIVE TO THEIR OWN USERS. SO THE FACT THAT IT IS CONTENT FIRST AND THEN MADE INTO AN AD, MAKES, I THINK, OUR PLATFORM PARTICULARLY RESILIENT AND SUITABLE TO THE MOBILE ADVERTISING PLATFORM (Caps preserved from original CNBC interview transcript).
My response -- at this link -- still stands. And it even includes another example of bad Twitter advertising.
If Dick is telling us that the inmates (advertisers) are full bore running the asylum (creating their own ads on the basis of a free Tweet they thought was clever), Twitter's really screwed. Advertisers and individual users can trash the Twitter experience. It's just a bad idea to turn the keys of the platform over to these guys unconditionally. But it doesn't feel like that's what's happening. I don't follow the "Capitalism Institute" yet somehow Twitter thinks I should see that ad.
For goodness sake at the link in the paragraph before last I screen captured a promoted Tweet I received where a guy I don't know and probably don't care to know was complaining about his DIRECTV (DTV) service.
Would somebody in the media with access to @dickc ask what his definition of "annoying or interruptive" is? Probably me for crashing the Hey, @dickc follows me on Twitter party.
But I know what I experience and it stinks. I've seen everything from @dickc interviews with Forbes to AdvertisingAge and appearances with his closest friends at All Things D and I can't find one instance where anybody appropriately challenges the guy with on-the-ground examples of how awful Twitter advertising is.
If you're going to invest in a company with a questionable and poorly defined advertising strategy, you deserve answers to questions that go deeper than slick jargon and corporate boilerplate. Tell us about your algorithms. Why do they blow, assuming they exist? That type of thing.
Twitter has a long way to go before it gets anywhere near Facebook with respect to advertising. And, given the constraints of the Twitter platform relative to Facebook (less information on users, lack of scale and obviously weak, quite possibly non-existent algorithms), it might never compare. Unless the company's comedic CEO can raise his game and articulate a substantive vision that's not thin and imprecise, you would be nuts to go anywhere near TWTR stock.
Plenty of other bets exist in this market that rise on hot air thats more convincing than Costolo's.
"@Rocco_TheStreet:But its Sunday right? RT @behrnsie: "How bad does Twitter advertising suck?"Just saw ad for Sat's NBC hockey game" Yep

behrnsie. (@behrnsie) March 2, 2014
--Written by Rocco Pendola in Santa Monica, Calif.