NEW YORK (TheStreet) -- Up until a few years ago, email spam infuriated me.
In recent years, the amount I receive, even in accounts I set aside to sign up for newsletters and other free stuff, has decreased considerably. It's easier now to simply delete spam and move on. No emotion. After all, the spammers are playing a numbers game.
It's not personal.
Spammers blast as many emails as they can everyday, knowing full well their batting average will stink. But if they get a couple hits, there's half a chance they'll reach whatever goals they set for themselves.
I don't provide the same benefit of the doubt -- or whatever you want to call it -- to social media behemoths Twitter (TWTR) and Facebook (FB).
We've heard so many gripes about Facebook advertising I'll largely ignore what's happening over there, other than to say ... it's getting much better. In fact, the app suggestions Facebook makes (I assume these are ads) continue to be more and more relevant. In fact, I've clicked through and spent money as a result of more than a few in recent months.
The key part of that last paragraph -- I assume these are ads.
That's the name of the game on social media, particularly at Facebook and Twitter. Serve ads people either don't recognize as ads (even after you tell them they are) or welcome because they're so relevant ... or, to use the buzzword of the day, contextual.
Twitter continues to fail miserably in this regard. In fact, I can't remember the last time Twitter served me an ad that inspired me to do anything other than #sigh. When I see an ad on my feed, I, at best, move on (like I do with email spam) or, at worst, report the ad as spam and block the sponsor.
Here's an example I pulled just before writing this article. I didn't pull it because it's political. At least half of the ads that come across my Twitter feed qualify for inclusion.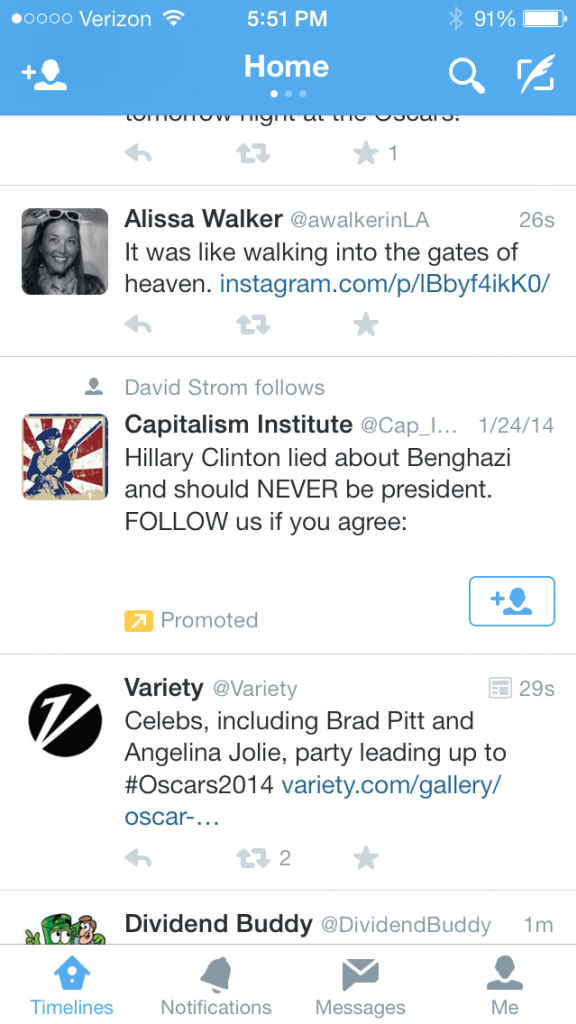 I assume I received this ad because I follow David Strom on Twitter and he follows me. Twitter can't possibly be using any other information when it serves this ad because it couldn't be any more irrelevant to me.