NEW YORK (TheStreet) -- I got drunk and found myself over at Seeking Alpha the other day. And I saw the following comments, back to back, on a Netflix (NFLX) article that got me thinking: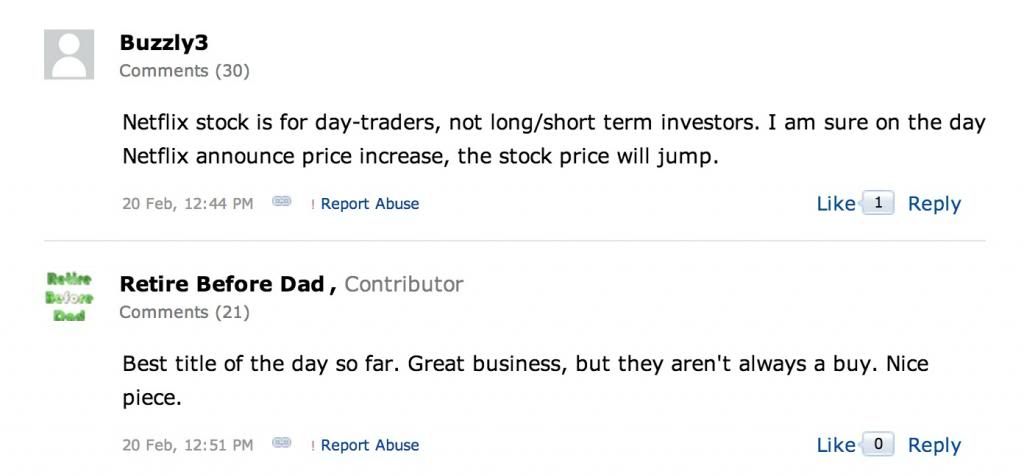 What the author said is inconsequential. He spewed the standard, increasingly irrelevant quantitative case against NFLX. If you're going to be bearish, which has become a royal waste of time, you require some informed qualitative insight or you're even more useless than I am.
But the comments are telling. They show we have been in a new world with respect to investing for quite some time. One that some people, if these comments are representative of a significant number of individuals, have yet to comprehend.
Netflix stock is for day-traders, not long/short-term investors
While it's tough to know exactly what that means without an intellectual assessment and complete post-interview, we'll take a stab.
If this chart shows a stock suitable "for day-traders," but "not long/short-term investors, then I need to reconsider how I define each term.
NFLX has returned 270% over the last two years. And it's been pretty much a straight ride up. A veritable no-brainer as far as long-term investments go where I come from.
It's moot if two years doesn't qualify as long-term for you. The return's all that matters. You could have cut the time you held NFLX off at a year or two and ended up in far better shape than you would have been in with what we might classify as traditionally instinctive long-term plays.
NFLX is up 121% over the last year. 68% over the last six months. 29% over the last three months. And 32% over the last month. Pretty good deal for the "short-term investor," depending on, of course, how you define that term.
Seems to me "Buzzly3" is caught up in an old way of framing things. Granted, I'm making inferences based on one comment from the guy (or girl), but there's no doubt others exist who think like him (or her).
They feel as if there's no way somebody who's serious about investing can buy and hold shares of NFLX for a period longer than a day or so. Despite its almost unparalleled performance, it's a name reserved for those scummy day traders.
However, the day traders I know, typically, wouldn't touch NFLX with your six-inch pole. It's too volatile. Too unpredictable. On a day-to-day basis that is. But, as a long-term play, shoot bro, it's like putting caps in fish that reside in the narrow confines of a barrel.
Here's the deal -- no matter who you are, if you're long, you want stocks to go up. If these stocks don't necessarily fit the description your Grandfather gave you of sound, tried and true long-term investments, so be it.
There has not been a better short- or long-term investment than NFLX since it imploded in 2011.
For as negative as I have been on the company, I even realized that as early as Summer 2012.
I hate to pick on the second commenter, "Retire Before Dad," who doubles as a Seeking Alpha contributor, but it's difficult not to.
In two of four articles published at Seeking Alpha, "Retire Before Dad" reflects on, with a considerable chest bump, his (or her) investments in Verizon (VZ) and Emerson Electric (EMR), touting an 85% ten-year return in VZ (with dividends) and a 47% five-year return in EMR (also with dividends).
Now, I'm not knocking a position in either stock. In fact, back when I was allowed to own stocks I had a position in VZ for a year or so. (As a full-time employee, TheStreet's editorial and insider trading policies prohibit me from owning individual stocks other than TheStreet (TST), which, thankfully, has been on a nice run of its own lately). However, I am saying that "Retire Before Dad" needs to reassess his (or her) investment outlook as much as "Buzzly3" does.
Dividends and all aside, I mean, over a five-year time horizon, had I put all of my money in NFLX and Amazon.com (AMZN) instead of what we might consider more stable and traditional long-term investments, VZ and EMR, I would have been able to buy and sell my Dad, seduce his mistress and promptly retire way before his poor, dividend-reinvesting ass.
But, yeah man, be stubborn. Leave the "bubble" stocks alone and go sign up for your Dividend Reinvestment Plans (DRIPs). When you're close to retirement, I reckon you'll be running the math on your Social Security check.
--Written by Rocco Pendola in Santa Monica, Calif.