NEW YORK (TheStreet) -- Of all the analysts I know and/or have come across on Wall Street, Richard Tullo from Albert Fried is among my favorite.
Sure, Netflix (NFLX) went the wrong way on him, prompting Tullo to drop coverage of the stock ...
I made an honest effort, the work was good but I have been wrong on this stock ...
Analysis, BTW, that could very well play itself out in 2014 and/or beyond. Though, even I'll admit, that's looking less and less likely each day.
Here's a screen grab of Tullo's overall record just to show that there's more to this guy than the NFLX story (Note: He had been bullish Pandora (P) through the $20's):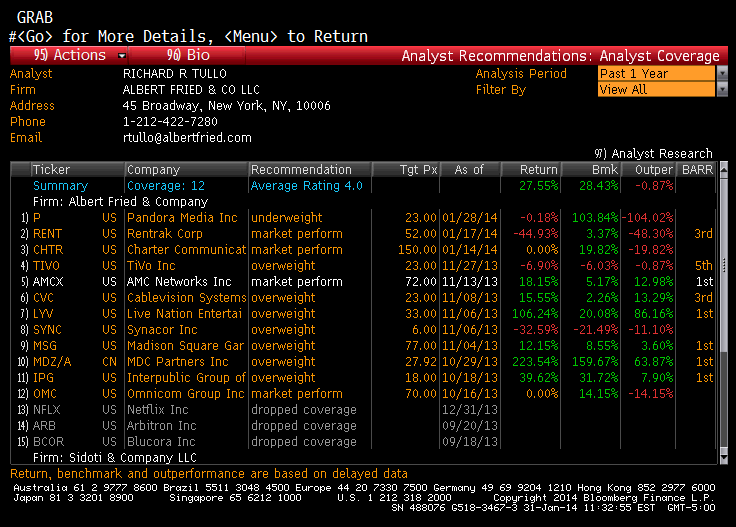 Anyway, I like Tullo because he's smart, pulls no punches and says things others are afraid to say.
Along those lines, I felt compelled to print the contents (with permission) of an email Tullo sent me Wednesday afternoon with his thoughts on net neutrality. It's not cool to go against Reed Hastings on this. Hastings takes what we immediately perceive as the pro-consumer (and, of course, pro-Netflix) position, but, in this correspondence, Tullo, as entertaining as ever, makes several sane, logical and valid points to consider.
Tullo asked that I note, in full disclosure, that he's personally short 1,000 shares of NFLX, however, to reiterate, he no longer covers the stock for his firm.
Here's his take on net neutrality on Page Two ...

The whole idea that Net Neutrality supports the freedom of men and women should be treated as circumspect because it has been struck down by the courts on two occasions (and had the FCC not undermined the courts in Comcast (CMCSA) versus the FCC -three times). Generally laws that support freedom like the Civil Rights Act stand up in the courts.
(Netflix CEO) Reed (Hastings) is pushing the envelope on Verizon (VZ) to force the SEC to permanently grant him free distribution on subscriber supported Broad Band connections. He wants NFLX to be martyred on VZ so he can reintroduce Net Neutrality. The problem in my view is you can't create freedom by mandating consumer paid subsidies.
It's really the same faulty logic that is failing Universal Healthcare, people get cheap TV when enough non streamers are subsidizing heavy users.
In this case, families that don't stream much are being forced to buy 30 to 50 MPBS connections in order to preserve the same user IP experience they had when their connections were 7-12 Mbps. So instead of saving $20 per month or buying HBO subscription the roughly 40 million families that dont use NFLX are paying inflated broadband fees so people can get cheap NFLX. At $20 per month, that's roughly a $12 billion annual subsidy for NFLX that being financed by the consumer.
Reed's problem (or the industries problem) is he believes he is literally entitled to free distribution. Thus from the NFLX perspective he is entitled to open up shop anywhere he chooses and no one has a right to say no. That's like my friend Beau Flynn in college, he had a video store called Flight Video and he had to pay high rent in airports. Well Reed just thinks he is entitled to open up shop anywhere he wants and pay no rent because Reed has the right to walk through the airport. You see business rights in commerce are different than your Universal Rights (see Federalist Papers 8 and 10.)
I do not believe VZ is slowing down NFLX in fact I believe VZ was providing NFLX networking rights of way it was not entitled to because it did not want to be accused of Net Neutrality abuse. Today I think VZ is just closing the fast lane NFLX was enjoying and now NFLX has obey the speed limit.
The critical point for the industry is NFLX is a parasite just as Flash Trading houses are a parasite to the financial markets. While it looks like disruption it's not; it is really crony capitalism (in both cases) which should be abhorrent weather you are a Democrat or Republican. And just as Flash trading has and will create terrible financial storms there is no telling what a TV and Movie monopoly will do to our freedom.
NFLX currently employees about 2200 people -a fraction of the employees of HBO, CBS (CBS), and ABC. My point as someone who is anti-establishment, is there could be a day where a TV program or a Movie does not get made if it's not on Netflix. I know that sounds crazy but did you ever think that Google (GOOG) and Microsoft (MSFT) would have a duopoly in internet search and Google would leverage that Duopoly to put thousands of newspapers and hundreds of magazines out of business. As far as Google goes they did not try to put an entire industry out of work they did it by accident.
As for Reed and (Netflix Chief Content Officer) Ted (Sarandos) I am not sure their vision is not the vision of NFLX as Global TV and Movie distribution Monopoly. So what is net neutrality ... is it an internet that works only for those that pay or is an internet that works for everyone offering text and data on an equal basis and richer services for those that determine that rich services create value for their families. The hole idea that the FCC is creating policy on Tom Wheeler's opinion or connections and not based on universal ideas about transparency and access is scary to me.
The problem is the NFLX and FCC definition of impeding is not providing a superior service to NETFLIX for free. The implication is Net Neutrality 2.0 will be closing the Internet to NETFLIX competitors. In my view the idea that business pay tolls just as Trucks pay tolls is better for consumers because they pump less data onto the system and and the toll creates an incentive to innovate as Streamers with better more efficient technology have the advantage over legacy businesses that refuse to reinvest in there platforms.
RT
Tough to argue with that presentation, though I would love to see Reed Hastings do it on a stage someplace. I'd be more than happy to moderate.
--Written by Rocco Pendola in Santa Monica, Calif.