NEW YORK (TheStreet) -- Of all the analysts I know and/or have come across on Wall Street, Richard Tullo from Albert Fried is among my favorite.
Sure, Netflix (NFLX) went the wrong way on him, prompting Tullo to drop coverage of the stock ...
I made an honest effort, the work was good but I have been wrong on this stock ...
Analysis, BTW, that could very well play itself out in 2014 and/or beyond. Though, even I'll admit, that's looking less and less likely each day.
Here's a screen grab of Tullo's overall record just to show that there's more to this guy than the NFLX story (Note: He had been bullish Pandora (P) through the $20's):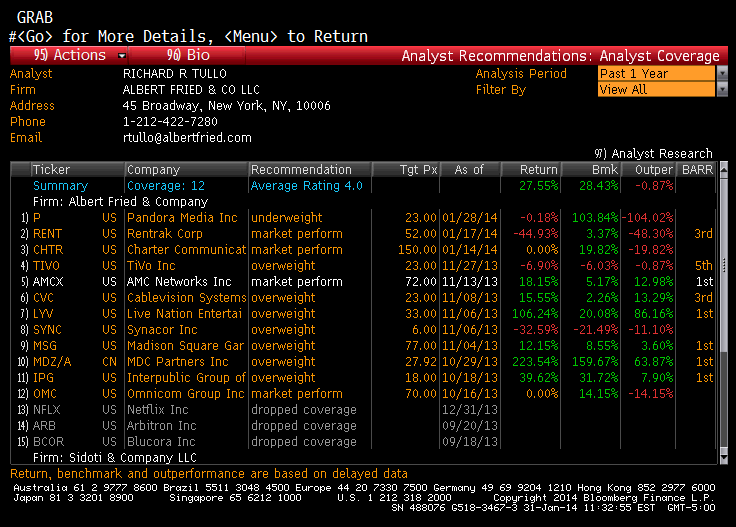 Anyway, I like Tullo because he's smart, pulls no punches and says things others are afraid to say.
Along those lines, I felt compelled to print the contents (with permission) of an email Tullo sent me Wednesday afternoon with his thoughts on net neutrality. It's not cool to go against Reed Hastings on this. Hastings takes what we immediately perceive as the pro-consumer (and, of course, pro-Netflix) position, but, in this correspondence, Tullo, as entertaining as ever, makes several sane, logical and valid points to consider.
Tullo asked that I note, in full disclosure, that he's personally short 1,000 shares of NFLX, however, to reiterate, he no longer covers the stock for his firm.
Here's his take on net neutrality on Page Two ...