NEW YORK (TheStreet) -- Apple (AAPL) cannot beat Pandora (P) simply by doing radio.
Over the last two years at TheStreet, I have outlined the reasons why, which range from the superiority of Pandora's Music Genome Project to Pandora's sole focus on disrupting and poaching advertising dollars from radio.
Redefining radio and chasing small advertising potatoes is not and should not be a priority at Apple. In fact, iTunes Radio should have nothing to do with revenue. At least not directly. It should be little more than a driver. And, if it can be fun and exciting in the process, more power to Apple and the people who get to work on the iTunes Radio project.
That much is obvious if you understand Apple for what it is -- a designer and producer of beautiful and premium quality, high-margin hardware. Plus, why would Apple want to mess too terribly with one of the App Stores longest standing and top performers?
That said, the cash Apple sees from Pandora as a top grossing feature in the App Store is just as insignificant as the revenue Apple would receive if it went balls to the wall and maxed out the radio experiment. So, while I don't think Apple wants to jettison Pandora from its ecosystem (many iPhone and iPad users would be lost, confused and outraged without Pandora on iOS), it can strategically ding Pandora to further iTunes Radio. That's just one way to gain some traction for iTunes Radio and, in the spirit of hobbies at Apple, have some fun.
That's the line I started reeling Wednesday in Apple's Pandora Killer Arrives Next Month. We should keep an eye on what, if anything, comes of Apple's decision to show up at next month's South by Southwest (SXSW) powwow in Austin with a week's worth of iTunes Festival shows.
These concerts counter Pandora's Discovery Den, which has become something like a SXSW staple. Here's a shot of the stage from 2013's iteration where the headliner was Third Eye Blind, if my memory serves me: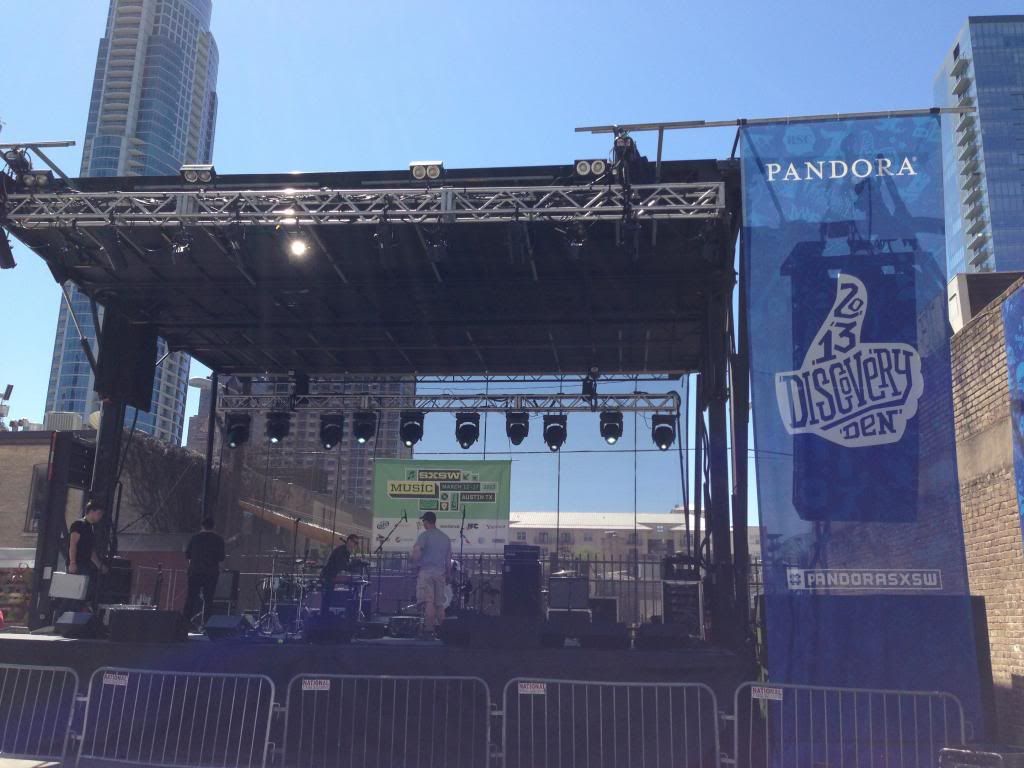 Apple's bringing out huge names. Names Pandora has troubling securing because, right or wrong, the music industry hates Pandora more than it hates Apple. Though it should have no love for Apple.
Anyhow, Wednesday's thoughts on where Apple could go with this warrant further exploration.