NEW YORK (TheStreet) -- As my father used to tell me, Rock, use your head for more than a hatrack.
That's how I feel after fielding the response to Tuesday's Dear Wal-Mart: Rush is Canadian article.
While I understand the objections to my take -- they're quite intuitive after all -- they tend not to hold up upon anything even resembling thoughtful inspection.
Here's one I received via email with my reply: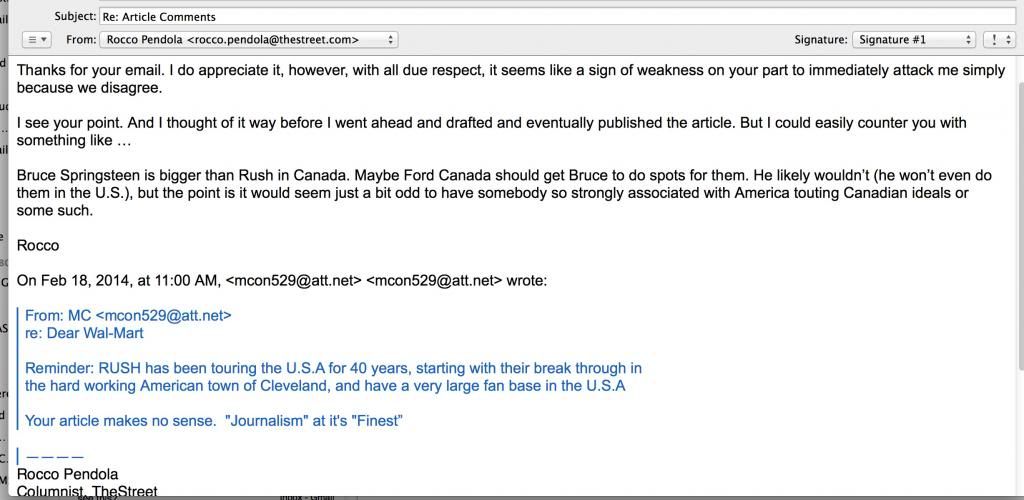 And then there was this type of reaction in the comments section of the article:
Who cares where the band is from- it's the song they were after. If you watched the Rush documentary, you hear Geddy himself say that Rush might have never done anything beyond their first album had this song not been aired in Cleveland where the song resonated with blue collar workers who fell in love with the song ... Silly and pointless article.
I found this exchange particularly interesting and equal parts curious and specious:
TheStreet's Jason Notte gets credit for the line of the week (and, not so by the way, maybe article of the week as well with the excellent Where Does U.S. Beer Go After 3,7000 Breweries?). But, comedic greatness aside, Notte speaks to a larger point.
First, here's the commercial in question, where Wal-Mart (WMT) uses Rush's classic "Working Man" to promote the American worker and its apparent commitment to them:
As somebody who grew up on the border in Niagara Falls, NY and considers himself as close to being Canadian as an American can, the North America as one notion is absolutely bogus. It's bogus as far as Americans go and even more so as far as Canadians are concerned. Canadians don't like the fact that the lines between Canada and, yes, America (or the United States, if you prefer) continue to blur. For goodness sake, political campaigns in the country often use nationalistic lingo to the effect of Do you really want Canada to become more like America? If not, don't vote for "them!"
With that in mind, Wal-Mart ought to know better.
The marketing folks at Wal-Mart must understand that the company operates in a sensitive environment in Canada.
Consider the recent work of TheStreet's Brian Sozzi on Target (TGT) Canada's problems over at Real Money:
Basically, (Canadians see) Target ... as an arrogant American brand trying to impose their standards, instead of listening to their needs.
That's exactly the sense I got when I visited home -- and spent time over the holidays in Ontario. The Canadians I spoke to and eavesdropped on don't care much for Target or Wal-Mart's presence in their country. Their very distinct country that they're proud of and ready to protect, culturally speaking.

For instance, it has never sat right with many Canadians that Wayne Gretzky left Edmonton for Los Angeles, ended up coaching in Phoenix and, to this day, associates personally and professionally more with Arizona and California than he does Canada.
Canadians like having The Tragically Hip, relatively speaking, all to themselves. Nobody confuses "The Hip" with anybody else like they do Bryan Adams for Bruce Springsteen. They're "The Hip" and they're Canadian.
While Rush, at least IMNSHO, has never been quite as authentically Canadian as The Hip, they're still synonymous with Canadian (musical) culture. With that in mind, it's bad enough that Wal-Mart sought the song for American-centric marketing purposes, but it's worse that Rush -- or whomever owns the rights to "Working Man" -- went along with it. And eagerly I presume.
Furthermore (pardon the formal debate team segue term), Rush -- or whomever owns the rights to the song (!) -- should know full well the way Americans, Canadians and pretty much all living breathing humans view Wal-Mart. They don't necessarily connote Wal-Mart with the image of being labor-friendly (pardon the understatement).
Granted, Wal-Mart -- obviously -- is trying to reverse that image. But, really, couldn't the company's marketing team, senior executives and advertising agency come up with anything better than a song from a Canadian band? It doesn't matter how popular Rush is in America ... err ... the United States.
As I noted in my response to the aforementioned emailer, Bruce Springsteen is bigger in Canada than Rush and The Hip combined, but you would never see Ford (F) or General Motors (GM) Canada use a Bruce song to tout factory workers. Bruce would never approve of the use of his music for these purposes, but I'm just posing a hypothetical for the sake of argument.
Ultimately, this isn't an international incident. But it does further highlight the pathetic state of physical retail. These cats couldn't brand themselves out of a paper bag. The flimsiness of Wal-Mart's Rush campaign merely underscores that broader notion.
But, of course, TheStreet's Debra Borchardt summed it up so well: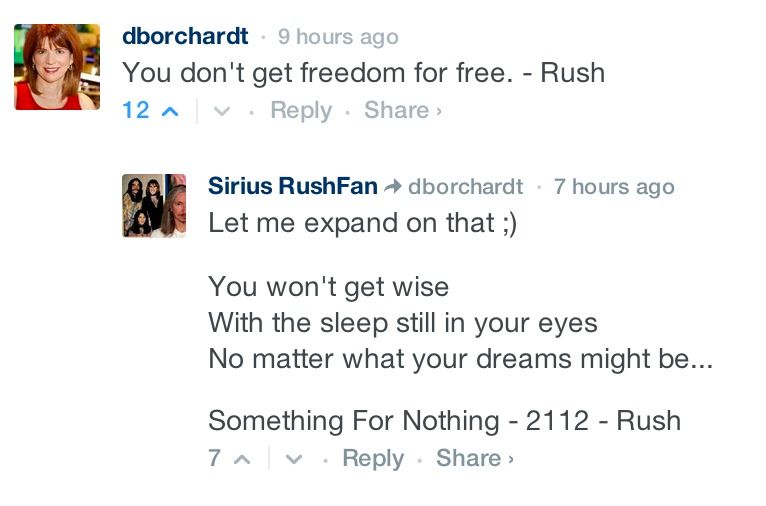 --Written by Rocco Pendola in Santa Monica, Calif.