NEW YORK (TheStreet) -- I actually had a guy who writes for another site say this to me post-Amazon.com (AMZN) earnings:
So in other words, I'm saying, "you're wrong and I told you so," but not being a douche about it in public. I enjoy your writing!
As if we haven't sung this song before. In fact, as this chart (courtesy of Nasdaq.com) shows, AMZN tends to go down, sometimes even tank, after it reports earnings:

But that doesn't stop guys who still haven't bought the beers they owe me from our AMZN to $400 bets from chirping. Even my otherwise intelligent friend, TheStreet contributor Robert Weinstein, can't hold back. Here are a few text messages we exchanged after Amazon reported a quarter where profits soared, but the stock plunged: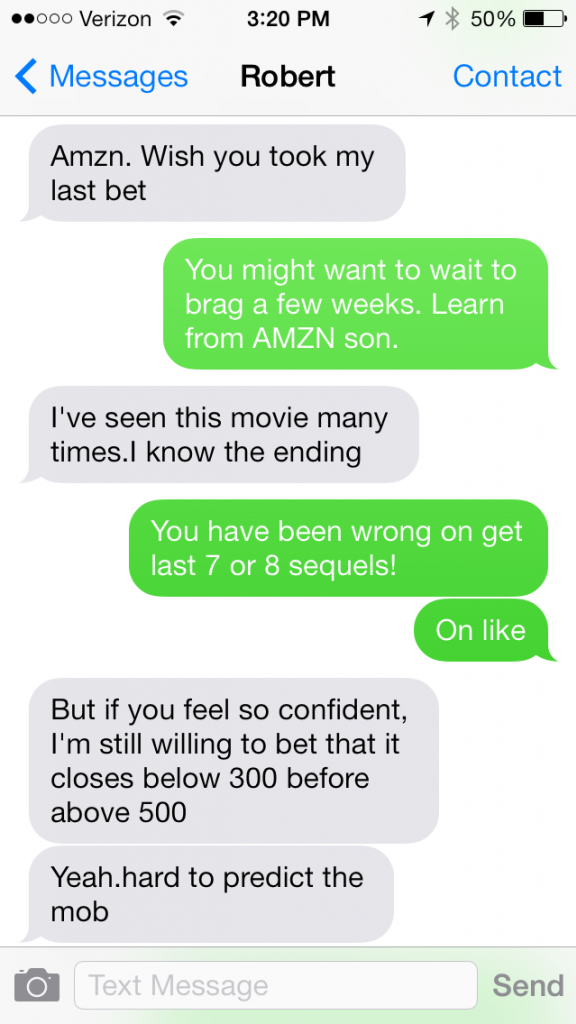 For the record, Robert's in gray. I'm in green there.
One of the few people to practice wise restraint vis-a-vis AMZN is another contributor to TheStreet, Jonathan Heller, who wrote:
I can't wait to see Street.com columnist Rocco Pendola's take on Amazon's latest report. Rocco and I don't see eye to eye on much, although his take on high-flying names often challenges my deep value inclinations. As I recall, he and I have a bet on Amazon; that I now appear to be winning. But it's a long time until year-end (bold emphasis added).
Right. Because Amazon plays by a different set of rules. As it should. Because, simply stated, Amazon's different.
I had a whole long thing written, ready to edit, proofread and publish, but I scrapped the entire narrative after reading what I can confidently call the definitive take on Amazon.com. Nothing I have ever said or could hope to say articulates the 5 Ws plus H of Amazon better than this piece I will direct you to.

Thanks to Jeff Macke of Yahoo! Finance for Tweeting me towards this awesome Slate article by Matthew Yglesias, which Business Insider picked up over the weekend.
It's well worth your time to read How Jeff Bezos Can Take Over The World Without Earning A Profit (even though he actually did earn a profit in Q4), but here are what I consider the key excerpts/takeaways:
Over the past five years ... the retailer of the future managed to more than triple its sales while slicing profits by more than half. Its a business success story like no other in the world.
To understand the significance of Amazon's lack of profits, you need to distinguish it from another class of unprofitable company: the high-tech startup. Technology companies backed by venture capitalists often rise to prominence without showing profits ...
The prevailing theory in Silicon Valley is that it's a mistake for new companies to focus too much on developing revenue ... it makes sense for a company to focus first and foremost on building a great product and getting people to use it. Once you've reached a critical mass of users,then comes the time to think about revenue strategies ... Once upon a time, Google (GOOG) and Facebook (FB) were just impressive products with little or no revenue. Today theyre financial juggernauts that have parlayed their user bases into an advertising bonanza ...
In other words, -- growth first, revenue later -- is a risky business strategy, but a proven one ...
Amazon doesn't fit this mold ...
This image of a firm that remains a darling of Wall Street despite a lack of profitability is tempting. But the truth is more likely the opposite. Amazon doesn't turn a profit because its a darling of Wall Street.
Yglesias goes on to argue that Jeff Bezos was smart enough, intentionally or not, to make Amazon as profitable as possible in the early 2000s after the dot-com bust noting ...
Wall Street was suffering from a massive Internet hangover, and Bezos provided the cure. A native e-commerce player that sold things for more money than it cost to obtain and deliver them. A concrete demonstration that the Internet was a real business platform.
Once tech roared back into investors' good graces, Bezos, according to Yglesias, "quietly took advantage of that spirit of re-enchantment to stop worrying about profits."
The author goes on use several fantastic examples to illustrate his story and close with something traditional value investors and other chirpers and Amazon haters can't seem to wrap their heads around: The no-profit party will, quite likely, continue to roll on.
The beauty of Yglesias's Slate piece is that it articulates notions of a completely different company doing business in an entirely different way thanks, in large part, to a mix of good luck and Bezos's genius. Amazon has created a context it operates in that other companies cannot understand, let alone co-opt, making it impossible for them to battle effectively within their present -- and very limited -- compete on price strategies.
--Written by Rocco Pendola in Santa Monica, Calif.