NEW YORK (TheStreet) -- I actually had a guy who writes for another site say this to me post-Amazon.com (AMZN) earnings:
So in other words, I'm saying, "you're wrong and I told you so," but not being a douche about it in public. I enjoy your writing!
As if we haven't sung this song before. In fact, as this chart (courtesy of Nasdaq.com) shows, AMZN tends to go down, sometimes even tank, after it reports earnings:

But that doesn't stop guys who still haven't bought the beers they owe me from our AMZN to $400 bets from chirping. Even my otherwise intelligent friend, TheStreet contributor Robert Weinstein, can't hold back. Here are a few text messages we exchanged after Amazon reported a quarter where profits soared, but the stock plunged: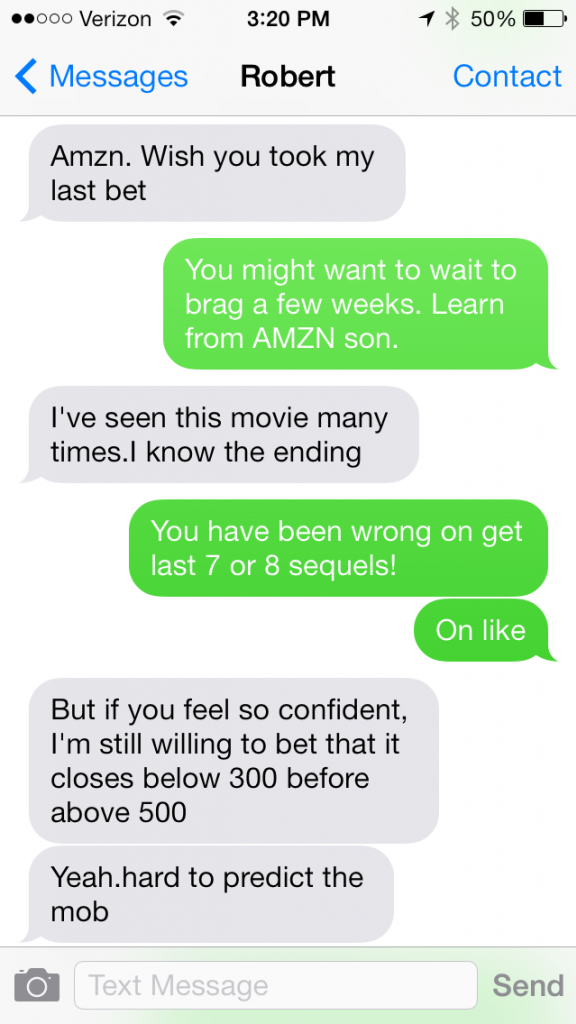 For the record, Robert's in gray. I'm in green there.
One of the few people to practice wise restraint vis-a-vis AMZN is another contributor to TheStreet, Jonathan Heller, who wrote:
I can't wait to see Street.com columnist Rocco Pendola's take on Amazon's latest report. Rocco and I don't see eye to eye on much, although his take on high-flying names often challenges my deep value inclinations. As I recall, he and I have a bet on Amazon; that I now appear to be winning. But it's a long time until year-end (bold emphasis added).
Right. Because Amazon plays by a different set of rules. As it should. Because, simply stated, Amazon's different.
I had a whole long thing written, ready to edit, proofread and publish, but I scrapped the entire narrative after reading what I can confidently call the definitive take on Amazon.com. Nothing I have ever said or could hope to say articulates the 5 Ws plus H of Amazon better than this piece I will direct you to.