**UPDATED from 2:06 PM EST to include Tweet from San Francisco Chronicle reporter and an image of repairs taking place along with reaction from a Sears Canada employee on Page Two.
NEW YORK (TheStreet) -- If you require history to fill in the blanks on what follows, see, from January 14, Sad Pictures Of A Sears Store That Will Make You Angry.
That's an image, taken Friday morning, that shows Sears Holdings (SHLD) has finally taken some action to fix windows that have sat broken and boarded since last summer's post-George Zimmerman trial riots in Downtown Oakland.
While the San Francisco Chronicle first raised the issue in December, the newspaper's report didn't trigger the firestorm TheStreet's reporting prompted, particularly on Twitter (TWTR), earlier this month.
Because Sears refused to respond to TheStreet's repeated requests for comment as to the timing of the fix, I feel confident that the heat the company took from investors and consumers forced it to act.
When first queried, Sears PR rep, Howard Riefs, claimed ...
FYI -- The windows you reference have to be specially fabricated and have been ordered. We are awaiting their arrival.
But he, presumably acknowledged and ignored my follow-up emails, the most recent of which is screen-captured here:

My source in Oakland, who works in a nearby office building, told me that while he did not walk the perimeter of the store, "most are not fixed for sure."
So, with this particular piece of blight taken care of, Sears is slightly less pathetic heading into the weekend ...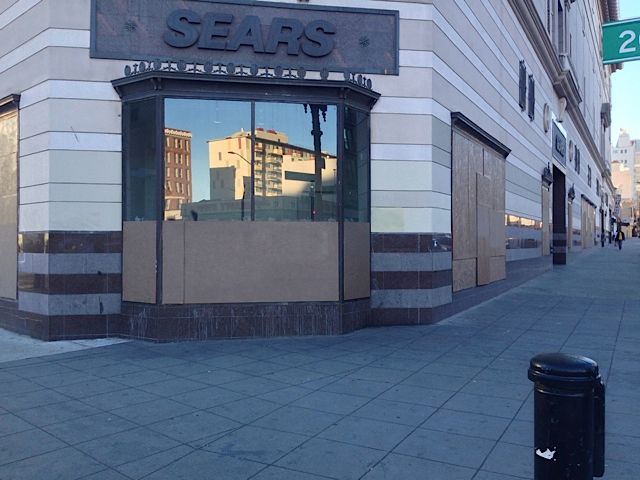 UPDATE: I came across this Tweet from the reporter who has been covering this story for the San Francisco Chronicle, showing the work actually being done at Sears in Oakland.
Great news: Reader Dave Stann reports Oakland Sears windows are getting fixed @SFChronWatch (http://t.co/g7a73iVidX) pic.twitter.com/MRvzyQXZIL

Vivian Ho (@VivianHo) January 30, 2014

I reached out to Riefs again today, both via email and Twitter, but have yet to receive a response.
However, I did receive an email from a store manager from Sears Canada. What he wrote (see Page Two) resonates with me. It should resonate with investors as well as executives at Sears.

Rocco,

I work for Sears, in Canada (just a low level person...sorry I won't make a good twitter war for you). I agree...we have our challenges to fix. However, our biggest problem is negative perception. I believe you have said it yourself...other companies will get a pass for the same sin...or something like that. My question to you is...my gosh...what has Sears done to you? The attacks seem...personal. Man, we must have really ruined something in your world...the volume that you have written negatively about Sears is staggering. Is there no other topic you can write about? I am not saying you are wrong...you are not. But ... maybe...just maybe...with a little positive spin from guys like you...some good hard work on taking care of our customers from a team like us...maybe...we can stop the bleeding long enough to make a come back...an fix the windows too.

Take care...if you happen to be in Ancaster, Ontario, Canada...drop in to see me at the Sears Home store. I would be happy to show you my store.
And I would be happy to come see it.
That's a completely genuine email. I can't possibly disrespect it, even the parts where he's angry with or critical of my Sears coverage. But, as I have stated before to other "low level" employees at Sears, if this is personal at all -- for any of us -- we should direct our personal fervor at Sears' executives.
I'm doing my job. I'm not an idle journalist. I'm not a reporter. I write columns. I express opinions. That's what I get paid to do. And when I see a company conduct itself the way Sears has -- with very real consequences for everybody from investors to consumers to its employees as well as the communities it operates in -- I am going to beat the issue to death. Never have I attempted to hide that fact. To the contrary -- I broadcast it.
Because, here's the thing -- if I (and others) don't, Sears gets what it wants. A free pass to fly under the radar without anybody inserting checks and balances into the system. If you look at it that way, I would actually be shirking my responsibility if I did not cover the Sears story as aggressively as I do.
My coverage played some role ... I think a large role, but whatever the magnitude, it played a role in getting things done in Oakland. Personally, I'm proud of that.

--Written by Rocco Pendola in Santa Monica, Calif.