**UPDATED from 2:06 PM EST to include Tweet from San Francisco Chronicle reporter and an image of repairs taking place along with reaction from a Sears Canada employee on Page Two.

NEW YORK (TheStreet) -- If you require history to fill in the blanks on what follows, see, from January 14, Sad Pictures Of A Sears Store That Will Make You Angry.
That's an image, taken Friday morning, that shows Sears Holdings (SHLD) has finally taken some action to fix windows that have sat broken and boarded since last summer's post-George Zimmerman trial riots in Downtown Oakland.
While the San Francisco Chronicle first raised the issue in December, the newspaper's report didn't trigger the firestorm TheStreet's reporting prompted, particularly on Twitter (TWTR), earlier this month.
Because Sears refused to respond to TheStreet's repeated requests for comment as to the timing of the fix, I feel confident that the heat the company took from investors and consumers forced it to act.
When first queried, Sears PR rep, Howard Riefs, claimed ...
FYI -- The windows you reference have to be specially fabricated and have been ordered. We are awaiting their arrival.
But he, presumably acknowledged and ignored my follow-up emails, the most recent of which is screen-captured here:

My source in Oakland, who works in a nearby office building, told me that while he did not walk the perimeter of the store, "most are not fixed for sure."
So, with this particular piece of blight taken care of, Sears is slightly less pathetic heading into the weekend ...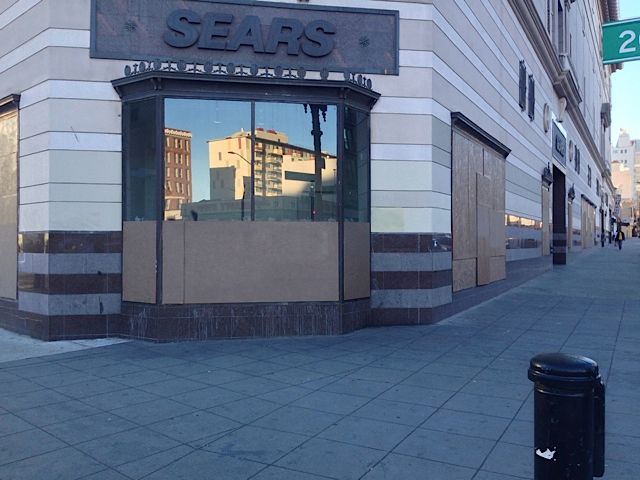 UPDATE: I came across this Tweet from the reporter who has been covering this story for the San Francisco Chronicle, showing the work actually being done at Sears in Oakland.
Great news: Reader Dave Stann reports Oakland Sears windows are getting fixed @SFChronWatch (http://t.co/g7a73iVidX) pic.twitter.com/MRvzyQXZIL

Vivian Ho (@VivianHo) January 30, 2014

I reached out to Riefs again today, both via email and Twitter, but have yet to receive a response.

However, I did receive an email from a store manager from Sears Canada. What he wrote (see Page Two) resonates with me. It should resonate with investors as well as executives at Sears.