As my source noted, this is in a portion of Downtown Oakland that's not merely up-and-coming, but a target of organized redevelopment.
Here are some recently-built condos across the street from the Sears store: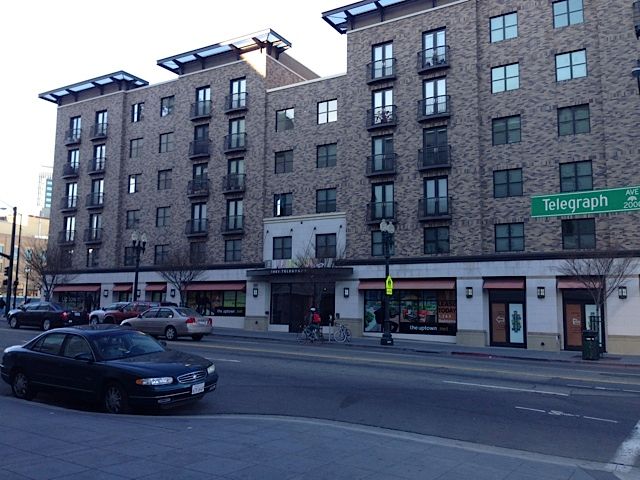 Of course, there's more to the story. And I'm not sure if this backstory makes the entire situation more or less disgraceful.
As reported by the Contra Costa Times in December, a local developer, Alan Dones, might be close to buying the building:
Our objective is to get the building back to the point where it is open and visible and a cornerstone to downtown Oakland.
Because, clearly, Sears seems to have shown zero interest whatsoever in doing this on its own, even though it provided shallow lip service in the above-linked article about the possible sale. The same spokesman, Howard Riefs, who claims Sears is just having trouble getting a hold of the proper windows so it can clear up the blight had this to say, as, mind you, the very building he's talking about sits boarded up with no relationship to the street or its relatively vibrant surroundings:
Sears values its presence in Oakland. We remain committed to serving our members and customers in the Oakland community.
Sears must really think we're all total idiots.
Do a Google (GOOG) search for "broken windows theory." James Q. Wilson. William Bratton. Times Square. New York City. Crime. Community Policing. There's lots of interesting stuff out there on the notion of "broken windows."
In many ways, you can apply this construct from criminology to the situation at Sears.
By allowing even a little bit of blight to exist across its real estate (though I reckon it's a lot more than a little), it festers and sends the signal to onlookers that nobody cares.
And Sears executives have the nerve to claim that traders and investors short the stock have an agenda.
@Rocco_TheStreet @Sears @technogaijin why not? We can't let the shorts and others with an agenda simply take uncontested shots at us.

Chris Brathwaite (@ChrisBrathw8) January 5, 2014

Bull. They just know a golden opportunity when they see one.
In closing, I received the following comment from a reader of an earlier Sears article:
Who is paying 'thestreet' to write this rant again (sic) Sears ... It is not up to someone like 'thestreet' to try to drive a good American Company out of business... unless... they are being paid to do it ... American companies deserve far better than anything offered in your tripe.
No. The Sears story writes itself. The company's management team has bought and sold its own demise.
The American people -- and, more so, their communities -- deserve better than the very little Sears offers.

**UPDATE: See Sears' response on the next page ...