The other night, a source who lives in Oakland, California, sent me an SFGate article from December 5, 2013:
For a short time in July, downtown Oakland looked like a ghost town marked by boarded-up windows and graffiti after rioters, angry at the acquittal of George Zimmerman in the murder of teenager Trayvon Martin in Florida, swept through the area with masked faces.
But while other small businesses and shops replaced their glass and cleaned up their storefronts within a few weeks, Sears, one of the city's biggest retailers, still looks practically abandoned almost five months later ...
Neighbors have spent the past few months asking the store's managers and the city to fix the storefront, but have gotten no results.
"I walk past it every day - it's depressing," said Gilbert Lara, 46, who lives a block away. "It really affects the quality of life in that area because the building's such a huge presence there."
Sears, though, has no plans to fix the problem. Howard Riefs, a company spokesman, said that because the windows are difficult to replace, the store has no time frame for when repairs will begin and end.
As the images on Page One and throughout this article show, Sears still hasn't acted, at least not in a meaningfully aesthetic way, to rectify the situation. The blight still exists.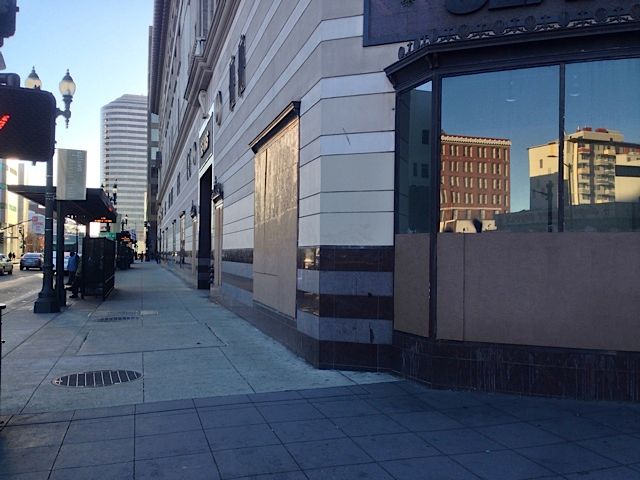 But the kicker here -- as if it should even matter -- is that this Sears store doesn't sit in some forgotten land. It's not in an abandoned shopping mall like the Sears in my hometown of Niagara Falls, New York. It's in the middle of a major urban downtown, one that is undergoing a massive, multi-million dollar revitalization.