**Updated from 01/14/14 at 03:45 PM EST on Page Five with word of Sears' response to the issue described in this article.
NEW YORK (TheStreet) -- The folks at Sears Holdings (SHLD) like to paint the picture that they're treated unfairly by the media. As I confirmed Monday at TheStreet, there's no question, Sears absolutely does get the short end of the stick.
But there's a reason why ... the hits just keep on coming.
Have a look at these photographs (there are more -- just as infuriating -- on the subsequent pages of this article):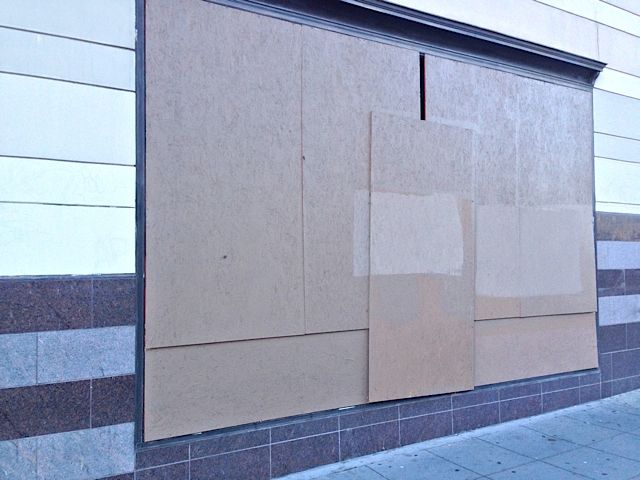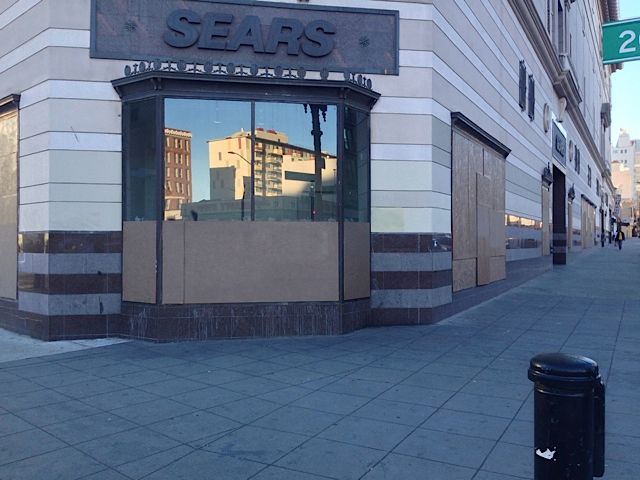 That Sears store is, even if feebly, open for business.
There's no defending what's happening here. And it's not like Sears hasn't had ample opportunity to make it right. What follows is nothing short of a disgrace; in fact, I would go so far as to call it scandalous. At the very least, Sears has given up on its responsibility to proudly serve its country as a homegrown retailer and, at one time, a pillar in the broad physical retail space.
Sears management should be absolutely ashamed of itself.

The other night, a source who lives in Oakland, California, sent me an SFGate article from December 5, 2013:
For a short time in July, downtown Oakland looked like a ghost town marked by boarded-up windows and graffiti after rioters, angry at the acquittal of George Zimmerman in the murder of teenager Trayvon Martin in Florida, swept through the area with masked faces.
But while other small businesses and shops replaced their glass and cleaned up their storefronts within a few weeks, Sears, one of the city's biggest retailers, still looks practically abandoned almost five months later ...
Neighbors have spent the past few months asking the store's managers and the city to fix the storefront, but have gotten no results.
"I walk past it every day - it's depressing," said Gilbert Lara, 46, who lives a block away. "It really affects the quality of life in that area because the building's such a huge presence there."
Sears, though, has no plans to fix the problem. Howard Riefs, a company spokesman, said that because the windows are difficult to replace, the store has no time frame for when repairs will begin and end.
As the images on Page One and throughout this article show, Sears still hasn't acted, at least not in a meaningfully aesthetic way, to rectify the situation. The blight still exists.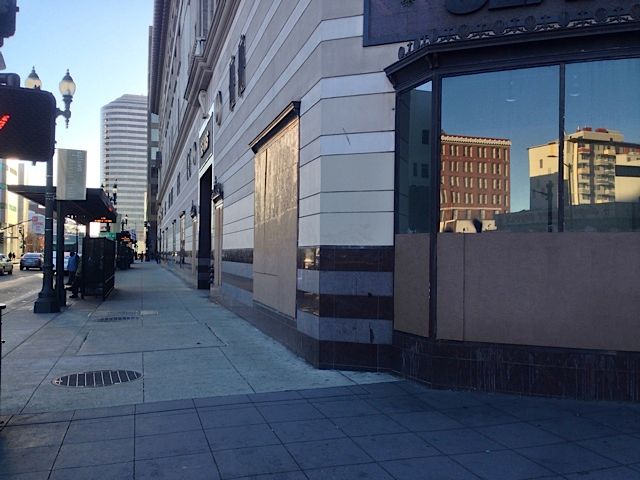 But the kicker here -- as if it should even matter -- is that this Sears store doesn't sit in some forgotten land. It's not in an abandoned shopping mall like the Sears in my hometown of Niagara Falls, New York. It's in the middle of a major urban downtown, one that is undergoing a massive, multi-million dollar revitalization.

My Oakland source provides more verbal and visual context:
I counted and there are ELEVEN broken windows in a row ringing around Telegraph Ave and 20th St.
And -- just so you know -- this isn't exactly a derelict part of town. It is in the heart of the city's major redevelopment area, between our major economic anchors of the Fox and Paramount theaters. It is surrounded by several new apartment/condo complexes, more than a dozen hip restaurants and probably 2x that for bars. And several major employers including Pandora, Kaiser and Clorox all have their HQ's within five or six blocks of this building.
Yes, Oakland has it's challenges. And it is terrible that people would choose to self-destruct our local businesses in a protest. But -- as you know -- I take a lot of pride in my adopted hometown, and this blight is just shameful.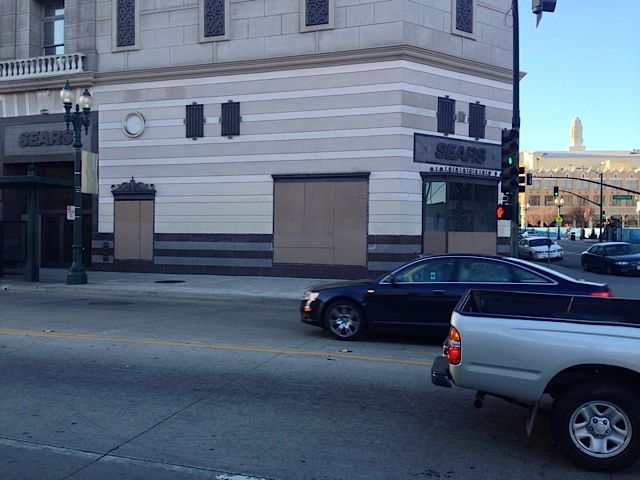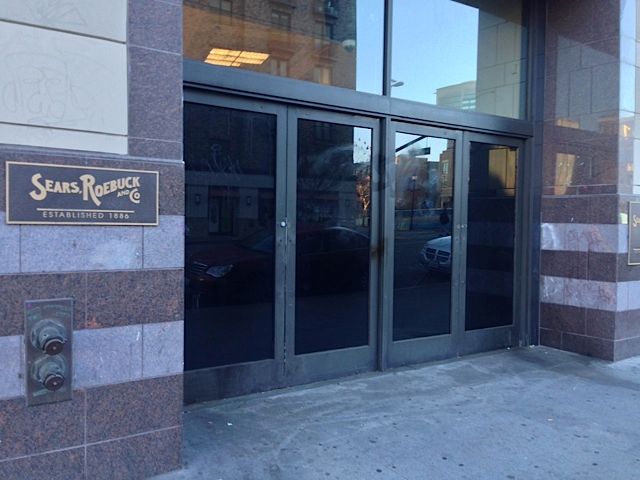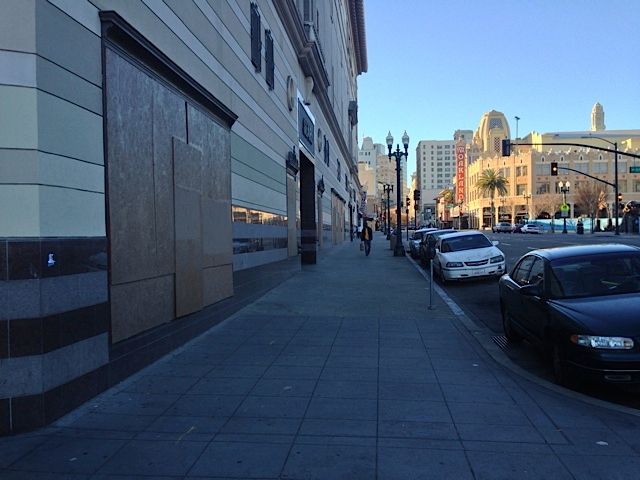 As my source noted, this is in a portion of Downtown Oakland that's not merely up-and-coming, but a target of organized redevelopment.
Here are some recently-built condos across the street from the Sears store: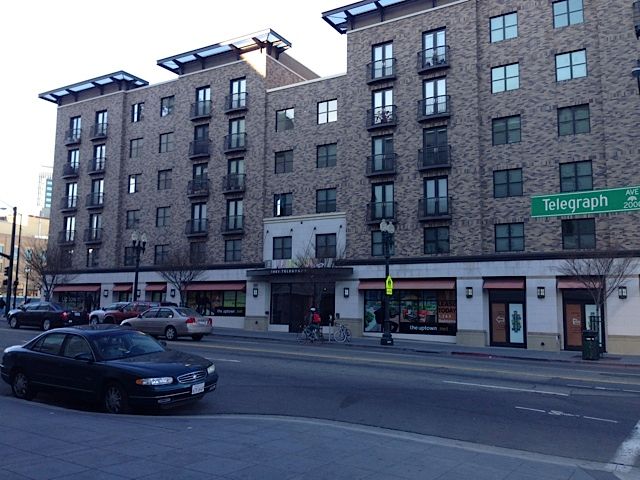 Of course, there's more to the story. And I'm not sure if this backstory makes the entire situation more or less disgraceful.
As reported by the Contra Costa Times in December, a local developer, Alan Dones, might be close to buying the building:
Our objective is to get the building back to the point where it is open and visible and a cornerstone to downtown Oakland.
Because, clearly, Sears seems to have shown zero interest whatsoever in doing this on its own, even though it provided shallow lip service in the above-linked article about the possible sale. The same spokesman, Howard Riefs, who claims Sears is just having trouble getting a hold of the proper windows so it can clear up the blight had this to say, as, mind you, the very building he's talking about sits boarded up with no relationship to the street or its relatively vibrant surroundings:
Sears values its presence in Oakland. We remain committed to serving our members and customers in the Oakland community.
Sears must really think we're all total idiots.
Do a Google (GOOG) search for "broken windows theory." James Q. Wilson. William Bratton. Times Square. New York City. Crime. Community Policing. There's lots of interesting stuff out there on the notion of "broken windows."
In many ways, you can apply this construct from criminology to the situation at Sears.
By allowing even a little bit of blight to exist across its real estate (though I reckon it's a lot more than a little), it festers and sends the signal to onlookers that nobody cares.
And Sears executives have the nerve to claim that traders and investors short the stock have an agenda.
@Rocco_TheStreet @Sears @technogaijin why not? We can't let the shorts and others with an agenda simply take uncontested shots at us.

Chris Brathwaite (@ChrisBrathw8) January 5, 2014

Bull. They just know a golden opportunity when they see one.
In closing, I received the following comment from a reader of an earlier Sears article:
Who is paying 'thestreet' to write this rant again (sic) Sears ... It is not up to someone like 'thestreet' to try to drive a good American Company out of business... unless... they are being paid to do it ... American companies deserve far better than anything offered in your tripe.
No. The Sears story writes itself. The company's management team has bought and sold its own demise.
The American people -- and, more so, their communities -- deserve better than the very little Sears offers.
**UPDATE: See Sears' response on the next page ...


I received an email from Howard Reifs, Sears' Director of Corporate Communications, Tuesday afternoon.
In it, he wrote:
Rocco -

FYI - The windows you reference have to be specially fabricated and have been ordered. We are awaiting their arrival.
I replied with the following:
Hi Howard-

When did you order them? When will they arrive?

It has been about 7 months since the riots. Do you not see any problem with leaving boards and such up on the windows? Couldn't you have come up with a better or different solution in the meantime?

I intend to publish the contents of this email as Sears' response.

Thank you,

Rocco
Though I have yet to hear back from Reifs with answers to these questions (after repeated attempts), the San Francisco Chronicle, who broke the original story in December, received confirmation from the Oakland Building Department that Sears has indeed ordered the windows and "expect(s) installation in about a month."
No mention of TheStreet's story in the Chronicle story or if my article from Tuesday is what prompted Sears to act, but the newspaper had no problem hijacking my application of the Broken Windows theory. It's all good, as long as Sears follows through. They'd better because it's been a bad week and really an awful start to the year for some physical retail players, as further evidenced by Best Buy's (BBY) bad holiday numbers Thursday morning.
--Written by Rocco Pendola in Santa Monica, Calif.