NEW YORK (TheStreet) -- Over the weekend, I sent out a Sears Holdings (SHLD)-related All Points Bulletin: If You Work For Sears, Quit And Find A New Job Now.
It's time to continue moving the retail conversation forward.
First, it's important to understand why Sears gets treated the way it does.
Traders and investors heavily short its stock. And the media, admittedly, treats the company unfairly. There's no question about it. All things equal (which they are not), I treat Sears unfairly every time I write about it. But there's a totally plausible reason why this happens.
So, in the present article, I hit that angle. In one that immediately follows on TheStreet, I begin to explain how, if it takes steps to radically change its culture and approach, Sears might be able to survive.
Last week I had a pair of conversations with Sears VP of Corporate Communications Chris Brathwaite. One of the things we discussed was why Sears gets the short of the stick in the media. In no uncertain terms, I told Brathwaite he should not encourage that type of conversation. While it's his job to defend his company and position it in the best light possible, there's no way he can win a debate about fairness. He has no business even engaging in one.
Simply put, Sears doesn't deserve something as righteous as fairness. It doesn't warrant the benefit of the doubt -- from any of us. In fact, if Sears does anything from a public communication standpoint, it should be begging for forgiveness.
Contrast the situation at Sears with the one at Apple (AAPL), a company that, relatively speaking, gets treated with fairness. In fact, while we all take our shots here and there, most of us view Apple with admiration.
You might recall just over a year ago when stories surfaced that Apple Store employees routinely destroyed product and showed what amounts to no regard for the company. That story made some waves, but it pretty much came and went.
If we found out that that type of thing was going on in Sears' stockrooms, the media onslaught and public outcry would have been relentless; multiple people at Sears would have been held accountable. Heads would have rolled (like they probably should be now).
That's because, unlike Apple, Sears has no redeeming qualities. It has become a national disgrace. A total laughingstock. A target for nothing but contempt.
I mean just look at some of the comments people made at TheStreet's Facebook (FB) page in response to this past weekend's Sears story ...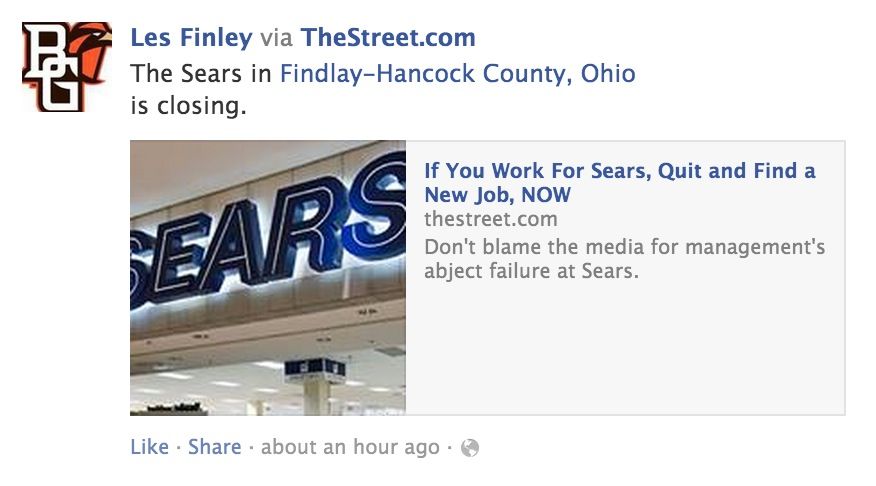 If they're not alerting us to a store closing, our Facebook followers are just trashing Sears in the comments. No respect shown. Because, given what management has made of the company, Sears doesn't deserve any respect.
As such, Sears can't respond to criticism or unfair treatment with a "yeah, but ..." That's just not going to cut it at Sears because it can't follow "yeah, but ..." with anything meaningfully positive the way a company like Apple can. Sears operates from an indefensible position of weakness.
The point here is not to compare Sears with Apple. That would be folly. But it is to say Apple, being the ultimate example, has the right to defend itself. In fact, most companies do. Sears, thanks to years of corporate neglect, lost that right. It should carry itself like a convicted felon, showing remorse in hopes of parole on the count of good behavior.
--Written by Rocco Pendola in Santa Monica, Calif.