NEW YORK (TheStreet) -- Over the holiday break, I visited My Hometown of Niagara Falls, New York.
That track -- one of seven top 10 singles from Bruce Springsteen and The E Street Band's Born in the U.S.A. album -- embodies parts of the place quite well. But Downbound Train, one of the better, relatively unknown songs on that record, does an as good, if not better job articulating the attitude of this and other broken and beaten down places always, seemingly, on the cusp of revival:
Now I work down at the carwash/Where all it ever does is rain/Don't you feel like you're a rider on a downbound train
So there's that side of Niagara Falls, New York. The one Bloomberg BusinessWeek did an excellent (and very long) piece on back in December 2010.
Three-plus years later and not much has changed. Springsteen can still provide the soundtrack for Niagara Falls. And BusinessWeek's unfortunate, but wholly accurate description still applies. A straightforward description with the attendant source of bewilderment that has dogged residents and other observers for several lost decades ...
... the decrepit city in western New York State ... in spite of its proximity to an attraction that draws at least 8 million tourists each year ...
Full disclosure: I was born in and lived in that "decrepit city" along the Canadian border for 19 years. Come to think of it, when I turn 39 this summer I will have officially spent more years living away from Niagara Falls than I spent living in it. And, while I would be lying if I said I miss the place, I still want to see it recover.
There's a fair bit of revitalization going on these days, including a hopeful program CNBC reported on in 2012 where the city will cover student loan payments for college graduates who agree to live in targeted neighborhoods. It's this type of initiative -- and others that are creative, new and championed by a fresh(er) generation of young people in Niagara Falls -- that gives me hope my hometown will recover (or something "like" recover).
But, no surprise, many residents react to any talk of a resurgence with cynicism. I can't blame them. It's tough to be upbeat when the temperature plummets through the teens into the single digits, the wind blows and the snow falls. Much of the time, Niagara Falls just doesn't feel like a very positive place. Remove corner bars, pizza joints and droves of Canadians shoppers from the equation and you have a city with very little that resembles urban activity, unless, of course, you count crime and poverty.
The air of negativity that hangs over Niagara Falls probably explains both the reason why some residents think the soon-to-open standalone Starbucks (SBUX) can't succeed here (My mother's reaction: "Nobody's paying $4 for a coffee here.") and why it will be, relatively speaking, as lucractive a goldmine as any other Starbucks anywhere else in the world.

Two Starbucks already exist in Niagara Falls. There's one downtown by the Falls inside a Sheraton hotel. There's another (pictured, quite importantly, below) inside the Factory Outlet Mall, about five miles from downtown in the LaSalle section of the city. That's near where my parents live today and I spent a few teenage years before I got out while I was young.
Otherwise -- or if you want a standalone Starbucks -- you have to travel north to the far more bustling Niagara Falls, Ontario in Canada or south to suburbs of Buffalo such as Amherst or the City of Buffalo itself.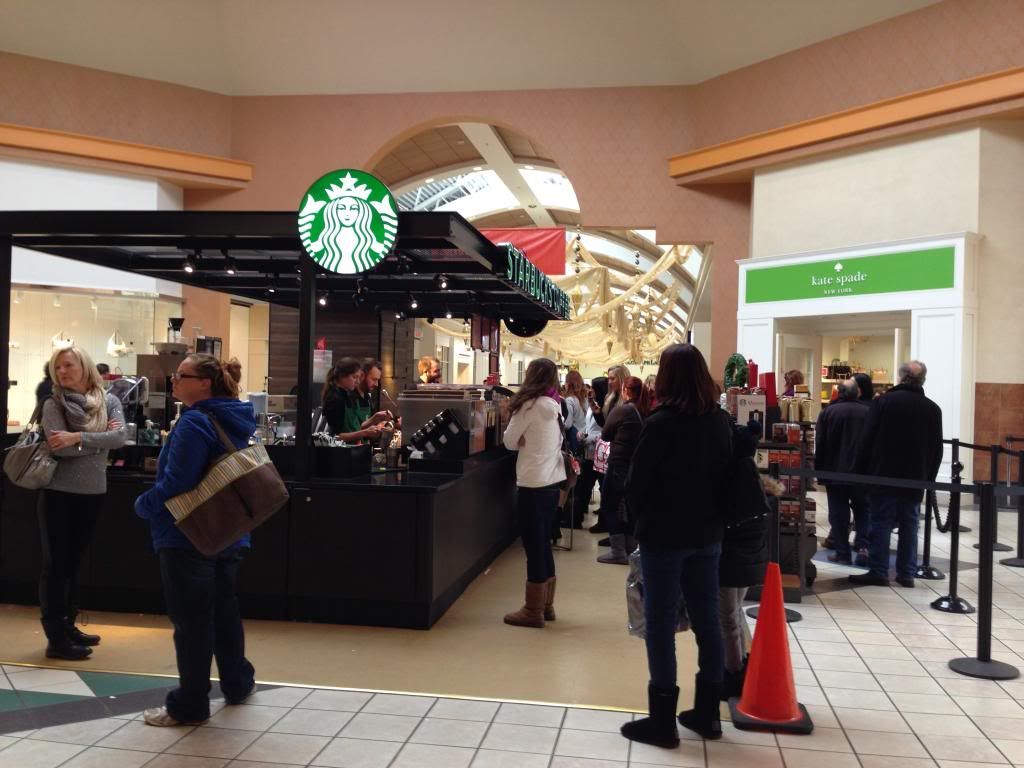 So, with that in mind, it's noteworthy that Starbucks will open a free-standing store in the City of Niagara Falls. It will sit in front of an LA Fitness gym that just opened and, assuming the rest of the space gets leased, other retail. The location is just off the main exit into Niagara Falls from the I-190 thruway, a few exits from a popular border crossing.
Undoubtedly Starbucks understands something anybody with even a drop of local knowledge understands (even if reluctantly). If it weren't for the Canadians who come across the border to consume, Niagara Falls would be, by definition, dead. It's not insane to contend that, if not for the Canadian influence, a significant amount of the retail Niagara Falls houses never would have leased space or broken ground.
That's a list that spans Wal-Mart (WMT) to Target (TGT) to the fantastic (privately-owned) Wegmans and the fortcoming Bed, Bath & Beyond (BBBY).
In this regard, the Canadians give Americans in Niagara Falls life, at least from a consumerist standpoint. And Starbucks probably wouldn't be opening at this new location if that dynamic didn't exist.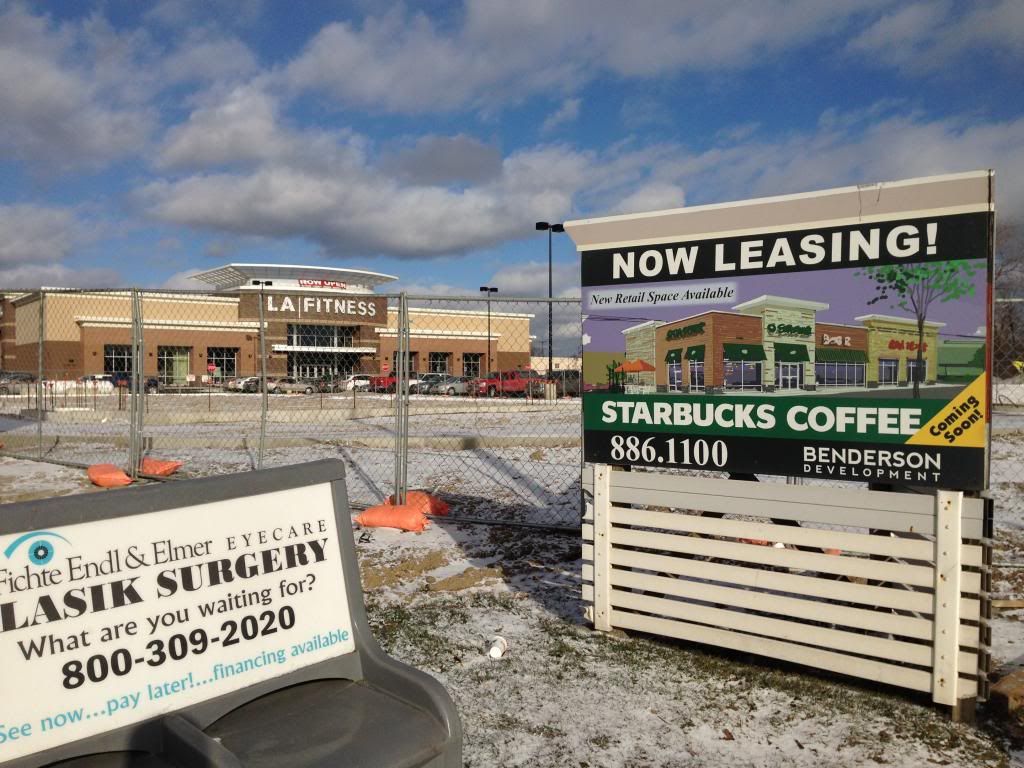 But there's more to it than that ...
Howard Schultz and his teams at Starbucks understand urban socio-psyhcology with the best of them. He proved this in one respect when Starbucks acquired Teavana. Schultz followed my lead (giggle, giggle) by pointing out the need for Starbucks to urbanize Teavana by shifting the latter's lame suburban shopping center-only real estate strategy.
And, along similar lines, Starbucks understands that, as an aspirational brand, beaten down places (with flickers of hope) such as Niagara Falls are precisely where it needs to be. Residents of this city will trip over one another -- and line up between copious amounts of Canadians -- to pay $4 for a coffee.
Soon, walking out of Starbucks after a workout at LA Fitness (I wonder why they market with notions of sunny, hip, cool and trendy Los Angeles!) with your Juicy sweatpants tucked into your Uggs boots will flash status. There's somehing psychologically comforting about living in a place like Niagara Falls, knowing that you're doing what the residents of vibrant places are doing, even if that's the seemingly mundane "task" of buying a ventil, no foam, extra hot, soy latte.
I know this because I lived it.
That all sounds urban elitist. And maybe it is. But it's 110% true. And, while it won't market itself as bringing Niagara Falls up to speed with the rest of society, Starbucks knows this ... a hell of a lot more than I do. You need to know this to understand that growth prospects for Starbucks exist domestically. Both with Teavana (see the above-linked article) and hitting untapped markets, ripe for a Starbucks addiction.
My theory aside -- just observe the Factory Outlet Mall location. Not only is there often a line, but I noticed a considerable number of people parking in front of the mall entrace closest to that Starbucks, dropping off a passenger and idling outside while that passenger fetched a couple drinks and pastries.
Starbucks has another no brainer on its hands.
Of course, this one store won't drive the stock higher. No one store possibly could. However, the story of this store details the power of the Starbuck brand. It's a narrative that's not only intact, but as convincing as Apple's (AAPL) and the posers who outperformed AAPL and, in some cases, even SBUX in 2013.
--Written by Rocco Pendola in Niagara Falls, New York