NEW YORK (TheStreet) -- I know how to charm social media editors:
@Rocco_TheStreet Awww! We love being compared to chocolate and peanut butter!!

Yahoo Screen (@YahooScreen) December 17, 2013
While haters lose focus, emotionally sidetracking on overblown issues surrounding the company's Mail platform, I've been playing with Yahoo! (YHOO) Screen on my iPad Air.
Use of the recently upgraded app coincides with considerable thought about where Marissa Mayer might be taking Yahoo!'s video strategy. That's what matters with respect to the trajectory of the company and YHOO stock, which has more than doubled since Mayer took over.
First, beyond the slight annoyance that it auto plays video at startup (until you set it not to), Yahoo! Screen is beautifully done.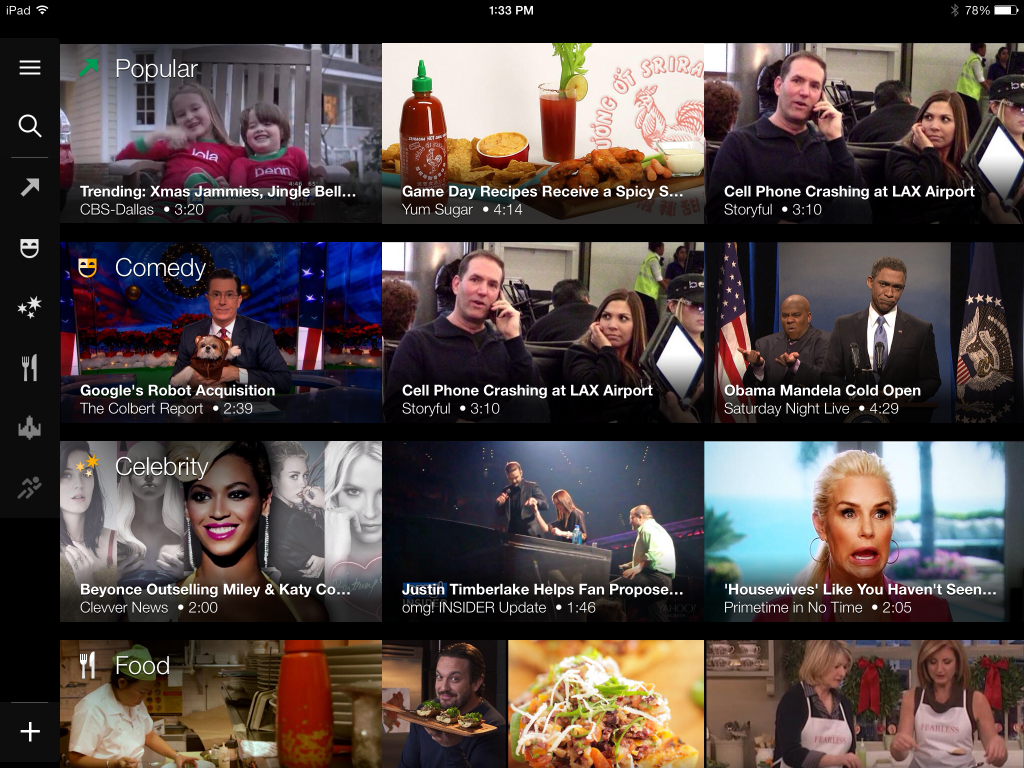 Yahoo! Screen effectively starts by picking content for you, until you personalize it by adding Yahoo!'s growing list of verticals and content partners.

I can only assume come February, you'll have the option of adding 2014 Winter Olympics coverage. ICYMI: Yahoo! signed a deal with NBC, giving it access to full events and highlight coverage.
So Mayer's stockpiling content and personalities from the Olympics to Saturday Night Live to Katie Couric. She also continues to make acquisitions, most recently scooping up live concert streamer Evntlive and PeerCDN, a company that, according to All Things D, "aims to reduce bandwidth costs for companies' servers while decreasing content delivery response times."
IMNSHO, this strategy takes some of what Hulu does and does it better. And aggressively. Hulu could put Netflix (NFLX) out of business tomorrow, but it's effectively run by a bunch of gun-shy programmers uncertain about exactly what they want. These guys are the anti-Marissa Mayer.
By seizing the live concert space, for instance, Yahoo! will attack a space neglected by practically everybody, including a network television establishment that should have been all over it for decades.
Consider this snippet from a December 2012 article where I predicted Mayer would turn Yahoo! around (how prescient!):
As Marissa Mayer explained during a recent Yahoo! conference call, Yahoo! has the user base and traffic, it just needs to do a better job leveraging what is already a "daily habit" for millions.
Mayer is creating a situation where Yahoo! becomes a bigger and better destination. She's also figuring out how to suck some loyalty out of the millions of people who already visit Yahoo! daily for news, weather, stock quotes and sports scores. In other words, she's starting to turn the mundane, almost thoughtless visits to Yahoo! into experiences worth writing home about.
Yahoo! Screen gives Yahoo!'s massive traffic base a reason to stick around, optimizing a metric I used to throw around all the time when I worked in radio -- "Time Spent." Interestingly, Mashable wrote about "Time Spent" the other day. That's a link worth visiting and an article worth reading, not only because Mashable is fantastic, but because the dialogue on "Time Spent" speaks directly to what Mayer continues to craft at Yahoo!
This means a lot for the stock because it mean a lot for advertising revenue. As Yahoo! Screen gets built out, Yahoo!'s sales infrastructure can get more creative with the types of cross-platform packages it offers clients.
--Written by Rocco Pendola in Santa Monica, Calif.