NEW YORK (TheStreet) -- When I saw that people were all freaked out because Microsoft (MSFT) won't be able to hire incoming Qualcomm (QCOM) CEO Steve Mollenkopf, I formed an "L" with my left hand and held it in front of my forehead.
Concern that some guy nobody outside of extreme geek culture has ever heard of or cares to learn about will not end up MSFT CEO only underscores the pointlessness and certain failure of the entire exercise.
Retreads (and no names). As far as we have heard, these two categories comprise the candidate pool to replace Steve Ballmer.
Following the major professional sports method of hiring retreads as "leaders" will further crush Microsoft from within. The company's set to reinforce the nail Ballmer hammered into its coffin with some wood glue.
Maybe they could hire Mike Shanahan. Or Marty Schottenheimer. How about swapping John Tortorella for Alain Vigneault? That's worked out well. Bring in a former coach turned broadcaster who wants to become a coach again. Mike Ditka looked pretty good in the cold the other night.
The only thing more pathetic than concern that Mollenkopf is out of the running is considering Stephen Elop of Nokia (NOK).
What has Elop accomplished at Nokia that even remotely qualifies him to take over a company wallowing in a mix of relative obscurity and frustration with consumers? Let's not even get into the other mess he'll have to contend with -- pending assaults from Apple (AAPL) and Google (GOOG) in enterprise hardware as well as software and services.
If you're on Microsoft's worthless board or its visonless CEO search committee, you call Jack Dorsey and say something like ...
We've heard rumors that you might be a pretentious jerk, but we don't care. Don't say anything bad about Ballmer and Gates and we'll pay you a billion dollars to come in here and fix this mess.
Microsoft doesn't need a CEO who can mind the now rock-solid balance sheet or manage dividend payouts and buybacks over coffee with the CFO. It needs somebody who can make Microsoft sexy again. A person who can make Windows something better than a necessary evil for businesses and pain in the consumers' collective butt.
It needs to grow a pair and make a Yahoo! (YHOO)-like move. Hire a CEO like Marissa Mayer (or Dorsey) who doesn't manage and count beans as much as he or she innovates, changes games and kills existing categories or creates new and exciting multi-billion dollar categories.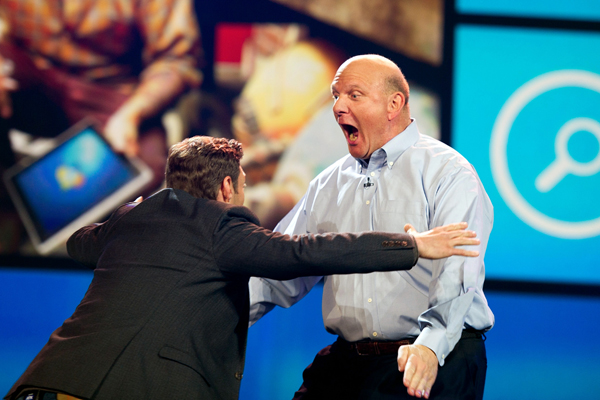 --Written by Rocco Pendola in New York City