By Kathy Garber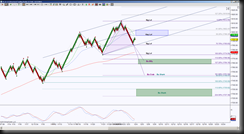 S&P futures has tested an intraday confluence support at 1785.75. This is the bottom of an uptrend Pitchfork line that correlates with a potential triangle point for an emerging harmonic pattern called Bullish Butterfly. Even though the overall trend is up as shown with the Pitchfork channel, a completion of a harmonic pattern will cause price to break below the channel support line, altering the upside bias.
This confluence support bounce is forming a required upside leg which has a minimum target of 1796.28 and maximum target at 1812.50. There is moving average confluence at the minimum target at 1796.25, so this enforces the importance of whether this level holds as resistance or not.
A hold above 1796.25 has the initial target, which also has confluence with the Pitchfork midline at 1802.50; above there has the target of 1812.50 and the top of the Pitchfork.
A rejection of 1796.25 has the retest support target at the 1785.75. It will be important if price holds below this level, if so there is a magnet by way of double harmonic pattern PRZ (Potential Reversal Zone aka harmonic pattern completion target) at 1751 and scaling points at 1774.50, 1769.50 and 1764.25. Scaling points are places to take profits, protect a profitable position or a potential reversal level.
When a double or triple PRZ fails to hold price, it's making a statement for directional bias, so be aware of price behavior around target 1751.
Even though this is an intraday perspective, it can often turn into a longer-term trade based off strength and timeliness of moves.
As always, use stops and keep an eye on the 10-handle rule. Don't forget to catch MrTopStep on The Closing Print video found under the OptionsTV page (top bar). We report directly from the SPX pits, wrapping up the day and positioning for trade tomorrow.
OptionsProfits can be followed on Twitter at twitter.com/OptionsProfits
MrTopStep can be followed on Twitter at twitter.com/MrTopStep
For LIVE futures chat, more information on the 10-handle rule and futures educational content CLICK HERE FOR A SEVEN-DAY FREE TRIAL.