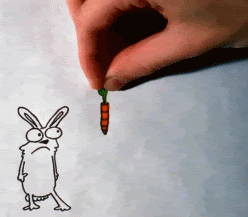 The primary news pushing stocks higher Wednesday was hard to put together. Some were pleased by eurozone reports the IMF was proposing to add $500 billion to the bailout facility bringing the total to nearly $1 trillion. Such a move would require congressional approval if we still have a constitution and the rule of law. Anyway, that idea was shot down by the U.S. Treasury. Goldman Sachs (GS) reported earnings that beat street estimates. The company had given analysts guidance lowering estimates severely so when the company beat reduced estimates we rallied squeezing shorts. In turn this lifted financials (XLF) and other banks like JP Morgan (JPM) which disappointed the previous Friday. Nevertheless, it still remains important that financials are in the mix of a rally higher since there has never been a market rally without their participation. Later homebuilder sentiment improved from 21 to 25 (50 being contraction) and this was spun to embellish the "housing market bottom" theme. Perhaps this also helped banks rally since they're still sitting on a lot of toxic waste still covered up by mark to a model valuations. Homebuilders (ITB) were higher on the day and you can watch our chart video on this at TheStreet.com most likely Thursday morning. Industrial Production data rose .4% which missed estimates of .5% but the miss was ignored. Also ignored was a
World Bank report
stating the eurozone was already in recession and the rest of the world could join them soon. Headline Producer Prices were down .1% and the core rate less food and energy was up .3%. The latter was ignored and bulls were thinking the headline number now gives the Fed a chance to launch more QE. I kid you not. Gold prices rallied slightly with a weaker dollar as the euro rallied; oil prices were relatively flat; agricultural commodities were weak; base metals were stronger; and, bond prices were lower. Volume was modestly higher but still quite light and perhaps this is the new normal. Breadth per the WSJ was quite positive.
You can follow our pithy comments on
twitter
and join the conversation with me on
facebook
.
SPY - The SPDR® S&P 500® ETF is a fund that, before expenses, generally corresponds to the price and yield performance of the S&P 500 Index. Our approach is designed to provide portfolios with low portfolio turnover, accurate tracking, and lower costs.
See more details
IWM - The
iShares
Russell 2000 Index Fund seeks investment results that correspond generally to the price and yield performance, before fees and expenses, of the small capitalization sector of the U.S. equity market as represented by the Russell 2000 Index. The index represents the approximately 2,000 smallest companies in the Russell 3000 Index.
See more details
QQQ -
PowerShares
Capital Management LLC is passionate about our goal of delivering the highest quality investment management available through one of the more benefit-rich investment vehicles ever created, the exchange-traded
fund.PowerShares
QQQ¿, formerly known as "QQQ" or the "NASDAQ- 100 Index Tracking Stock®", is an exchange-traded fund based on the Nasdaq-100 Index®. The Fund will, under most circumstances, consists of all of stocks in the Index. The Index includes 100 of the largest domestic and international nonfinancial companies listed on the
Nasdaq
Stock Market based on market capitalization. The portfolio is rebalanced quarterly and reconstituted annually.
See more details
Continue to U.S. Sector, Stocks & Bond ETFs