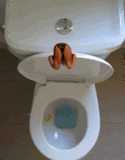 Bernanke told congress the Fed won't bailout Europe which means what in his terms? Maybe he won't even rent them his Mega-Kinko's printer. There just isn't a shred of good news Wednesday. Gold and crude oil fell apart; the dollar rallied again as the future of the euro remains in doubt and bond prices rocketed higher making for negligible yields.
What's an investor to do?
Probably find some worthwhile (as in safe) dividend ETFs such as we've posted the past two days in our Top 10 lists
here
and
here
. Or, take what the markets are giving you--low interest mortgages with which to buy cheap property for the long term. (As to the latter, I can imagine people have no interest in that.) Let's make this post short since I don't wish to sadden you further. Upon further review the eurozone fix (#15 or whatever) didn't set well with investors. It's starting to look like defaults and a euro failure or participant reconstitution are likely. While economic news in the U.S. has been improving, global contagion is pretty hard to ignore. We may see better Jobless Claims data on Thursday but perhaps many people are either falling off the rolls or getting seasonal temp work at Macys. Stocks fell sharply once again although financials, while lower, seemed to outperform for a change (if that floats your boat). Volume per the WSJ was similar as Tuesday's while breadth was negative once again. We're short-term oversold.
You can follow our pithy comments on
twitter
and join the banter with me on
facebook
.
SPY - The SPDR® S&P 500® ETF is a fund that, before expenses, generally corresponds to the price and yield performance of the S&P 500 Index. Our approach is designed to provide portfolios with low portfolio turnover, accurate tracking, and lower costs.
See more details
IWM - The iShares Russell 2000 Index Fund seeks investment results that correspond generally to the price and yield performance, before fees and expenses, of the small capitalization sector of the U.S. equity market as represented by the Russell 2000 Index. The index represents the approximately 2,000 smallest companies in the Russell 3000 Index.
See more details
QQQ -
PowerShares
Capital Management LLC is passionate about our goal of delivering the highest quality investment management available through one of the more benefit-rich investment vehicles ever created, the exchange-traded
fund.PowerShares
QQQ¿, formerly known as "QQQ" or the "NASDAQ- 100 Index Tracking Stock®", is an exchange-traded fund based on the Nasdaq-100 Index®. The Fund will, under most circumstances, consists of all of stocks in the Index. The Index includes 100 of the largest domestic and international nonfinancial companies listed on the
Nasdaq
Stock Market based on market capitalization. The portfolio is rebalanced quarterly and reconstituted annually.
See more details
Continue to U.S. Sector, Stocks & Bond ETFs