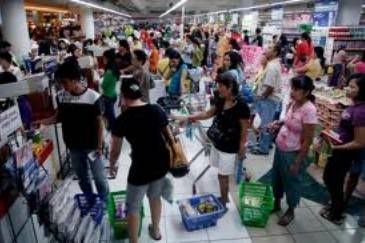 As a market technician, looking at good chart patterns adorned with many other indicators may appear to be all that matters.
But looking "at" charts of various ETFs and associated indexes doesn't necessarily cut it for many investors. Looking under the hood at ETF holdings within the index and the rationale for component inclusions can be more satisfying for thoughtful fundamental approaches. One strange thing you might discover is that some popular ETFs have holdings and weightings that are surprising and not intuitive, despite good-looking charts. For many investors, knowing what you own or wish to own is important. Retail and related consumer issues (excluding consumer staples) can offer dramatic examples of what's under the hood and perhaps offer some surprises. Let's look at a variety of these ETFs with their top holdings and see if, from a fundamental view, they meet the test of what you think you'd find under the hood.
---
RTH
(Retail HOLDRs) is not an ETF but a trust. The constituents don't change, unless there's a buyout or other event changing the component, but weightings can change over time, based on market prices. The holdings below make the most sense intuitively, when you think retail. AUM, or assets under management, total $522 million and average trading volume, 1.2 million shares.
RTH Top Ten Holdings
Below is a weekly chart of
RTH
with some minor technical annotations.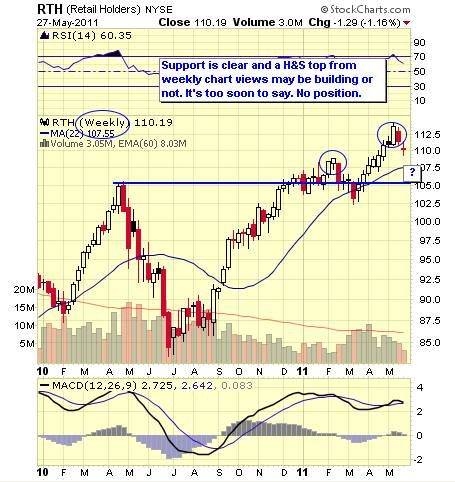 XRT
(SPDR Retail ETF) is the most heavily traded ETF in this sector with an amazing average of more than 10 million shares per day, but with AUM of just under $400 million. Here is a sector ETF where the chart has been terrific for bulls lately. But, when you look under the hood at the holdings for the index and ETF, you do a double-take, until you understand the components are "equally weighted" and represent a sub-index of the S&P Retail Select Industry Index.
XRT Top Ten Holdings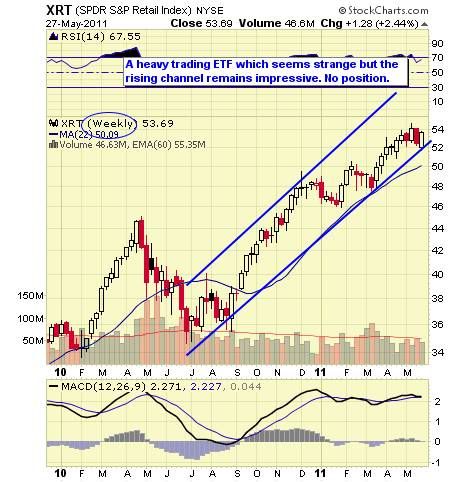 XLY
(SPDR Consumer Discretionary Sector ETF) is another popular issue, with $2.3 billion in AUM. But, unlike it's cousin XRT, volume is still substantial, but 1/3 less. Both these stats are primarily the result of indexers who need to own the
S&P 500
overall but may not trade it as much. Further, as the sponsors admit, when they were done separating all the other index sectors (Energy, Materials, Financials and so forth) the leftovers became Consumer Discretionary. They might think that's too simplistic, but that seems to be the case, in my opinion. After all, do you buy a new car frequently?
XLY Top Ten Holdings
VCR
(Vanguard Consumer Discretionary ETF) is basically the same structure as XLY. Its primary marketing push has been that it's cheaper than the next guy. However, here you see XLY's expense ratio is .20% vs. VCR's .25%. AUM are $385 million, while average trading volume is around 54,000 shares. Marketing of these products has been heavily to financial advisers and plans. There isn't much advantage of one ETF over the other, except in fees. Nevertheless, in 2011 YTD performance through May shows VCR beating XLY by .35%.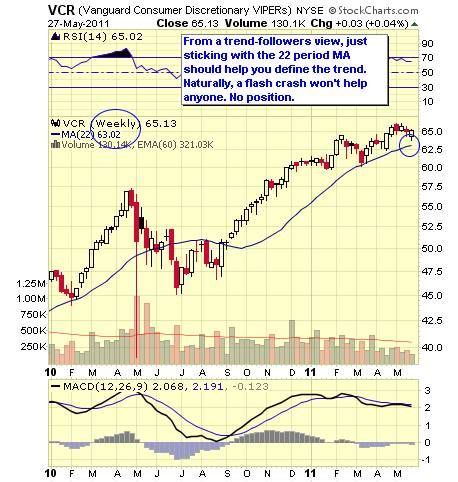 RCD
(Rydex S&P Equal-Weight Consumer Discretionary ETF) -- Taking XLY and breaking it into an equal-weight structure makes it a well-conceived and constructed ETF for investors seeing the value in not having undue exposure to the biggest companies. This doesn't mean RCD has been a success -- it has been anything but. Much of this is due to the upheavals within Rydex where after the founder passed away, ownership and management changes became routine. As a result, RCD has labored in obscurity with just under $25 million in AUM (a threshold for serious coverage) while average daily volume is less than 8,000 shares. Therefore, liquidity and trading efficiencies are greatly reduced. Personally, I like the structure but it needs some marketing support.
(Source for holding data is from ETF Database.)
IYC
(iShares Dow Jones U.S. Consumer ETF) is an ETF with double the cost of its Vanguard or SPDR peers. IYC has AUM of $219 million, while daily trading volume is fewer than 40,000 shares. There isn't a dramatic difference in holding, but enough so that YTD -performance bests in lower-priced peers by roughly .75% to 1.00%. This should be enough to make you less interested in fees and more interested in bottom-line performance.
IYC Top Ten Holdings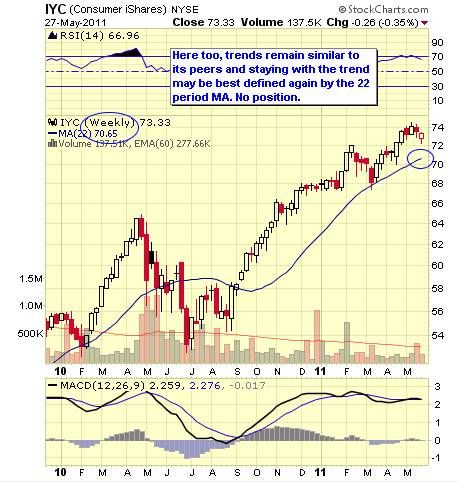 FXD
(First Trust Consumer Discretionary AlphaDex) has successfully achieved the alpha (outperformance) sought by its quantitative strategy. Various measures and inputs are constructed from the Russell 1000 to create an "enhanced" index. Most of these types of indexes are referred to as "quasi-active" in structure. FXD has AUM of $610 million and an average daily trading volume of 232,000 shares. You get what you pay for, and with a high fee of .70%, FXD has still managed YTD performance of 10.62%, putting it at the high end of performance in the sector. It's important to remember that these types of strategies may perform best in rising markets and may underperform should markets head south.
FXD Top Ten Holdings
PMR
(PowerShares Dynamic Retail ETF), like its competitor First Trust, employs a similar enhanced quantitative strategy to achieve outperformance compared to a more static index. The Dynamic Retail Intellidex Index evaluates companies based on fundamental growth, stock valuation, investment timeliness and risk factors. PMR has AUM of only $65 million and average daily trading volume of 45,000 shares. PMR's expense fee is only slightly lower than FXD, at .60% and the YTD-2011 performance has been roughly the same, at 10.23%.
PMR Top Ten Holdings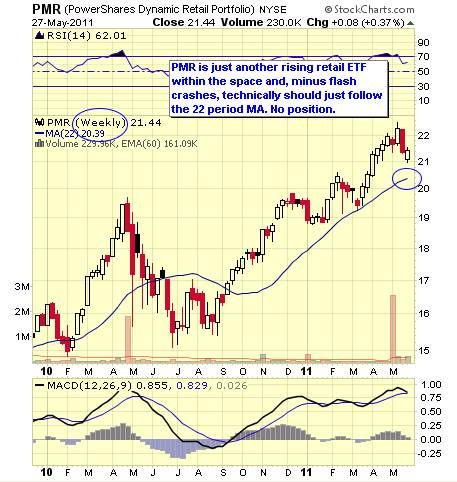 RXI
(iShares S&P Global Consumer Discretionary ETF), like many iShares issues, has an expense ratio of .48%. AUM is $152 million and daily trading volume average is 22,000 shares. Using the S&P Global Consumer Index, RXI tries to reflect the attitudes and health of consumer spending globally. Given more volatility in some sectors (Toyota and Honda particularly, as a result of the earthquake) and variations in emerging markets during the second quarter of 2011, RXI has underperformed its peers, with a 5.49% return.
RXI Top Ten Holdings
CHIQ
(Global X China Consumer ETF) takes us to the most rapidly growing consumer population on earth, where economic growth and demographics are excellent. Global X has led the charge into this space with this offering and another,
BRAQ
(Global X Brazil Consumer ETF). While we're long BRAQ in our Hedged Lazy Emerging Market Portfolio, for this, we'll concentrate on CHIQ, which now has AUM of nearly $200million and average daily trading volume of 131,000 shares. The annual fee is .65%, which is reasonable, considering the exotic and developing nature of the sector. YTD performance is only .28%, as worries mount over Chinese growth and interest rate increases.
CHIQ Top Ten Holdings
The choices for investors interested in retail issues are similar, but certainly can vary, especially given different trading characteristics. For example, traders may wish to utilize more liquid issues when moving in and out suits them. In that regard, there are also leveraged issues that may or may not be suitable, given illiquidity in some issues. Options strategies for protection and/or speculation may also assist investors, especially now, when prices for some retail-related ETFs have moved sharply higher. Our bias generally is to the more liquid issues, unless we utilize them in Lazy portfolio approaches. Just always remember, issuers issue and many times their interests aren't aligned with yours. They primarily have a business interest and wish to have a competitive presence in any popular sector.
For further information about portfolio structures using retail or other ETFs see
www.etfdigest.com.
You may address any feedback to: feedback@etfdigest.com (Source for holding data is from ETF Database.)