NEW YORK ( TheStreet) -- Copper prices were popping on optimism about the U.S. housing sector, China's economic development plans and a bullish Goldman Sachs report.
The drivers diluted the impact of a weekly commitment of traders report showing that speculators and investors reduced their net long positions in copper in the week of May 17. July copper futures were popping 2.4% to $4.111 a pound, extending the previous day's gains,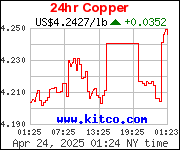 "Support is coming from the surprisingly positive trend in new home sales in the USA, stirring hope of a recovery of copper demand in the second largest consumer country," a Commerzbank Commodity Research report said. "Trends in China, by far the world's biggest consumer, will play an even greater role." Sales of new homes in the U.S. in April accelerated by 7.3% to a higher-than-expected annualized rate of 323,000, from the revised March rate of 301,000, the U.S. Census Bureau and the Department of Housing and Urban Development said Tuesday. Commerzbank Commodity Research says the latest inventory trends suggest a revival of the fairly sluggish apparent demand shown in the International Copper Study Group's (ICSG) January-February official figures. Commerzbank notes that there's a possibility the apparent demand calculated by the ICSG could be distorted downwards, factoring in hidden stocks. "The LME prices, which are trading well below the Shanghai prices after the correction, indicate in any case that Chinese businesses may cover their requirements to a greater extent on international markets, and China's requirements should remain high given the multitude of new residential and infrastructure projects stipulated in the five-year
economic development
plan 2011-2015," Commerzbank analyst said in a report.