NEW YORK (
TheStreet
) --
Gold prices
closed relatively flat Friday as investor interest waned and interest gravitated toward silver. Gold for April delivery was lost $2.10 to $1,360.40 an ounce at the Comex division of the New York Mercantile Exchange. The gold price has traded in a tight range Friday with a high of $1,369.70 and a low of $1,354.30. The spot gold price was losing more than $7, according to Kitco's gold index. P/> The U.S. dollar index was adding 0.21% to $78.41 while the euro was losing 0.41% to $1.35 vs. the dollar. The stronger dollar was neutral for gold, not causing a big selloff but not allowing it to rally either.
Silver prices
settled down 9 cents to $29.99. Prior to today, silver has managed to close above $30 for the past three consecutive trading days.
Silver and gold prices had started gaining a bit of safe haven steam as protests in Egypt heated up, but as soon as President Mubarak announced his long-awaited resignation, the metals gave up recent gains. George Gero, senior vice president at RBC Capital Markets, said silver was the metal he was focusing on Friday. Mihir Dange, trader at
Arbitrage
, was thinking about shorting silver this past Monday in order to capitalize on any 50-cent move to the downside, but now has adapted his tune.
"I am bullish," says Dange, who was long silver this morning and will stay long unless the price slips below $29.63. Dange has said that a move above $30 would push prices to $35 an ounce. "The next leg for these commodities should be up barring any substantial economic or political news in the coming weeks," Dange said.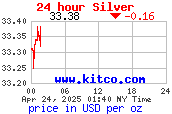 Higher gold prices have to contend with a triple-top in which the metal tried three times to break above its intraday high of $1,432 an ounce, which for many technical traders is a cautious sign. It's not that gold can't go higher, but that there are more headwinds aside from fundamentals. "Gold certainly needs some more work ahead before it can make new highs," argues David Morgan, founder of Silver-Investor.com, "Silver is tougher to analyze."