NEW YORK (
TheStreet
) --
Gold prices
Tuesday shrugged off another rate hike from China as technical trading dominated the market. Gold for April delivery added $15.90 to $1,364.10 an ounce at the Comex division of the New York Mercantile Exchange. The gold price has traded as high as $1,368.70 and as low as $1,348.90. The spot gold price was up more than $11, according to Kitco's gold index. The
U.S. dollar index
was slipping 0.11% to $77.96 while the euro rallied 0.37% to $1.36 versus the dollar. The euro was getting support from a successful bond auction in Greece, where the country raised money for 6 months at an average yield of 4.64% versus 4.90%.
Gold prices were unfazed by China's decision to raise key interest rates by 25 basis points, the third move since October 2010. China has been trying to take baby steps to fight rising inflation, which is currently 4.6%. Typically an interest rate hike would drag on gold. As paper money gains more value, gold becomes a less appealing place to put money. Gold also does well in a negative interest rate environment, which is the interest rate minus the inflation rate. Using the one year deposit rate, even with the hike, China still has a negative rate of 1.6%.
China's New Year holiday ends today so it will be interesting to note if physical gold buyers in China will be deterred by higher rates or if rampant gold buying will continue. If today is any indication, Chinese buyers will jump into the market. Just by the mere fact that China is forced to raise rates because of inflation brings the buzz word into the foreground which is supporting prices. The inflation validation "brought more funds to gold back after the $1,360 area was surpassed," says George Gero, senior vice president at RBC capital Markets. Not only were momentum buyers enticed by the rally but traders needing to cover their short positions also jumped at the opportunity. Prices "aren't completely falling out which means there is some support in the market," says Phil Streible, senior market strategist at Lind-Waldock. "The 150 day moving average is holding strong ... I think the health of the gold investor has gotten a lot better over the last week."
Streible thinks that a third round of quantitative easing could be in the cards when the Federal Reserve's current program runs out in June. Dennis Lockhart, president of the Federal Reserve Bank of Atlanta, backed up Ben Bernanke Tuesday by saying that inflation was "tame" in the U.S. despite the fact that individual prices for food and energy are rising. Lockhart also said that tightening the Fed's monetary policy wouldn't help rising raw costs. A rate hike is definitely off the table, but is QE3 on the table? More free money into the system could offset rate hikes from emerging market economies. "I think that gold prices are going to start to trend higher, it just might not be as aggressive until they get further confirmation of that," says Streible Streible thinks new highs could be achieved, but for gold to reach the $1,500 and above level a complete euro meltdown would have to take place. Trader Scott Redler, chief strategic officer at
T3Live.com
, says if the
SPDR Gold Shares
(
GLD
) holds $130.50 he will "add cash flow thru $132 for a continuation of what started last week." Shares were trading at $133.02. Dominating the gold market was the news that
JPMorgan Chase
(
JPM
) would now accept gold as collateral for lending. This puts gold in a category with triple-A rated Treasury bonds and other securities currently allowed to be used as collateral. Exchanges like the CME already allowed gold to be put up to meet margin requirements. Gold received the boost as a currency after President Nixon abandoned the gold standard in 1971. Since World War II, countries allowed their currency to be set at a fixed rate against the dollar, which was then backed by gold. After this system was debunked, gold lost a pivotal identity and then became a safety asset that yielded no returns. JPMorgan's move expands gold's usage as the investment bank looks to capitalize not only on hedge funds' gold reserves but on individual investors as well. Of the current above ground supply of gold, $3 trillion is bullion, half is held by central banks but the other half is held by high net worth individuals, according to Nick Barisheff, CEO of Bullion Management Group. The World Gold Council is going one step further. The GLD sponsor has submitted a plan to Basel III for gold to be accepted as collateral by the international banking community, that it should be counted as a high quality, highly liquid asset.
Not everyone in the gold community is optimistic about JPMorgan's move. Chris Powell, Treasurer of Gold Anti-Trust Action Committee, which has been crying gold and silver manipulation for years, says "it signifies Morgan's recognition that gold is money, a currency," but that it could be a way for the bank to get its hands on more gold. JPMorgan already stores the gold for
iShares Silver Trust
(
IAU
),
EFTS Physical Gold
(
SGOL
),
ETFS Physical Asian Gold
(
AGOL
) and the gold used as collateral at the CME. Lawsuits have been filed against the investment bank for interfering in the silver market to suppress prices to support its massive short positions, a large portion of which have now been unwound. Jon Nadler, senior market analyst at Kitco.com, was pretty unfazed by JPMorgan's move to allow borrowers to put gold up as collateral. "The mere acceptance ... is not validation as currency ...
it means
that
gold is
a decent asset." The problem comes when someone needs to mobilize a large portion of gold holdings, which could cause the market to seize up, but otherwise gold as collateral is pretty much risk free, much more so than other securities and bonds. Nadler cautions gold bugs on rejoicing on 'the gold as money' thesis before finding out the loan to value ratio. If the ratio was at 80% it would imply that JPMorgan is confident in $1,000 to $1,100 gold prices as a floor and would be very bullish for gold. If the ratio was more like 50%, it would imply prices below $800 an ounce.
Silver prices
settled up 92 cents to $30.27, just $1 shy of its intra-day recent high. If it settled above $30 Mihir Dange of Arbitrage says he "would get bullish again and re-initiate longs." Dange says if silver can hold above $30, that $35 prices might not be far off. Copper was flat at $4.57. A rate hike in China will make it more expensive for individuals and businesses to borrow money which could put a crimp in demand for industrial metals like copper.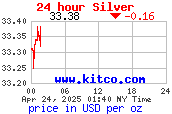 Gold mining stocks
, a risky but profitable way to
buy gold
, were on the rise.
Kinross Gold
(
KGC
) was up 1.90% at $17.14 while
Harmony Gold
(
HMY
) was adding 1% at $11.18. Other gold stocks
New Gold
(
NGD
) and
Gold Fields
(
GFI
) were trading at $9.54 and $16.48, respectively. --
Written by Alix Steel in New York.
>To contact the writer of this article, click here:
Alix Steel
. >To follow the writer on Twitter, go to
http://twitter.com/adsteel
. >To submit a news tip, send an email to:
tips@thestreet.com
.
Readers Also Like: