NEW YORK (
TheStreet
) --
Gold prices
went nowhere fast Monday as physical buying supported prices but technical selling prevented any rallies. Gold for April delivery settled down 80 cents to $1,348.20 an ounce at the Comex division of the New York Mercantile Exchange on extremely low volume. The gold price Monday has traded as high as $1,354.50 and as low as $1,344.10. The spot gold price was up $1.20, according to Kitco's gold index. The
U.S. dollar index
was adding 0.01% at $78.06 while the euro was slipping 0.08% at $1.35 vs. the dollar.
Gold is still trading in no man's land with the metal searching for a catalyst. With investor attention on stocks and multiple M&A deals, gold is having a hard time finding direction. The metal has seemed to stem its violent January selloff, which brought prices down to $1,307 and close to the $1,300 support level. Friday's disappointing jobs number did little to help gold despite the fact that it ensured no rate hike in the near future.
"Trade
will likely remain volatile as investors react to Friday's jobs data," says James Moore, research analyst at fastmarkets.com, "Gold ... has found good support around $1,344 but requires a break above the 100-day moving average, $1,362.20, to avoid another round of stale long liquidation." An interest rate hike might be in the future for England as its central bank meets Thursday. Inflation in the country hit 3.7%, well over the limit of 2%, and rumors have been bubbling about a rate increase, the first since 2007. But with unemployment around 8% and youth unemployment at 10%, England will have to weigh the risks of fighting inflation and limiting growth. The European Central Bank chose growth last week by keeping its interest rates at historically low levels. An interest rate increase could provide more headwinds for gold. Other emerging-market economies with heated inflation like Russia are still hesitant to raise rates, but are taking less aggressive and more gold friendly action. Russia's central bank increased the amount of money banks must hold in their reserves to take money out of circulation, a move that China tried six times in 2010 and once in 2011.
David Morgan, founder of
Silver-Investor.com
, says that gold and silver still have to consolidate their big 2010 moves. Gold popped 26% while silver soared 80% and prices will need to sell off further. Gold's double-digit rally Thursday wasn't a fakeout, says Morgan, but just part of the consolidation process. As far as a long-term position, Morgan says he "would be a little more cautious here. You're going to see these moves up and I think down as well." Morgan still favors silver as the metal with more future upside. "In the physical realm I have never seen the silver market as tight as it is right now," Morgan says, adding this strong demand for silver has come from retail investors who got interested in the metal when it broke through $20 while gold was making all new and expensive highs. Institutional investors are also leading the silver charge.
ETFS Physical Silver
(
SIVR
) added 7.2 million shares in 2010 and has only shed 207,000 shares in 2011 despite silver's violent selloff. Its more popular competitor,
iShares Silver Trust
(
SLV
), has 333 million ounces of silver.
Silver prices
were up 28 cents at $29.34 while copper was flat at $4.57. Silver closed 2010 at $30.93 and if the metal is able to break that level momentum buyers will mostly likely come into the market. A substantial break higher could also trigger buy orders as traders buy silver at a predetermined price.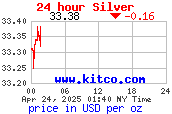 Gold, on the other hand, has big support from China, which most likely won't wane this week as the nation celebrates its new year. The national news agency reported Sunday that China's gold output in 2010 was 340.88 tons and the country still had to import 209 tons in the first nine months of the year to meet demand. Total 2010 import figures aren't available yet. Chinese gold producers have been looking outside the country to find more gold. China National Gold Corp bought half of
Coeur d'Alene Mine's
(
CDE
) gold concentrates from its Kensington gold mine in Alaska. Over the weekend reports circulated that China is offering to lend $3 billion to Zimbabwe for money generated from local diamond and platinum mines, which just goes to illustrate China's thirst for precious metals.
"China's central bank is possibly ready to raise its gold reserves," says Gregory Marshall, author of
Good as Gold
. "Gold and silver prices may be volatile this year, but the bull market is still in place." There have been several reports circulating that China will buy more gold, but the country tends to amass it in secret for fear of moving the price. If China has been buying gold, the boost to gold will already be accounted for. Nevertheless, the headline would be good for gold as investors can use it as a bullish excuse to buy.
Gold mining stocks
, a risky but profitable way to
buy gold
, were mixed.
Yamana Gold
(
AUY
) was 0.5% lower at $11.78 while
Kinross Gold
(
KGC
) was down 0.6% to $16.85. Other large gold stocks
Agnico-Eagle
(
AEM
) and
Eldorado Gold
(
EGO
) were trading at $72.21 and $16.61, respectively.
Randgold Resources
(
GOLD
) was popping 4.2% to $83.32. The company reported fourth-quarter earnings popped 43% year over year. Gold production was up 30% quarter on quarter at 132,099 ounces but that figure was down 10%. Growing pains at its Lulo mine seem to be worked out as the mine's hedge commitments are completed which should give Randgold more juice ahead. Also, Randgold's Ivory Coast mine, Tongon, is ramping up production on its first gold stream after work was slowed due to political unrest. Randgold also announced a dividend increase of 18%. The thorn in Randgold's side is its cash cost,s which were $766 an ounce, well above its peers. The lowest-cost gold producers boast cash costs of $330 an ounce. The company expects to produce between 750,000 and 790,000 ounces of gold in 2011 with cash costs of $600 an ounce. Its ultimate goal is to become a producer of 1 million ounces of gold.
Harmony Gold
(
HMY
) was up 1.4% to $11.03 after the company said it made 10 cents a share in its second quarter and gold production was 323,275 versus 336,650 in the previous quarter. --
Written by Alix Steel in New York.
>To contact the writer of this article, click here:
Alix Steel
. >To follow the writer on Twitter, go to
http://twitter.com/adsteel
. >To submit a news tip, send an email to:
tips@thestreet.com
.
Readers Also Like: