NEW YORK (
TheStreet
) --
Gold prices
drastically reversed directions and popped higher Thursday as technical buying and the fear trade came back to life. Gold for April delivery soared $20.90 to $1,353 an ounce at the Comex division of the New York Mercantile Exchange, after a pretty uneventful morning. The gold price today has traded as high as $1,356.60 and as low as $1,325.30. The spot gold price was popping $17.10, according to Kitco's gold index. The
U.S. dollar index
was rising 0.85% to $77.75 while the euro shed 1.23% to $1.36 versus the dollar.
Gold's sudden reversal left analysts scrambling for an explanation. Jon Nadler, senior analyst at Kitco.com, points to the "Middle East unrest excuse" as reports indicated that at least 6 people were killed as pro-Mubarak supporters clashed with anti-government protesters. Chaos and violence can make gold appealing as a safe haven asset. With gold up double digits so quickly, the finger also points to large hedge fund buyers and buy orders, meaning that traders commit to buying gold at a certain price and once the rally hit they were forced to pull the trigger.
The problem with technical buying, as we saw at the end of 2010 and early 2011, is that those buyers are fickle. They are typically not term holders but in it for a short term trade evidenced by gold 7.5% selloff in January as fund managers dumped positions. Another culprit is late-buying from China. The country is kicking off its New Year celebration today and George Gero, senior vice president at RBC Capital Markets said "oversold gold was discovered by bargain hunters trying to satisfy orders resulting from China being closed this Lunar holiday week." The last finger was pointed at Fed Chairman Ben Bernanke, who reiterated his commitment to keep rates low for the long term in his speech at the National Press Club. Some analysts were predicting the Fed could raise rates sooner than expected in light of strong economic data, but Bernanke killed that idea. Bernanke touched on inflation saying "we have recently seen significant increases in some highly visible prices ... Nevertheless, overall inflation remains quite low." The U.S. inflation reading, factoring in food and energy, is up 1.5%, the lowest reading from all its peers.
So now the question becomes is this rally for real or just another fake-out. Scott Redler, chief strategic officer at T3Live.com, says if the
SPDR Gold Shares
(
GLD
) closes above $131.50 "it
is very bullish for gold." Gold will have some headwinds on Friday. Big rallies tend to spur profit taking and the U.S. Labor Department will release the jobs number for January. Expectations are that the unemployment rate will rise to 9.5% while the private sector will add 163,000 jobs. Weekly initial jobless claims fell 42,000 in the week ending Jan. 29th which is also setting the bar high. "The jobs number is going to be good and the stock market will react to the number very positively" says Randall Warren, chief investment officer at Warren Financial Service. Warren says gold will become even less attractive and will continue to lose its luster until the "doomsayers" get out of the market. Gold has struggled with its role as a safe haven asset but better economic data in the U.S. is drawing investor interest away from gold and into stocks. "We are sort of stuck in the middle between this revolutionary situation that we are seeing in North Africa and the Middle East versus improved economic outlook here in the U.S.," says Will Rhind, head of U.S. operations for ETF Securities. Rhind says an inflation jolt in western countries is really needed as a catalyst for gold prices. Central banks keep warning of inflation but haven't taken aggressive action in combating it. The European Central Bank kept interest rates at 1%, choosing to focus on growth and signaling that price increases aren't serious enough, yet, to fight inflation. Eurozone inflation rose to 2.4% in January. The euro's speedy decline, however, underscored that investors are skeptical of this approach and are concerned about rising prices. Despite the SPDR Gold Shares ( GLD) 53 ton decline in January, Rhind says its ETFS Physical Gold ( SGOL) has seen minimal outflows and its newly launched ETFS Physical Asian Gold ( AGOL) has added 40,000 ounces since mid-January. Rhind attributes gold's recent decline as triggering modest investor selling of other assets to buy AGOL, which stores its gold in Singapore. The GLD is often used as a trading tool because it is bigger and more liquid with $52.7 billion worth of gold currently in the trust. Gold's struggle could wind up being a blessing for platinum, palladium and silver, all precious metals associated with "recovery" as they are used in cars, construction and technology. ETF Securities has individual ETFs for all three metals as well as a ETFS Physical WM Basket ( WITE) comprised of all three but more heavily weighted to silver.
"Investors seem to be interested in how to play this improved economic story ... and with the
Dow Jones Industrial Average
going over 12,000, there's now a focus on what are the pro growth assets," says Rhind For those still believing in gold, many analysts think that mining stocks make the good buy right now. Dan Denbow, co-portfolio manager for the USAA Precious Metals and Minerals fund, down 10.75% year to date, says large gold stocks provide value. "Last year when we saw a lot of M&A activity ... we saw the more speculative names move up and the larger names have lagged that and therefore they are looking more attractive based on valuation."
Silver prices
closed up 43 cents to $28.72 while copper was flat at $4.54.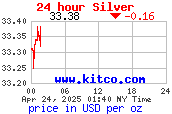 Gold mining stocks
, a risky but profitable way to
buy gold
, were popping.
Kinross Gold
(
KGC
) was up 1.77% at $17.28 while
NovaGold
(
NG
) was adding almost 6% at $14.43. Other gold stocks
New Gold
(
NGD
) and
Gold Fields
(
GFI
) were trading at $8.95 and $16.19, respectively.
Newmont Mining
(
NEM
) announced that it would acquire
Fronteer Gold
(
FRG
) for $2.3 billion, a 37% premium. Shares of Newmont were 2.58% higher at $57.09. --
Written by Alix Steel in New York.
Readers Also Like:
Alix Steel
. >To follow the writer on Twitter, go to
http://twitter.com/adsteel
. >To submit a news tip, send an email to:
tips@thestreet.com
.