NEW YORK (
TheStreet
) --
Gold prices
Tuesday hit their lowest levels since October as the metal tested a key support level. Gold for February delivery managed to close off of its lows but still fell $12.20 to $1,332.30 an ounce at the Comex division of the New York Mercantile Exchange. The gold price Tuesday has traded has high as $1,338 and as low as $1,321.90. The spot gold price was holding up, supported by physical buying. It was down only $4.40, according to Kitco's gold index. The Chinese have been big buyers headed into their new year, which begins Feb. 3. The
U.S. dollar index
was down 0.04% to $77.99 while the euro was adding 0.23% to $1.36 vs. the dollar. The U.S dollar had been stronger for most of the session and although not the primary factor, it certainly didn't help gold's selloff or any bargain-hunters looking to enter the market. "Traders dump gold" was the headline of the day signaling that gold's rally Friday and Monday as well as the
SPDR Gold Shares'
(
GLD
) 20-ton addition on Friday were, in fact, just technical buying. Options expiration Saturday forced many traders, who were short gold, to buy gold or the GLD to protect themselves against any losses. Now that options expiration is behind us, traders are abandoning their positions. The GLD lost 11 tons Monday as the
Dow Jones Industrial Average
climbed toward 12,000, making stocks perhaps a more valuable investment. "Yesterday's net redemption takes the month's outflow to 22.7 tons," wrote Barclays Capital in its daily commodity briefing. Silver fared better -- the
iShares Silver Trust
(
SLV
) added more than 83 tons. Silver is a currency like gold and also a recovery metal like copper. Although silver typically moves in tandem with gold it has more volatility because it is a thinner market. Also, the better investors feel about a global economic recovery, the more they think countries will spend on construction and infrastructure, and the more likely silver prices will find support. George Gero, senior vice president at RBC Capital Markets, wrote that "81,000 open interest came out of gold." Gero believes this will help bargain hunters get back into the market but they must be patient and willing to endure this shakeout. Phil Streible, senior market strategist at Lind-Waldock, is cautious on the gold market and is waiting for "critical levels of support like $1,320, $1,300 and $1,270.
I might take a shot there. The key is you can't get overleveraged in this type of environment. If you are ... you definitely have to use those rallies to lighten up a little bit." Jim Cramer outlined with me in a video Tuesday a good way to trade gold in January. "Trade gold as a short ... for an investment it's a long ... They can be two different things." Cramer says if he was at his hedge fund he would be buying gold puts against his existing gold position and then reversing that trade at the end of the month.
One concern, of course, is that gold prices have put in a triple top, something traders and technicians don't like to see. Cramer makes the point, however, that consumers in China and India don't care about chart patterns and that the supply/demand thesis is still intact.
Today's selloff is more dramatic than just profit- taking, however, as gold is fumbling with its identity as a safe-haven asset. Ironically, the landscape is ripe for more crises which should prop up gold. "We believe the outlook for 2011 remains positive for gold as broader investment drivers remain intact," says Barclays Capital. Low rates remain the norm and attempts by emerging-market economies to fight inflation are neither fast enough or dramatic enough to make a dent. Japan's central bank left its interest rate unchanged near zero and the Federal Reserve is expected to do the same after its two-day meeting on Wednesday. The Bank of India followed Brazil and China and raised rates by 25 basis points; some experts were speculating the hike could be as much as 50 basis points. This marks India's seventh attempt in the past year to combat inflation that is now more than 8% year over year. The hike will do little to change the negative interest rate environment and therefore little to diminish gold's appeal as a safe haven asset in that country. Also waiting in the wings is the bubbling European sovereign debt crisis. Spain's finance minister said the country's banks only needed $27.23 billion in order to stabilize which many investors didn't believe. The mistrust and worry that Spain will have to issue more bailouts have raised the country's borrowing costs to more than 5% for long term debt. At the same time countries are trying to stabilize, European Central Bank President Jean-Claude Trichet is thinking about raising rates to combat inflation of 2.2%. Some experts think a move like this could stem any sort of growth in the EU. The U.K. also reported that the country only grew 1.7% in the fourth quarter of 2010 vs. the 2.6% expected. The International Monetary Fund predicted that the global economy will grow 4.4% in 2011 led by emerging-market economies, which was slightly lower than 2010. The IMF said the countries like China and Brazil could grow too fast. Uncontrolled growth and inflation is a nice recipe for gold.
With a laundry list of what can go wrong, the yellow metal should recover some of its safe-haven characteristics. Over the short term, gold's selloff could bring traders into the market. Those waiting for gold to reach the $1,330-$1,315 support level could be tempted to put some money to work. This technical buying is what took gold off of their session lows.
Silver prices
ended down 51 cents to $26.80 while copper shed 12 cents to $4.22.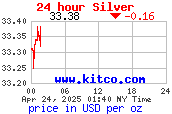 Gold mining stocks
, a risky but potentially profitable way to
buy gold
, were struggling.
Kinross Gold
(
KGC
) was down 2.42% at $16.21 while
Gammon Gold
(
GRS
) was dropping 1.30% at $7.14. Other gold stocks
New Gold
(
NGD
) and
Gold Fields
(
GFI
) were trading at $7.52 and $15.82, respectively.
-- Alix Steel in New York. >To contact the writer of this article, click here: Alix Steel. >To follow the writer on Twitter, go to http://twitter.com/adsteel. >To submit a news tip, send an email to: tips@thestreet.com.