NEW YORK (
TheStreet
) --
Gold prices
saw a modest decline on Friday as the search for stability continues. Gold for February delivery fell $5.50 to $1,341 an ounce at the Comex division of the New York Mercantile Exchange. The gold price traded as high as $1,349.70 and as low as $1,337 during Friday's session. The spot gold price was down $1.90, according to Kitco's gold index. The
U.S. dollar index
was down 0.79% to $78.23 while the euro was adding 0.94% to $1.36 vs. the dollar. The focus Friday was on earnings from
Bank of America
(
BAC
)
General Electric
(
GE
) and
Google
(
GOOG
), as well as leadership shake-ups at Google and
Hewlett-Packard
(
HPQ
) so investor interest in gold waned but wasn't violent. The precious metal is down 5.6% so far in 2011. Prices were tentatively supported today by cautious bargain hunters. Despite gold's double-digit selloff Thursday, the gold exchange-traded fund,
SPDR Gold Shares
(
GLD
), didn't shed any tons and is still holding steady at 1,251.43 tons. "Further support in gold may be found around $1,345-$1,350," says James Moore, research analyst at
fastmarkets.com
. "However the metal may struggle with resistance anticipated around the 100-day moving average ($1,354.10)." Traders remain reluctant to get into gold at these levels. Many seem to be waiting for a selloff or shakeout or for gold to slip to $1,320 or $1,265 an ounce, the 200-day moving average. "The gold rally is over" is not an uncommon phrase to read or hear right now. As investment demand, defined by those buying gold stocks, futures and ETFs, was the key driver in pushing gold to record highs in 2010, it's also been the key factor in gold's selloff in 2011.
>> Cramer: Hedge Your Portfolio With Gold
But that doesn't mean the gold rally is over because bullion sellers and buyers tell another story. Nick Barisheff, CEO of Bullion Management Group, which sells, stores and insures precious metal bars like silver, gold and platinum, is seeing steady demand despite the recent pullback. "We're just consolidating at this level before the next leg up," he says. Barisheff believes that the main driver for gold will be people's lack of faith in global currencies. "Gold appears to be rising against all currencies but what is really happening is currencies are declining," he says.
Bullion Management Group sells to high net-worth individuals, which as a group own $1.5 trillion of the $3 trillion above-ground gold supply of bullion. Central banks account for the other $1.5 trillion. For comparison, financial assets -- not counting derivatives and swaps -- total $2 trillion. BMG used to just sell to those in the U.S. and Canada but has since expanded into markets like Dubai, Singapore and Hong Kong. "In those areas, people have a different perspective of what gold is than in Western countries ... they know what the role of gold is as a preserver of wealth," Barisheff says. The biggest risk for gold, which was what triggered the selloff on Thursday, is a worry that China will aggressively hike key interest rates to combat inflation. Gold loves a negative real interest rate environment, and if that changes, its appeal as a safe-haven asset could fade. Barisheff, however, says that in the 1970s both gold prices and interest rates were rising and gold still managed to reach a then all-time high of $850 an ounce. "The issue is overall confidence in the economies and currencies" he says. He sees gold prices at $1,700 to $2,000 by 2012 even without any crises. James DiGeorgia, author of The Trader's Great Gold Rush, thinks that the bears could be in charge for the next few weeks, which could also lead to overbought levels. "This selloff should end with a very oversold market condition ... and fuel a new leg in this long-term bull market," according to DiGeorgia. In the meantime, the $1,300 level could be tested. Just because the gold trade in the U.S. is struggling doesn't mean it is elsewhere. Reportedly, the Chinese Gold & Silver Exchange in Hong Kong will offer gold contracts in its local currency, the yuan, not only to make its currency more international but also to offer more gold products to its citizens. Jim Cramer told me Thursday on Wall Street Confidential that gold prices haven't pulled back enough for him to buy and that he is increasing his personal retirement gold holdings, a mixture of physical and stocks, to 20%.
"I just feel very strongly as someone who has been very anti-gold for a very long time and joined the gold crowd at $800 that it's too risky to leave my kids this much paper, that I have to have a fifth of it in gold." Cramer's price target is still $2,000 an ounce. Many traders like George Gero, vice president at RBC Capital Markets, think that this correction could be a buying opportunity but that the selloff could continue in the short term. "Next week is the last week of the rollover into the April contracts and as open interest is not growing and ETFs lose metal ... it seems it may take some time for the correction to stabilize," Gero says. "Losses in ETF precious metals translate to losses in gold futures and tons have come out of gold and silver ETF listings. This created open interest ...to 578,000 today." Weaker open interest means there are less longs in the market.
Silver prices
were down 4 cents to $27.42, although the metal saw a brief rally during trading, while copper settled up 3 cents to $4.30.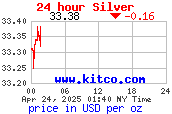 Gold mining stocks
, a risky but potentially lucrative way to
buy gold
, were mixed.
Kinross Gold
(
KGC
) was adding 0.41% at $17.09 while
NovaGold
(
NG
) was losing 2.23% to $13.16, despite the fact that it received an upgrade to sector perform from underperform at RBC Capital.
>> Cramer: Barrick Gold Is a Winner
Other gold stocks
New Gold
(
NGD
) and
Gold Fields
(
GFI
) were trading at $7.62 and $16.39, respectively. --
Written by Alix Steel in New York.
Readers Also Like:
Alix Steel
. >To follow the writer on Twitter, go to
http://twitter.com/adsteel
. >To submit a news tip, send an email to:
tips@thestreet.com
.