NEW YORK (
TheStreet
) --
Gold prices
took some heavy losses Friday as central banks in emerging markets took steps to tame inflation and
Federal Reserve
Chairman Ben Bernanke raised his U.S. growth forecast. Gold for February delivery fell $26.50 to $1,360.50 an ounce at the Comex division of the New York Mercantile Exchange. The gold price traded as high as $1,377.80 and as low as $1,354.60 during Friday's session. The next area of support for gold is $1,330-$1,315; after that the 200-day moving average of $1,265 an ounce is the next key technical level. The
U.S. dollar index
was down 0.10% to $79.12 while the euro was up 0.03% to $1.33 vs. the dollar. The spot gold price Friday was holding up better but still down $12.90, according to Kitco's gold index. Gold prices extended post-market losses from Thursday after Bernanke said he expected the U.S. economy to grow between 3% and 4% in 2011, much better than expected. The positive news was a sledgehammer for gold. If you read between the lines, this could mean that the Fed could stop or alter its $600 billion bond-buying program before it runs out in June, a move that would limit the flow of extra money in the system. Investors had been buying gold as protection against this program, which many expected would devalue the dollar. Another scarier option for gold would be the possibility that the Fed could hike key interest rates sometime this year. Other emerging-market countries have already been doing this to curb inflation, but developed nations have refrained because of high unemployment. David Morgan, founder of
Silver-Investor.com
, says that gold prices will react negatively when interest rates are hiked severely or are very high. Small increases or modest rates shouldn't be too much of a headwind for gold prices, he says. Nevertheless, gold prices like a negative real interest rate environment when rates are lower than inflation. If that dynamic reverses then the U.S. dollar would be worth more and gold would lose its appeal as a safe-haven asset. Friday also brought a slew of news. The U.K. reported that its core producer price index rose 2.9% in December, just shy of its November jump of 3.3%. India's inflation measure showed that prices rose 8.43% in December, more than expected. The U.S. Consumer Price Index in December rose 0.5%, higher than the 0.4% analysts were expecting. The core inflation reading was up just 0.1%.
Inflation jitters have increased the likelihood of more rate hikes. The Bank of England and European Central Bank have both said that although inflation may rise in the short term, they expect it to fall back to its target rate of around 2%. Nonetheless, ECB President Jean-Claude Trichet said he is monitoring the inflation situation and seems ready to raise rates if needed. China is having its own problems with inflation, at 5.1%, and raised the amount of money banks must keep in their reserves by 50 basis points Friday, the first such move in 2011, but the seventh in the past year. Although this step isn't as aggressive as raising rates, the idea is to literally to keep more money out of circulation to tame inflation. Gold prices tend to shrug off this weaker attempt from China, but not Friday. Brazil also intervened in its currency market to tame the real's meteoric rise. The central bank will effectively buy U.S. dollars on the futures market with the hope of weakening its local currency. India is also looking to raise key interest rates after its December inflation reading popped to 8.43% vs. a year ago. U.S. markets are closed on Monday and selling gold for cash could also be leading the sell-off charge. Options expiration isn't until the end of the month but volatility could still be the name of the game as traders either let their contracts expire or roll them over. The spot gold price was holding up much better than the gold futures market as physical buyers remain eager to buy gold on any dip. Demand is coming from countries like China and India that are experiencing high inflation and need to buy gold as a hedge. That thesis is dissipating in Western nations. "The broader range for gold ... is somewhere between $1,350 and $1,410," says Jon Nadler, senior analyst for Kitco.com. "A breach under $1,360 could bring it down a further $100."
Also weighing on gold is a return in risk appetite as early earnings reports trickling out of the U.S. companies are delivering strong numbers with good growth guidance. There is the possibility that gold could catch a wave of safe-haven buyers if a crisis erupts in Europe. Portugal, Italy, and Spain all were able to borrow money this week at manageable rates so those fears has abated for now. There are also talks of expanding the EU's crisis facility and putting in more guidelines for borrowing countries, but the default risk is still bubbling. That worry was proven when
Fitch
cut Greece's credit rating to BB+ with a negative outlook.
ETF Securities picked a tough day to launch its new gold exchange-traded fund in the United States
--
ETFS Physical Asian Gold Shares
(
AGOL
) -- which will store its gold in Singapore through
JPMorgan Chase
(
JPM
). But as it gives Asian investors access to gold stored in their region it will be one to watch.
Silver prices
were down 94 cents to $28.32 while copper ended up 3 cents to $4.41.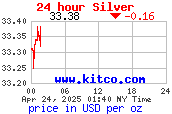 Gold mining stocks
, a risky but potentially lucrative way to
buy gold
, were sinking Friday. Gold stocks can lead gold prices on the way up and way down. Silver-Investor.com's Morgan says the underlying equities can be a leading indicator for the gold price. "They're breaking down more than the actual gold and silver metals are and because of that I think we are going to see further weakness in the metals themselves."
Kinross Gold
(
KGC
) was 0.99% lower at $50.99 while
NovaGold
(
NG
) was down 1.79% at $13.70. Other gold stocks
New Gold
(
NGD
) and
Gold Fields
(
GFI
) were trading at $8.68 and $16.71, respectively. Kinross released 2010 operating results that were in line, with full year production coming in at 2.3 - 2.35 million gold equivalent ounces. This figure includes production from the mines already in operation when the company acquired bought
Red Back
. Cash costs were just over $500 an ounce.
-- Written by Alix Steel in New York. >To contact the writer of this article, click here: Alix Steel. >To follow the writer on Twitter, go to http://twitter.com/adsteel. >To submit a news tip, send an email to: tips@thestreet.com.