"The big kahuna I see on the horizon next week will be retail sales for December," Chuck Butler, President of EverBank said. "If retail sales do disappoint ... we could very well see spot gold back to $1,400 and silver to $30. December retail sales, to be released on Friday, are expected to come in flat versus the prior month's rise of 0.8%. Meanwhile, BullionVault's head of research Adrian Ash notes that profit-taking by Western funds after the year-end has met "massive" demand from China ahead of the Chinese new year holiday that begins on Feb. 3. "Everyone we speak to says Chinese dealers will take all the gold they can get at these prices." New York spot gold prices fell $10.20, or about 0.7%, to $1,377.80 an ounce Thursday. Spot silver prices slid 87 cents, or 2.9%, to $28.78 an ounce.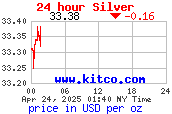 Spot platinum prices rose $8, or 0.4%, to $1,809 an ounce.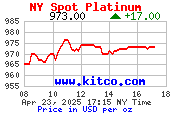 New York spot palladium prices ticked down $2, or 0.3%, to $807 an ounce.