NEW YORK (
TheStreet
) --
Gold prices
were volatile again Thursday as investors battled with an on-again, off-again risk trade. Gold for February delivery ended up $1.20 to $1,387 an ounce at the Comex division of the New York Mercantile Exchange. The gold price traded as high as $1,392.90 and as low a $1,377.20 during Thursday's session. The
U.S. dollar index
was down 1.11% to $79.15 as the euro pushed higher, rising 1.85% to $1.33 vs. the dollar. The spot gold price Thursday was down $7.30, according to Kitco's gold index. Trading opened with the now typical no-love-for-gold theme but then rebounded as weak jobless claims led investors into the precious metal. The spike brought in profit takers but gold managed to end the day slightly higher. Despite their volatility, prices can't seem to break out of a tight range of late. Gold fell sharply in after-hours trading, however, losing more than $13, after Federal Reserve Chairman Ben Bernanke offered an upbeat assessment of the U.S. economy. Bernanke said the economy could grow 3%-4% in 2011 despite low unemployment. Gold reacted badly because a better economy would take QE3 -- yet another round of fiscal stimulus -- off the table and raises the possibility that the Fed could hike key interest rates sooner than expected and crush any bubbling inflation. The risk trade takes its cue from economic data and bounces from on-again to off-again and is taking gold prices with it. Investor risk appetite improved earlier after Spain raised money with little drama. Spain sold €3 billion in five-year bonds. Although interest rates rose to 4.54%, the market's optimism signals that this rate is manageable. South Korea also raised key interest rates by 25 basis points to fight rising costs, which helped optimism. The move comes after President Lee Myung-bak reportedly announced a "war on inflation." The Bank of England left rates steady at 0.5% despite the fact that its November consumer price inflation reading popped to 3.3% and is expected to keep rising. The central bank said it expects inflation to fall to 2% in 2012. The European Central Bank left rates unchanged at 1% although President Jean-Claude Trichet did say that there could be short term pressure on inflation, which could move higher maybe even over 2% before reverting lower. The rate divergence is confusing for gold prices. Low rates are good for gold as the local currency is worth less and gold holds more appeal as a form of money that retains value. On the flip side, aggressive moves to raise rates will hurt this thesis and lead the inflation bugs out of the gold market. Emerging-market economies like China, South Korea, Brazil and India are having to contend with rising inflation which has yet to really infect developed markets economies. Gold will get more direction Friday when the U.S. releases its core consumer price index for December. Currently inflation is just 0.6% higher from a year earlier. The core producer price index rose just 0.2%.
For gold prices it seems like the paralysis of technical trading has set in with traders hesitant to put a lot of money to work before the long holiday weekend in the U.S. and as intermittent optimism distracts them from gold. "Overall it does look as though the markets are gearing up to push higher," says William Adams, head of research for fastmarkets.com. General optimism will distract investors into recovery commodities like oil and copper and stocks and "underpin the rallies in the metals," Adams believes. Moody's and Standard & Poor's both warned that the U.S.'s credit rating could be in trouble due to its high debt levels. Although rating agencies are typically late to the party, a downgrade would make it more expensive for the United States to borrow money and could trigger another safe-haven rush into gold. A weaker U.S. dollar is also providing some support for gold prices as the currency gets beaten down by a stronger euro. Technical traders, however, still remain reluctant to buy big until the selloff shakes out. Price dips, on the flip side, are providing good buying opportunities for China and India. Nigel Moffatt, head of Treasury at Gold Corp., owner of the Perth Mint, has noticed "an influx of strong demand recently from China for gold in kilobar form." The recent selloff also "turned on the tap" in the Indian market as well but the frenzy there has tempered as the gold price recovered," Moffatt said. "Chinese demand, however, appears to be far more price-elastic and the appetite apparently insatiable," he said. The Perth Mint refines more than 300 tons of gold a year and has had problems in recent weeks meeting demand from the wholesale market of banks and bullion dealers. According to Moffatt, the Perth Mint is able to meet commitments to their depository clients looking to take delivery of the physical metal, but "extra" demand from China and India has made the metal scarce. Gold traders were also trying to digest CFTC rules on position limits. According to reports, only eight traders have precious metal positions that are large enough to be changed. George Gero, senior vice president at RBC Capital Markets says the positions "may affect some ETF arbitrage perhaps or swaps arbitrage but ... price of gold affected by interest rates, inflation concerns, political events and behaviors of other commodities." In other gold news, GFMS, a precious metals consultancy firm, released its Gold Survey 2010 this morning which had pretty bullish news for gold. Despite the recent downturn in prices, GFMS expects prices to break $1,500 by the first half of the year and even rise to $1,600 in late 2011 or early 2012. The main factors are expected tol be low interest rates and global sovereign debt fears, both of which were key to gold's 2010 pop.
The group expects jewelry demand to wane but to pick up on any correction as seen over the past week in emerging markets. Rising mine production, which increased almost 3% in 2010, according to the survey, as well as the end of producer de-hedging are expected to headwinds for gold in 2011. De-hedging has been a major support for gold prices as those big producers who locked in gold sales at a certain low price were trying to eliminate the contracts to take advantage of higher gold prices. To do this, they literally had to buy gold, sopping up tons of the metal. Some hedging remains. Companies are often forced to hedge to secure project financing but they rarely ever try to buy the contracts back. According to GFMS, de-hedging fell by 40% in 2010 leaving less than 100 tons.
AngloGold
(
AU
), the last of the big hedgers, is hedge-free. The South African producer spent $98 million in the third quarter to free itself plus $2.63 billion for remaining futures contracts. Matthew Piggott, metals analyst at GFMS, says AngloGold's action "represents the final swansong for the producer hedge book which has, over the past decade, provided support for the bull market in gold." AngloGold follows its peers
Barrick Gold
(
ABX
) and
Kinross Gold
(
KGC
) who have been actively eliminating their hedges in the past year. Barrick is now officially hedge-free with $700 million of obligation associated with its remaining floating contracts. The liability has been fixed, however, and does not vary with the gold price. Barrick's market cap is also more than $49 billion, leaving $700 million of obligation looking like chump change. Kinross still has 448,485 ounces of hedges left at an average price of $632.67 per ounce. The company inherited the positions from its acquisition of
Bema Gold
in February 2007 and is expected to close out in 2012. Kinross has an active policy about hedging against gold. Silver prices closed down 28 cents to $29.26 while copper settled 3 cents lower to $4.37.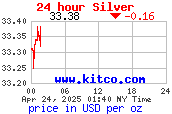 Gold mining stocks
, a risky but potentially lucrative way to
buy gold
, were lower.
Kinross Gold
(
KGC
) was 2.35%lower at $17.43 while
NovaGold
(
NG
) was down 0.21% at $14.11. Other gold stocks
New Gold
(
NGD
) and
Gold Fields
(
GFI
) were trading at $9.05 and $16.98, respectively.
--
Written by Alix Steel in
New York. >To contact the writer of this article, click here:
Alix Steel
. >To follow the writer on Twitter, go to
http://twitter.com/adsteel
. >To submit a news tip, send an email to:
tips@thestreet.com
.