NEW YORK (
TheStreet
) --
Gold prices
rose Tuesday reversing their recent downward trend as investors bought the yellow metal as protection against the latest eruption of the European sovereign debt crisis. Gold for February delivery added $10.20 to $1,384.30 an ounce at the Comex division of the New York Mercantile Exchange. The gold price traded as high as $1,386.80 and as low as $1,372.40 during Tuesday's session. The
U.S. dollar index
was losing 0.02% to $80.85 while the euro was flat at $1.29 vs. the dollar. The spot gold price Tuesday was adding $7.80, according to Kitco's gold index. Sovereign debt fears in Europe that have been bubbling for weeks seem to be coming to a head with Portugal's struggles. The country reportedly needs to borrow almost €20 billion to keep afloat in 2010. Portugal's borrowing costs are rising although they are moderated somewhat by European Central Bank bond buying. The country will come once again to the debt market Wednesday and will try to raise €750 million to €1.25 billion for the medium term. Reports are that the country is being pressured by its peers in the European Union and the International Monetary Fund to take a bailout, similar to what transpired with Ireland. If Portugal is unable to raise enough money on Wednesday or if borrowing costs soar, the pressure will only mount. Portugal has denied it needs funds and even Germany has been reluctant to put the heat on the country. Japan has offered help, pledging to purchase more than 20% of debt issued by the European Bank Stability Facility. All the drama spells crisis and gold does well in times of crisis. The
SPDR Gold Shares
(
GLD
) added more than a ton on Monday, the first time the exchange-traded fund added gold in 2011 as investors tentatively started buying. Phil Streible, senior market strategist at Lind-Waldock, points out that gold benefits whenever governments intervene, either to stem a crisis or promote growth. "We're still looking at gold on the long side," says Streible. "I think you've got to implement a buy stop over $1,392 to confirm the market is going up."
Reuters
reported Tuesday that premiums for gold bars skyrocketed to their highest level in two years. China's new year kicks off Feb. 3 and people were buying ahead of the festival at prices $50 off their highs in U.S. dollar terms.
But gold prices will face headwinds if the euro takes a nosedive, which would prop up the U.S. dollar. Streible thinks that "if the dollar index continues to gather steam to the upside, you'll most likely see gold prices that are priced in U.S. dollars .... be sideways." George Gero, senior vice president at RBC Capital Markets, said that those "concerned they may have missed the buying opportunity" jumped into gold "after a good sell-off during portfolio re-balancing." Short-covering could also be one explanation for Tuesday's rally so the real question to ask is whether it's sustainable. Momentum traders were waiting for the gold price to shake out the sellers and will be paying close attention to Tuesday's rally. How strong it is and how sustainable it is will dictate if they put their money to work in gold or if they wait for more strength.
Silver prices
settled up 63 cents at $29.49 while copper ended up 8 cents at $4.34.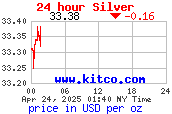 Gold mining stocks
, a risky but potentially lucrative way to
buy gold
, were also breathing a sigh of relief.
Gammon Gold
(
GRS
) was 1.39% higher at $8.01 while
NovaGold
(
NG
) was up 1.94% at $13.64. Other gold stocks
Gold Fields
(
GFI
) and
New Gold
(
NGD
) were trading at $17.33 and $9.25, respectively.
Goldcorp
(
GG
) was making headlines on Tuesday after the company said it produced 686,300 ounces of gold in the fourth quarter. Full-year cash costs are expected to come in at $285 an ounce using byproducts. Goldcorp also issued 2011 guidance saying it will produce between 2.65 million and 2.75 million ounces of gold at total cash cost of $280 to $320 an ounce using its byproducts. Shares were trading up 1.75% to $43.66.
-- Written by Alix Steel in New York. >To contact the writer of this article, click here: Alix Steel. >To follow the writer on Twitter, go to http://twitter.com/adsteel. >To submit a news tip, send an email to: tips@thestreet.com.