NEW YORK (
TheStreet
) --
Gold prices
ended higher Monday as U.S. dollar volatility battled with safe-haven buying. Gold for February delivery rose $5.20 to $1,374.10 an ounce at the Comex division of the New York Mercantile Exchange. The gold price traded as high as $1,376.40 and as low as $1,365 during Monday's session. The
U.S. dollar index
was down 0.31% to $80.88 while the euro added 0.19% to $1.29 vs. the dollar. The spot gold price was up $3.70, according to Kitco's gold index. Gold prices struggled for most of the trading day trying to break out of their recent downward trend. Prices lost 3.6% in the first week of the new year as investor optimism, a stronger dollar and profit-taking weighed on the yellow metal. But gold managed to eke out gains Monday after failing to get a boost from Friday's disappointing jobs number. A teetering Portugal would also be expected to bring out the safe-haven seekers but instead prices are lackluster at best. "The overall trends are strong so the likely path ahead is that the dips will attract buying," says William Adams, head of research at
fastmarkets.com
. "The question being how far will prices fall before the buyers return in force." "What's going to happen I believe," says David Morgan, the founder of
Silver-Investor.com
, "is that you'll see enough pain in the market, enough of a pullback for a long enough time frame that ... those who were late to the market .... once they give in ... that's what it takes to hit the bottom and move up again." Morgan thinks this move could take as long as June, but he thinks gold will find its bottom before then propped up by global uncertainty. As Morgan says, the overall macro picture should be supportive of high gold prices. The European Union is trying to convince Portugal to take bailout money from the International Monetary Fund and EU after the European Central Bank threw the country a bone by buying its bonds. According to a report in
Reuters
, the country would need $64.5 billion to $129.1 billion, in line with what Ireland took.
On Friday, the yield on Portuguese 10-year bond rose to 7.25%; this is before the ECB intervened. EU sovereign debt contagion has typically been good for gold prices. On the Monday after Ireland took a bailout, prices added more than $5 and rose $16 the week before on anticipation. Continued reports of inflation around the world have been shaken off by gold investors and haven't yet been supportive of prices. Brazil's inflation rate is 5.9% and reportedly is growing at its fastest rate in six years. China's inflation rate is just shy of that number at 5.1%. India reported that food inflation popped to 18.32% in late December. Indonesia's inflation rose to 7% in the same time frame. Even Jean-Claude Trichet, president of the European Central Bank, acknowledged that inflation in emerging-market economies is on the rise despite the fact that it hasn't hit developed nations. Raising key interest rates is the common tool to fight inflation, which most countries like Brazil are expected to do, but it would take a lot of hikes to move real interest rates from negative to positive. Negative real interest rates are always a green light to gold buyers as their currency is worth less and gold becomes a more profitable place to store their money. The Chinese New Year begins Feb. 3, which could spur some physical buying from the price sensitive market. China might wait for another pullback to buy gold at "cheaper" prices, but physical demand could be supportive of prices.
China National Gold Group
reported over the weekend that its gold reserves were 1,300 tons at the end of 2010, currently outpacing tonnage in the
SPDR Gold Shares
(
GLD
) of 1,271 tons. The No. 1 gold producer in China partners with
Coeur d'Alene Mines
(
CDE
) to receive half of its gold concentrates from its new Kensington Mine in Alaska. Kensington is estimated to produce 50,000 ounces of gold in 2010 and average 125,000 ounces annually over the mine's 12.5-year life span. According to Coeur's Web site, the company already has shipped two gold concentrate loads to the Chinese company. Distracting investors currently is fourth-quarter earnings season, which kicks off Monday when
Alcoa
(
AA
) reports. Some estimates put earnings for this season up 20%.
In a poll taken by TheStreet
, 59.2% of survey participants were bullish on stocks, 25.2% were bearish and 15.6% were neutral headed into earnings season. Although buyers are scarce there has been some nibbling by those wanting to pick up gold at "bargain" prices. The same goes for
silver prices
which closed up 19 cents at $28.86 while copper ended down 1 cent at $4.27.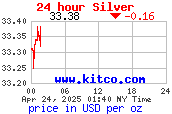 Gold mining stocks
, a risky but potentially lucrative way to
buy gold
, were mostly higher.
Kinross Gold
(
KGC
) was 0.97% lower at $17.35 while
Freeport McMoRan Copper & Gold
(
FCX
) was up 1.15% at $118.82. Other gold stocks
Gold Fields
(
GFI
) and
New Gold
(
NGD
) were trading at $17.13 and $9.11, respectively.
Eldorado Gold
(
EGO
) announced that the company produced 632,537 ounces of gold in 2010 at a cash cost of $382 an ounce, both of which beat earlier estimates. The company also declared an additional dividend of 5 cents a share for 2010. Production growth for 2011 is currently estimated to be between 15% and 20%. Shares were down slightly to $17.08.
-- Written by Alix Steel in New York. >To contact the writer of this article, click here: Alix Steel. >To follow the writer on Twitter, go to http://twitter.com/adsteel. >To submit a news tip, send an email to: tips@thestreet.com.

RELATED ARTICLES: