NEW YORK (
TheStreet
) --
Gold prices
were unable to make up any of this week's lost ground on Friday after a mixed U.S. jobs report. Gold for February delivery lost $2.80 to $1,368.90 an ounce at the Comex division of the New York Mercantile Exchange. The gold price traded as high as $1,379 and as low as $1,352.70 during Friday's session. The
U.S. dollar index
was up 0.19% to $81 while the euro was slightly lower at $1.29 vs. the dollar. The spot gold price was losing $1.20, according to Kitco's gold index. Gold slowed this week's bleeding after December's job growth lifted gold's appeal as a safe-haven asset. The private sector only added 113,000 jobs in December much lower than the 200,000 expected. The only upside was that the unemployment rate dipped to 9.4% as perhaps people left the work force. The conflicting datapoints confused investors somewhat and gold prices like confusion. Gold had been down double digits for the second time this week and then rallied modestly, but settled slightly below the 50-day moving average. Gold prices need to hold above the 100-day moving average of $1,330 an ounce or else face an even deeper correction. Traders who sold positions this week will most likely keep cash on the sidelines until they are sure the deep correction is over. Thursday was "the fourth day of consecutive declines," says Jon Nadler, senior analyst at
Kitco.com
. "Pretty much the largest two-day decline
since Wednesday night in about a year." Prices have shed 4.4% this week. If "gold manages eventually ... to overcome the previous highs of $1,430 then we could look for another $50 addition in value," predicts Nadler. "Absent that and absent buyers ... we could revisit in fact the mid-$1,200's to $1,300." Leading the charge in gold's selloff was growing investor confidence in the U.S. economic recovery because of improving economic data. A consequence of better data is that investors become less enamored of putting their cash into government bonds. As a result, yields have risen, making the U.S. dollar worth more. Gold and the dollar often move inversely to each other. The underlying expectation is that if the jobs landscape improves and if growth continues then the Federal Reserve might alter its $600 billion bond-buying program or raise key interest rates. This seems like a long shot, however, as the Fed in its minutes for December, reiterated its commitment to the program and Friday's jobs number failed to produce its big wow factor. Also Fed Chairman Ben Bernanke said in testimony to the Senate Budget Committee this morning that the jobs market could take four to five years to normalize. The Fed most likely will wait until the seasonality shakes out of the jobs market before considering any policy decisions, so those betting on gold as protection against a loose monetary policy can keep doing so.
At some point, physical gold buying, especially from price sensitive emerging-market countries like China, which is getting ready to celebrate its new year, should put a floor under prices. But this buying hasn't materialized in full force. Bubbling worries in the eurozone could also spur some safe-haven buying. Portugal is expected to tap the debt market next week to raise money for the medium term. Expectations are that if it doesn't go well then the country could have to hit up the International Monetary Fund for money. European Union leaders are floating a new proposal to put bondholders on the hook in case a local bank defaults, rather than the taxpayer, and some investors are worried this rule could extend to those buying sovereign debt. Gold is "at risk to deeper correction from index re-balancing and the stronger dollar," says James Moore, research analyst to fastmarkets.com. "But .... the mix of inflation concerns and the increasing threat of default by one or more eurozone nations seem likely to draw scaled-down buying interest." David Morgan, founder of Silver-Investor.com, is still holding onto his long gold positions but is flat on his trading positions. Morgan has been buying puts on his silver positions, giving him the right to sell at a set price to lock in gains. "I am not going to trade anything at this point in the metals markets ... gold needs to take a breather for a while."
Silver prices
were following gold down 45 cents to $28.67 while copper was down 4 cents to $4.28. In theory, industrial metals like these should benefit from an economic recovery in the U.S., but prices' huge rally in 2010 has left the metals more vulnerable to profit taking for the short term. Silver is down 7.3% since the beginning of the year.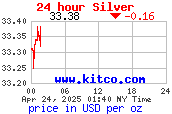 Gold mining stocks
, a risky but potentially lucrative way to
buy gold
, were mixed.
Kinross Gold
(
KGC
) was 0.17% lower at $17.51 while
NovaGold
(
NG
) was up 1% to $13.16. Other gold stocks
New Gold
(
NGD
) and
Gold Fields
(
GFI
) were trading at $8.84 and $16.99, respectively.
-- Written by Alix Steel in New York. >To contact the writer of this article, click here: Alix Steel. >To follow the writer on Twitter, go to http://twitter.com/adsteel. >To submit a news tip, send an email to: tips@thestreet.com.