NEW YORK (
TheStreet
) -- While
gold prices
had a stellar year in 2010,
silver prices
were even hotter. Silver prices ended the year up 80% compared with the yellow metal's 28% rally. Many analysts and silver bugs anticipate an even stronger showing in 2011. David Morgan, founder of
Silver-Investor.com
, predicts silver prices between $30 and $40 with a possible break to $45 an ounce.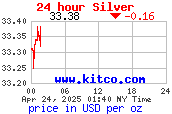 Rob McEwen, CEO of
U.S. Gold
(
UXG
), says if the silver-to-gold ratio adjusts to a previously achieved relationship, silver prices would have to move much higher. When both metals were at their previous highs in 1980 -- $50 for silver and $850 for gold -- it took 17 ounces of silver to buy one ounce of gold. At today's prices, the ratio is 46:1. McEwen argues that "if you moved to 30:1, you would have a considerable move." Silver prices would spike to $46 an ounce. Granted, CEOs of mining companies have a vested interest in high metals prices, but Phillips Baker, CEO of
Hecla Mining
(
HL
), cites silver's industrial uses for why he is so bullish on the metal. "You're going to see people continuing to move towards the consumption of the products that use silver as their economies develop ... It's a path the world is on that's not going to stop," Baker says. Silver's industrial uses are nothing new but some of the products it is being used for are like the iPad and solar panels. "Those sorts of things people didn't envision even existing and that market has just grown, taken off," says Baker. "We've seen in the last year the growth in that type of use increase about 18%." Like gold, there are many ways to buy silver: the physical metal, physically backed exchange-traded funds like the
ETFS Physical Silver
(
SIVR
) or
iShares Silver Trust
(
SLV
), silver mining stocks and silver stock ETFs.