NEW YORK (
TheStreet
) --
Gold prices
popped double digits and rallied past $1,400 Tuesday on technical trading. Gold for February delivery surged $22.70 to $1,405.60 an ounce at the Comex division of the New York Mercantile Exchange. The gold price traded as high as $1,407.20 and as low as $1,383.10 during Tuesday's session. The
U.S. dollar index
was adding 0.19% to $80.40 while the euro was down 0.51% at $1.30 vs. the dollar. The spot gold price was jumping $21, according to Kitco's gold index. Despite light volume because of the blizzard in the Northeast U.S. and what is basically a holiday week, gold was finding some last-minute direction headed into the end of the year. A sizable portion of Tuesday's pop was attributable to short covering and physical buying. The fact that gold prices held up after China hiked interest rates over the weekend triggered a flurry of short covering. Markets had been dreading this move for a while, so not only was the news already baked in but those betting against the gold price were left having to buy back positions at higher prices in the absence of a massive sell-off. On a fundamental basis, China's increase of just 25 basis points was relatively meager, and gold's jump suggests that investors don't believe the latest move will be enough to tame inflation in the country. Also, just the fact that inflation needs to be tamed in China is a relatively bullish sign for gold, unless China decreases spending significantly or raises rates more consistently or aggressively.
"Central banks have to raise interest rates by a long way before it really makes a difference to cash savers," argues Adrian Ash, head of research for BullionVault.com. Ash says the federal funds rate has been below inflation for more than 58 months, nearly outpacing its previous record in the 1970s of 61 months. Negative real interest rates, the interest rate minus inflation, pushed gold to a then-record high of $850 an ounce in 1980. Despite gold prices hitting new all-time peaks in 2010, if adjusted for inflation, the bullish consensus is that prices should be more than $2,000 an ounce. Technical trading will most likely dominate gold prices for the week as money managers and investors square their books headed into the end of the year. "Any kind of serious weakness you see in gold is going to be met with investor demand, specifically out of India," says Phil Streible, senior market strategist at Lind-Waldock. Gold's push over $1,400 also probably triggered momentum trading as investors jumped into the metal for fear of missing another big rally. Keep in mind, however, that the converse is also true. Tuesday's rally might ignite profit taking especially as investors try to show gains headed into the end of the year. Gold was initially helped Tuesday by a weaker U.S. dollar. The dollar softened after the U.S. government sold $35 billion worth of two-year bonds on Monday. The surprisingly strong demand pushed the two-year yield down to 0.68%. A weaker yield means the dollar is literally worth less, which makes gold a more attractive place to store wealth. Markets were disappointed, however, when the yield on the 5-year bond rose to 2.149% during its auction earlier this afternoon. Higher yields mean the government must sweeten the pot to entice investors. The dollar regained steam after the auction, although the currency wasn't crimping gold's rally, which was holding up in after-hours trading. George Gero, vice president at RBC Capital Markets, also points out that "robust holiday sales
were somewhat inflationary" for gold. The strong sales took deflation worries off the table as retailers won't have to lower their prices to entice consumers. Instead, rising prices can stir the inflation fear. Gold is the go-to asset in times of inflation as a safety play. Silver prices added $1.06 to $30.32 while copper closed up 4 cents at $4.32.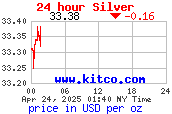 Gold mining stocks, a risky but potentially profitable way to buy gold, were mostly higher. Freeport McMoRan Copper & Gold ( FCX) was flat at $118.41 while Kinross Gold ( KGC) was adding 3.07% to $18.49. Other gold stocks New Gold ( NGD) and Gold Fields ( GFI) were trading at $9.59 and $17.92, respectively. -- Written by Alix Steel in New York. >To contact the writer of this article, click here: Alix Steel. >To follow the writer on Twitter, go to http://twitter.com/adsteel. >To submit a news tip, send an email to: tips@thestreet.com.

Readers Also Like: