NEW YORK (
TheStreet
) --
Gold prices
were trading sideways Wednesday on light technical trading, an indication the yellow metal may have to wait until 2011 to see more momentum. Gold for February delivery settled $1.40 lower to $1,387.40 an ounce at the Comex division of the New York Mercantile Exchange. The gold price traded as high as $1,391.70 and as low as $1,385.60 during Wednesday's session. The spot gold price was adding 50 cents, according to Kitco's gold index. The
U.S. dollar index
was flat at $80.73 while the euro was down 0.08% to $1.30 vs. the dollar. China announced it would buy €4-5 billion in Portuguese bonds, according to reports. China in recent years had been selling euros for dollars but changed its tune Tuesday when the country announced it would support the European Union's fight against sovereign debt. Gold prices will probably remain stagnant for the rest of the week as trading gradually thins out ahead of the long holiday weekend. "Many times holiday markets are choppy," says George Kleinman, president of Commodity Resource. Kleinman is still bullish on gold prices over the long term and thinks prices could hit $1,600 in 2011. For now though Kleinman says gold "has been in a downtrend that ended last week and the short term trend will probably chop around a bit with an upward bias." For his part, Kleinman is sitting out the last two weeks of the year, preferring to eschew trading as volume deteriorates. "I don't see much happening in the next week or so" he says. Gold prices got some support from news that the International Monetary Fund has completed the sale of 403 tons of gold originally announced in September 2009. Many analysts had been worried that a large gold sale would lead to an oversupply in the market and lower prices. Gold prices weathered the storm well, helped by ballooning investment demand. During the same time frame, the
SPDR Gold Shares
(
GLD
), the largest gold exchange-traded fund, added 236.19 tons, more than half of what the IMF was selling. "The fact that the IMF could sell over 400 tons of gold in such a short space of time, with no market disruption, demonstrates how deep and liquid the gold market is," says Natalie Dempster, director of Government Affairs for the World Gold Council, the sponsor of the GLD. "It also reflects the fact that the majority of gold sales were conducted off market with central banks."
Since the second quarter of 2009, central banks from emerging market countries have transitioned into net buyers. One of the biggest buyers is China. Over the past five years, the country secretly increased its gold holdings from 600 tons to 1,054 tons. China currently holds only 1.6% of its reserves in gold. Dempster says that if the continent were to reallocate its holdings to 3%, it would need to buy 1,000 tons of gold. Compare this with the U.S. and Portugal, which hold 70% and 80% of their reserves in gold, respectively. China has said that it will not be buying additional gold for its reserves, but is encouraging its citizens to buy and is opening up the gold trading market to spur demand. China, however, is unlikely to announce if it is buying gold for risk of triggering a rally in the price. "Some banks," says Dempster, "have been rebalancing as the percentage of gold in total reserves has fallen over time. Others are looking to diversify away from dollar-based assets, and with sovereign debt concerns continuing to grow around the world, gold's attractiveness as a reserve asset that bears no credit risk continues to grow." Central banks, in general, regard reserve allocation as an ongoing government policy. Although the governments consider fundamentals like dollar weakness and the sustainability of gold as money, they don't trade gold, they buy it as an investment. In the third quarter, purchases by central banks outweighed sales by 21.9 tons according to the World Gold Council. Eurozone banks held on to their gold while Russia bought 46.2 tons, Philippines bought 4.2 tons, Thailand added 15.6 tons to its reserves and Sri Lanka increased its holdings by 6.9 tons. Inflation headlines should also help support gold prices. According to
Reuters
, the Reserve Bank of India said that inflation is not slowing as quickly as it wants. U.S. investors heard tell of similar issues when
ConAgra
(
CAG
) reported its quarterly results on Tuesday, citing higher costs. Gold becomes appealing during times of inflation as a hard asset that retains more monetary value as fiat currencies are devalued. This thesis hasn't really panned out for investors in the United States as the inflation rates stay very low, but emerging market countries like China and India are seeing consistent high inflation. China's recent inflation reading puts prices 5.1% higher vs. a year ago. India is projecting inflation will be 5.5% in March 2011.
More inflation is good for gold, but raising key interest rates, the way to combat inflation is bad for the metal. As the cost of borrowing increases and paper currencies get stronger, gold becomes less appealing. But so far rates have not been hiked high enough to damage gold prices, or in China's case, not at all. Most analysts are looking towards 2011 to provide real direction for the gold price. Historically January and February are good months for gold as investors buy back positions they shed ahead of the new year. This thesis didn't pan out in 2010, but many think it will play out in 2011. "The two pillars of gold are, in any country's currency, are negative real interest rates and deficit spending," says Frank Holmes, CEO of U.S. Global Investors. Holmes thinks that low interest rates won't be going anywhere anytime soon as "it would be catastrophic for the financial system." Low rates and cheap money can also be good for
silver prices
as well, a cheaper alternative to gold. Silver closed flat at $29.38 while copper also ended flat at $4.27 after the metal hit record highs Tuesday as it was reported by the
Wall Street Journal
that one trader owns 80% to 90% of the copper at the London Metal Exchange.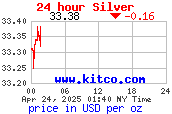 Gold mining stocks
, a risky but potentially profitable way to
buy gold
, were slightly lower.
Freeport McMoRan Copper & Gold
(
FCX
) was losing 0.15% at $116.03 while
Kinross Gold
(
KGC
) was 0.22% lower at $18.39. Other gold stocks
New Gold
(
NGD
) and
Gold Fields
(
GFI
) were trading at $9.21 and $17.49, respectively.
Goldman Sachs
(
GS
) removed
Randgold Resources
(
GOLD
)Wednesday from its Conviction Sell List, but still maintained a sell rating. Shares were slightly higher at $84.96.
-- Written by Alix Steel in New York. >To contact the writer of this article, click here: Alix Steel. >To follow the writer on Twitter, go to http://twitter.com/adsteel. >To submit a news tip, send an email to: tips@thestreet.com.