NEW YORK (
TheStreet
) -
Hecla Mining's
(
HL
-
Get Report
) silver story is so good you have to wonder if this shining success story can last. The oldest silver miner in America produced 2.7 million ounces of silver in the third quarter for negative cash costs of $1.01 an ounce. The company made 6 cents a share and Hecla estimates that for 2010 it will produce 10 million to 11 million ounces of silver with total cash cost of negative 50 cents. With silver prices trading around $30 an ounce, these results can look staggering. Hecla has two producing silver mines -- Greens Creek and Lucky Friday -- as well as two development projects in Colorado and Mexico. For now, Greens Creek is carrying the weight for Hecla. It's one of the largest silver mines in the world and produced 1.9 million ounces of silver last quarter for negative $3.05 an ounce. Lucky Friday is good but not as lucky producing 0.8 million ounces for $3.38 an ounce.
Hecla's success and silver's growing popularity seem to be a perfect storm for profits. The price of silver has jumped 70% in 2010 and so have shares of Hecla as investors seek to profit from the metal's rise. The silver exchange-traded fund,
iShares Silver Trust
(
SLV
-
Get Report
), added more than 1,400 tons of silver in 2010 adding fuel to silver's fame. I recently sat down with Hecla CEO Phillips Baker to see if Hecla's gangbusters quarter could repeat itself and the biggest challenges the miner faces in the future.
Hecla just released a killer third quarter. How are you planning to sustain these strong profits and negative cash costs in the future
?
Baker
: The nature of the assets allows us to do that. This is a company that has been operating for over 100 years and because of those long-standing operations, there is a lot of stability in them and so quarter after quarter you will see relatively consistent performance. You will see some volatility in the amount of cash flow we generate each quarter. In fact, the second quarter ... had a lot more cash than the third quarter. I would expect the fourth quarter to have even more than the third.
Is that due to silver price volatility or just your operational cost
? Just due to the timing of shipments of concentrate.
Now when I was looking through your quarter, it seems like Greens Creek is sort of your lifeblood right now. Are you trying to lower cash costs even more there
? We're trying to maintain the operations, trying to grow the production ... which will probably cause the costs to go up. But you'll see more base metals production. You'll see more silver production, just slightly more because it's a very stable operation. What you will see happening over time is that Lucky Friday, which has been a mine that we have operated for 60 years,
will expand. It's going to go from a 3 million ounce producer to a 5 million ounce producer and costs will go down accordingly. I read that and you are also going to expand the mine life beyond 2030. How are you going to do that? Just by going deeper ... The area that we're mining we started mining in 1997. We focused all of our attention on it starting in 2001 and since that time we've been drilling deeper and ... what we've discovered is that the ore body gets, not only richer, but it gets thicker. The economics of it improve and the productive capacity improves and so that's how we'll get that higher production, that's how costs will go down, and that's why in the future you'll see the Lucky Friday generating similar amounts of cash flow maybe even more than what you're seeing from Greens Creek today. But isn't deep-pit mining also much more risky and more costly ? No, this isn't a pit, this is underground. We are a mile underground as we speak ... We're in the process of building a shaft that will take us almost another mile, take us about 4,000 feet deeper. People ask me all the time: Doesn't that mean costs will go up? In this case you have the capital that's sunk, that's about $200 million, that's what we expect this to cost, but the costs will stay relatively stable they won't move very much. So you'll have more production, same level of cost, more cash flow. What's your mine life of Greens Creek? Greens Creek at this point has about 10-15 year mine life. Officially its 10 but when I look at the exploration and where we're drilling I can see another three to five years in front of us. And that's been the case for the last 20 years. It's had a mine life of seven to 12 years. We just have to see where the exploration takes us. So for your two big mines, what do they look like in 2011? Similar sort of production. We have not given production guidance, but it's going to be similar to what we have this year and that's going to be true going forward from those two mines. When does Lucky Friday get really lucky? Lucky Friday's been very lucky for a long time. It was the cornerstone mine of the company. If you go back 40 years ago, it was what built the company, that and a mine that adjoined it called the Star Morning Mine. What's happening there is we've acquired the land in between the two mines, we're going to be exploring between them and we anticipate, whether it's there or on the large 25-square mile land package, that you're going to see more Lucky Friday's in the future. When are we going to see that ramp up of production though? That's a 2015 event, so it'll take us about four years to construct this new shaft. That's a long time but it's worth the wait for what you get. You get infrastructure that will operate for another 20 to 30 to 40 years. In this business, the best thing you can have is a low-cost, long-lived mine and if you have those things then you've got something that can generate the cash flow. You've got a place that you're operating in, where you're learning about the geology, have the opportunity to find new deposits, and you're reinvesting on already existing infrastructure so the sort of returns that you generate outpace a competitors. In terms of your cash costs, are you going to be able to keep them really low at Lucky Friday because of your byproducts or because you are mining so much silver? It'll be both. What will happen is not only will the grade of silver go up, and that's ultimately the thing that drives costs is having high grade material, but the grade of the base metals that we produce will also go up. So we will have more byproducts. Your two development projects -- when do you think that they will actually come on stream? So we have two exploration projects, one is in southern Colorado in the Creede mining district. That's a district that didn't ever get developed because it was broken into two smaller pieces of ground. There was fragmentation of the ownership of the ground there. And what's happened there is our partner put together that whole land package. This year we own 70% of it with our partner. This year we got permits to be able to drill so we will have three separate drilling programs in three different parts of this ... 25-square mile land package. What we're confident of is, given the history of the mine, and of the district ... is that we're going to find not only extension to what's already there, we have about 37 million ounces of resource identified ... but we're going to find new deposits and it's one to stay tuned for. The other property we have is in Mexico. It's a 300-square mile land package. It is about 100 miles from three great mines, has the same geology of those three mines ... we have the opportunity to have something quite large there. When looking to buy assets, can you tell me some requirements that you look at? We are actually looking at both silver and gold properties ... For gold, there's been continuous exploration over the last 30 years so there's lots of gold opportunities that fit into the skill set that we have, or one of the skill sets we have which is as an underground miner. So we're looking for gold properties that are in Canada and in the U.S. With respect to silver though, we are really looking at anything in the Americas and they just have to be of size. They have to be scalable projects, probably need to produce 3 million ounces or so or have the potential to produce 3 million ounces or so. They have to have the ability to be large land packages where you have the ability to grow the resource base. So those are the sort of criteria we have. It's loosely based. We have a pretty big filter to allow us to evaluate lots of opportunities. What's your business most dependent on, what's the one thing you can't live without. Is it silver prices, the Fed, QE2, tax cuts, China, investment demand? What's the one thing you have to have in order to keep delivering these gangbuster quarters? Well, I think the first thing is the people that we have. Hecla has gone through very difficult metals price environments and has been able to survive and that's a rare thing. And the reason for that is a combination of the people that we have and the quality of the assets that we have. I will tell you that I think the silver price, as strong as its been, will likely get stronger ... for things like QE2, things like the deficit spending ... but in addition to that you also now have an expansion in the uses for the metal and that's the thing that's changed more than anything for the silver industry in the last 20 years ... Now you have a demand for the metal for applications that people didn't even dream of. Like what? Well, for example, your iPad. No one even dreamed of having an iPad. Well those have little bits of silver in it and solar panels. Solar panels are being built across China as one of their sources of power. You're seeing the same thing in the U.S. I was in a city, throwing away some garbage and the garbage can was actually a trash compactor. Well, that trash compactor got powered by a solar panel sitting on the top of it ... Those sorts of things people didn't envision even existing and that market has just grown, taken off. We've seen in the last year the growth in that type of use increase about 18%. So would you say that that kind of use is more important than investment demand? No, they both have a place. That type of use I think is extraordinarily important when you think about the business in the long term ... As investment demand will ebb and flow, as the interest in silver and the reasons for interest in the monetary aspects of silver ebbs and flows, the industrial demand, that consumer product demand, is going to grow as people come up with new uses and as the world grows. So when you go to Brazil, India and China and you look at how their countries are developing and the way people are living their lives, they're having the same products that we have here and with that comes a huge consumption of silver. How reliant are you on demand from China and are you worried about a slowdown there? Certainly China is one of the real drivers of the world economy there's no doubt about it. There's an element of it that's real, there's an element of it that's psychological. So it is important that demand continue and the perception that the demand is continuing. But the reality is whether its China or India or Russia, you're going to see people continuing to move towards the consumption of the products that use silver as their economies develop ... It's a path the world is on that's not going to stop. So what's the number one problem that Hecla faces going forward? We're fortunate in that there isn't any one thing that I look at and say 'gosh we absolutely have to do this for us to be successful.' There's a lot of small things, a lot of basic execution of our plans that's key. But there isn't anything that sort of keeps me up at night. Nothing fundamental? Like if the silver price tanks $15? Look, if the silver price tanks $15, we're the best-positioned company to survive that because the cost structure that we have, the diversity of metals that we have. Wouldn't be good for us by any means but we can weather the storm. So how high to silver and gold prices go in 2011?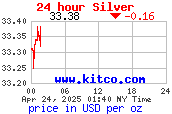 Certainly it is going to be fundamentally based on this investment demand during that time frame. And so long as we continue to have the actions that the Fed has taken, the actions that our government has taken here in the U.S., that's probably the biggest driver of where silver goes. I don't see that changing dramatically to where silver would go down. My expectation is that you're going to see prices where they are now and even higher. How high could it go? I was asked the question about four months ago and I said silver would trade between $25 and $30. We're there, I think you're looking at $30-$40 trading range for the coming year with potential periods of time that silver might bounce down but it's going to come right back up. What about gold? Gold I don't follow as closely and it's even more tied to these QE2-type of events. Gold's going to be very strong as well though.
-- (symbol) by Alix Steel in New York. >To contact the writer of this article, click here: Alix Steel. >To follow the writer on Twitter, go to http://twitter.com/adsteel. >To submit a news tip, send an email to: tips@thestreet.com.