NEW YORK (
TheStreet
) --
Gold prices
stemmed losses Friday but the worst might not be over. Gold for February delivery added $8.20 to $1,379.20 an ounce at the Comex division of the New York Mercantile Exchange. The gold price traded as high as $1,378.50 and as low as $1,365.40 during Friday's session. The
U.S. dollar index
was adding 0.46% to $80.40 while the euro was down 0.45% to $1.31 vs. the dollar. The spot gold price Friday was up $7.60, according to Kitco's gold index. Gold has had a difficult and volatile week. The metal started off on a positive note, breaking $1,400 and adding almost $20 in two days. But the rally couldn't hold and the metal has sunk $33 since Wednesday. Among fundamental issues, gold has been fighting with technical trading. Traders have been selling the metal to book profits headed into the end of the year but any substantial dip has been met with buying as traders buy gold to show they own it. This "bargain" hunting supported prices in late-day action on Friday. Another factor in this week's volatility was that Friday is a quadruple witching session, a day when contracts for stock index futures, index options, stock options and single stock futures all expire. Gold prices broke a key support level of $1,370 on Thursday but managed to attract some buyers to close at $1,370 an ounce. Jon Nadler, senior analyst at
Kitco.com
, says this recent rally has been momentum driven and "we could be looking down into the $1,320-$1,350 as a first target." Nadler does not expect bullish sentiment to return "unless gold takes out its previous pinnacle of about $1,430." Gold prices were finding some support as a safe-haven asset for investors as
Moody's
downgraded Ireland's government bonds by five marks and maintained a negative outlook, which means that further downgrades are possible. At the final European Union summit of the year, leaders agreed to provide a permanent crisis lending facility starting in 2013, after the temporary one expires, but more radical measures to help short-term problems weren't agreed upon. Gold markets don't like this kind of uncertainty and there was some found in the U.S. as well. The Commodity Futures Trading Commission agreed to position limits Thursday as part of its job in interpreting the Dodd-Frank financial reform legislation.
Limits were restricted to 25% of physically settled contracts for the spot month, meaning the month of expiration. According to initial estimates, this provision would likely impact just a handful of large position traders, but the CTFC did not vote on the rule, saying the commission needed more time to digest it. Not only might this spur traders to look overseas but it might make them resistant to commit new capital until the rule is finalized. Gold prices could also get hit with a "buy on the rumor, sell on the news" trading strategy once limits are official approved. Another potential headwind for gold is a slowdown of physical buying in India. Nadler says that rural consumers, who usually buy gold as a store of wealth will now opt for durable goods like appliances and cars. About "200 to 250 tons per annum is at stake here," Nadler estimates, "China better step up to the
buying plate." Also according to reports, India's wedding season, which starts in September and usually lasts for three months, is has been weak. The season is typically met by strong gold jewelry buying and the lack of demand could put some pressure on prices for the short term. Silver prices will take a hit off of slumping Indian demand as well as consumers has been opting for a mix of gold and silver jewelry to help offset the cost. But silver is in luck in that it is used in many of the now-sought appliances and technology items. Silver added 35 cents to $29.13 while copper closed up 4 cents to $4.15.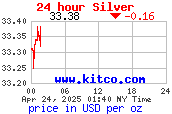 Gold mining stocks, a risky but potentially profitable way to buy gold, were mixed Friday. Kinross Gold ( KGC) was down 0.49% to $18.19 while Goldcorp ( FCX) was 0.96% lower at $44.54. Other gold stocks New Gold ( NGD) and Gold Fields ( GFI) were trading at $9.32 and $17.80, respectively. >> Video: 3 Winning Gold Stocks for 2011 The popular gold exchange-traded fund, SPDR Gold Shares ( GLD), were trading slightly higher at $134.41 after the ETF shed almost 3 tons Thursday. -- Written by Alix Steel in New York. >To contact the writer of this article, click here: Alix Steel. >To follow the writer on Twitter, go to http://twitter.com/adsteel. >To submit a news tip, send an email to: tips@thestreet.com.

Readers Also Like: