NEW YORK (
TheStreet
) --
Gold prices
backed down from new highs Tuesday, but still managed to finish in the green as investors vacillated between profit taking and safe-haven buying. Gold for February delivery added $6.30 to $1,404.30 an ounce at the Comex division of the New York Mercantile Exchange. The gold price traded as high as $1,405.60 and as low as $1,393.80 during Tuesday's session. The
U.S. dollar index
was losing 0.23% to $79.17 while the euro was adding 0.32% to $1.34 vs. the dollar. The spot gold price Tuesday was rising $7.30, according to Kitco's gold index. Gold prices have tried twice to break and hold new highs and each time have been met with profit-taking which pulled prices back down under the $1,400 level. The last attempt was Dec. 7, when gold hit an intraday high of $1,432.50 an ounce. The question for traders: Is the third time a charm? Prices seemed poised to make a true breakout until better-than-expected economic data out of the United States distracted investors and tempered gains. November retail sales rose 0.8% while the core Producer Price Index grew 0.3%. The CPI data was not high enough to cause inflation worries and was a big sigh of relief after October's 0.6% drop, which had sparked deflation fears. "I think we will probably probe and test that $1,400 range but really I think we've got to get over $1,416," says Phil Streible, senior market strategist at Lind-Waldock. "If we get a two day close over that I think we're going to advance making new all-time highs." Streible thinks the new high could be $1,464 whereas his support level is $1,331. Any close below $1,331, he says, could cause a flurry of momentum selling and gold might be forced to retest its $1,270 support level. But for now gold seems intent on probing new highs helped Tuesday by safe-haven buying. The gold landscape still seems ripe for safe-haven buying especially with ratings agency
Moody's
threatening to cut the U.S.'s triple-A credit rating if the new tax cut bill was approved by Congress, which looks set to happen. The dollar has suffered of late after the Obama administration announced its tax-cut legislation which many reports dubbed as more stimulus. There is also speculation that the
Federal Reserve
might be forced to issue a third round of quantitative easing to help the government pay for this tax bill and jump-start the economy. The results of today's FOMC meeting didn't yield any surprises with the Fed leaving key interest rates unchanged and making no change in its language, outlook for the economy, or its bond buying program. If anything the Fed reiterated that economic growth is still not good enough which implies that the Fed will not back down from its plan to purchase $600 billion in longer-term Treasuries by the end of the second quarter of 2011. Gold prices stayed steady after the announcement and will also take their cue from the Department of Labor when it releases the Core Consumer Price Index for November on Wednesday. Inflation is forecast to rise just 0.1%.
"I think we're going to look at the first half of 2011 and determine that QE2 and probably what is going to follow is QE3 and QE4 were not just necessary but very, very helpful in terms of stemming off deflation," argues Oliver Pursche, co-portfolio manager of the GMG Defensive Beta Fund. Pursche has sold out of his gold positions, however, calling the market "frothy, at best" and has been reducing positions in silver, platinum and palladium. The spotlight has once again turned from Europe to the U.S., giving support to the euro, as news that the European Central Bank bought € 2.7 billion in government bonds in the week ended Dec. 10 helped prop up Portugal and Ireland's debt load. This was the largest purchase since July and showed that the ECB was in the market to help struggling debt-laden countries.
Silver prices
were adding 16 cents to $29.78 shrugging off a report in the
Financial Times
which said that
JPMorgan
(
JPM
) could be reducing its huge silver position in light of a two-year inquiry by the Commodity Futures Trading Commission. The CFTC has been trying to determine if the trading house has been illegally manipulating the price of silver.
Gold and silver manipulation has been a trendy topic this year. Trader Brian Beatty filed lawsuits at the end of October against JPMorgan and HSBC for conspiring to "suppress and manipulate" silver prices on the Comex. The allegations were particularly noteworthy because HSBC and JPMorgan are custodians of the physically backed exchange-traded funds like the
SPDR Gold Shares
(
GLD
) and
iShares Silver Trust
(
SLV
), which means the big banks are in charge of storing the metal investors are buying while being accused of manipulating the prices. Bart Chilton, commissioner of the CFTC, was reportedly pushing the commission to prosecute.
Copper prices were stalling out after hitting a two-year high
. Copper closed flat at $4.20.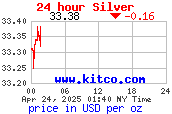 Gold mining stocks
, a risky but potentially profitable way to
buy gold
, were mixed.
Freeport McMoRan Copper & Gold
(
FCX
) was down 0.20% to $115.30 while
Goldcorp
(
GG
) was 0.59% higher at $46.41. Other gold stocks
New Gold
(
NGD
) and
Gold Fields
(
GFI
) were trading at $9.55 and $18.34, respectively.
-- by Alix Steel in New York. >To contact the writer of this article, click here: Alix Steel. >To follow the writer on Twitter, go to http://twitter.com/adsteel. >To submit a news tip, send an email to: tips@thestreet.com.

Readers Also Like: