NEW YORK (
TheStreet
) --
Jim Rogers
, the famous contrarian investor, stands behind his prediction that
gold prices
will hit $2,000, but isn't buying any more gold at record highs. Rogers has been a gold bull for years and well before this year's 25% rally. There are many ways to buy gold like the gold exchange-traded fund,
SPDR Gold Shares
(
GLD
), up 24%; gold stocks like the
Market Vectors Gold Miners
(
GDX
), a basket of large-cap miners, up 30%; or physical gold. Rogers favors the physical commodity. Some analysts disagree with Rogers.
Goldman Sachs
(
GS
) called a top in gold at $1,750 sometime in 2012, while Jon Nadler, senior analyst at Kitco.com, says the top could come in 2011 especially as prices struggle to sustain prices above $1,400.
I recently sat down with Rogers to see when he thought gold prices would break $2,000 and how he would buy the precious metals market.
Now, you've said that gold will hit $2,000. Do you know when -- crystal ball
?
Rogers
: I wish I knew when, watch
TheStreet.com
you can get all these answers to market timing; I am no good at it. I explained to you that gold will be $2,000 certainly in the decade, it'll probably be much higher than $2,000 in the decade but maybe even sooner I don't know. But to me it seems pretty clear that it'll go to at least $2,000. If you adjust the old high back in 1980 for inflation, gold should be over $2,000 now.
What about silver
?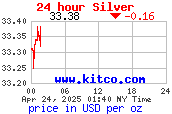 Silver at the old high was $50, silver's at $30 now. Silver can certainly go to $50 again and probably much much higher over the next decade.
It just seems you'd be selling your gold this year with all the hype that's been going on
. There's been some hype about it
but
most of the public, for instance, is selling gold. If you walk around the streets in nearly any American city you'll see signs -- sell us your gold. The public is in there selling their gold, selling gold jewelry, as fast as they can. I spoke not too long ago to 300 major international money managers from around the world, sophisticated people with a lot of money under management. And the moderator, I didn't know why he said it, but he said, "How many of you have ever owned gold?" Seventy-six percent of those people had never owned gold.