NEW YORK (
TheStreet
) --
Gold prices
pulled back Tuesday as investors took profits following the precious metal's record run. Gold for February delivery settled down by $7.10 to $1,409 an ounce at the Comex division of the New York Mercantile Exchange. The gold price traded as high as $1,432.50 and as low as $1,403 during Tuesday's session.
The
U.S. dollar index
was up 0.14% to $79.80 while the euro was down 0.15% to $1.32 vs. the dollar. The spot gold price was shedding more than $15, according to Kitco's gold index. Gold prices surrendered early gains after the metal hit an all-time high of $1,432.50 an ounce. Investors were looking to take profits instead of continuing the momentum rally in gold. Many analysts expect any price dip, however, to be met with buying as traders look to buy gold at a "discount." Gold's quick flip from a record rally Monday to finishing in the red Tuesday suggests that market participants are traders trying to make an easy profit with gold and are not buying the metal for the long term. "Every time we've seen a decline in prices, we've seen investors step in and use that as a buying opportunity," argues Rohit Savant, senior commodity analyst at CPM Group. "We can see prices dip to maybe $1,380-$1,360 on the downside and on the upside we will probably see prices rise maybe even towards $1,450," Savant said. Contributing to gold's decline was speculation that China might raise key interest rates as early as this weekend. The move has been widely anticipated after the country reported a 4.4% rise in its core Consumer Price Index in October vs. a year ago. The country has been taking steps to slow its growth by raising the amount of money that banks must hold in their reserves but they haven't been enough to cool growth. The worry is that a slowdown in China would severely crimp the country's demand for commodities, especially gold. China imported 209.7 metric tons in the first 10 months of 2010, which is 7.4 million ounces. For comparison, that figure exceeds the activity of the gold ETF,
SPDR Gold Shares
(
GLD
), which added 164.36 tons, or 5.8 million ounces, in the same time period. Any substantial slowdown in purchasing power and gold demand would severely weigh on prices. On the flip side, helping to support higher gold prices were statements from Federal Reserve Chairman Ben Bernanke during an interview broadcast Sunday on
CBS's
"60 Minutes" that the Fed would consider expanding its quantitative easing program, which stoked inflation concerns. Late Monday President Obama agreed to congressional Republicans' wish to extend tax cuts implemented by the Bush administration for all income groups for two years. Those in favor of the tax cuts said canceling them would hurt the economy by discouraging consumer spending. The deal trims worker payroll taxes for one year, extends credits for small businesses and lengthens unemployment benefits. The news improved risk appetite as investors opted for stocks over gold.
"It remains to be seen whether these cuts will have the desired impact of stimulating the economy, but they most certainly will grow the deficit and weaken the dollar, and this is perhaps what is behind the sizable advance we
were
seeing
in morning trading
," wrote MF Global metals analyst Edward Meir in a research note.
The euro was slipping slightly against the dollar as the Irish finance minister, Brian Lenihan, unvieled tax hikes and spending cuts the country must support in order to receive bailout money from the IMF/EU fund. Parliament still has yet to pass the austerity measure and a failure to do so would force Ireland to wait even longer for a financial life raft.
Silver prices
, on the other hand, remained in record territory, settling 4 cents higher at $29.77. The poorer cousin of the yellow metal reached a 30-year high on Monday as ongoing European debt-contagion fears and Bernanke's talk about a possible third round of quantitative easing brought out the sparkle in gold's cheaper alternative. According to BullionVault's head of research Adrian Ash, investors are increasingly going beyond gold to help diversify their portfolios. Savant says that silver's safe-haven appeal is helping support high prices but that its fabrication uses are propelling their momentum. "
Silver is used in
electronics and solar panels so you have this dual role that silver plays on the fabrication as well as the investment side." Savant says it would be normal for silver to correct on profit-taking but that in January the metal will be set to make new 30-year highs. Copper was also benefiting from improving risk appetite on supply constraints and hope that the industrial metal will be in high demand. Copper closed 4 cents higher at $4.04. News that
JPMorgan
was the buyer of more than $1 billion of copper helped the base metal pop as traders worried about supply issues and market domination by the investment bank and its clients.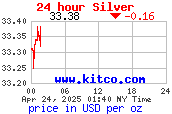 Gold mining stocks
, a risky but potentially potentially profitable way to
buy gold
, were slipping as investors took profits.
Kinross Gold
(
KGC
) was down by 1.93% to $18.83 while
Randgold Resources
(
GG
) was losing 1.04% to $92.48.
New Gold
(
NGD
) was shedding 2.56% to $9.88 after shares were downgraded to market perform from outperform at
BMO Capital
.
Gold Fields
(
GFI
) was trading flat at $18.11 after the stock was upgraded to overweight from neutral at
HSBC
.
Readers Also Like:
-- Written by Andrea Tse in New York. >To contact the writer of this article, click here:
Andrea Tse
. >To follow the writer on Twitter, go to
Andrea Tse
. >To submit a news tip, send an email to:
tips@thestreet.com
.