NEW YORK (
TheStreet
) --
Gold prices
rose Tuesday as traders digested contagion worries in Europe and an erupting conflict between North and South Korea. Gold for December delivery settled $19.80 higher to $1,377.60 an ounce at the Comex division of the New York Mercantile Exchange. The gold price Tuesday has traded as high as $1,382.90 and as low as $1,355.60. The
U.S. dollar index
was adding 1.29% to $79.70 while the euro continued sliding 1.99% to $1.33 vs. the dollar. The spot gold price Tuesday was adding $8.40, according to Kitco's gold index. Gold prices popped on safe-haven buying as gold fulfilled its role as a hedge against crises. Spilling over from Monday were continued worries that Spain and Portugal won't be able to survive without a European Union/International Monetary Fund bailout despite Ireland's commitment to take financial aid. The 10-year Treasury yield for Spain and Portugal closed Monday at 4.72% and 6.9%, respectively. Although lower than last week before Ireland took bailout money, the yields are still high compared to Germany's long-term borrowing rate of 2.63%. The less willing investors are to lend money to countries as they worry about their default risk, the more the countries must raise interest rates to entice lenders. The more this pattern continues the more risk the countries have of being frozen out of the debt markets. The worries were pressuring the euro and supporting a stronger U.S. dollar. Earlier in trading a stronger U.S. dollar was tempering gold's rally, but the metal popped on reports that
North Korea fired 100 artillery shells toward a South Korean island near their border Tuesday
, killing two South Korean marines. The White House has already condemned the attack and North Korea is saying the incident was provoked. South Korea is calling the attack "clear military provocation" and is threatening retaliation if there are more attacks. Despite gold's safe haven appeal, some analysts attribute gold's rally to technical trading not fear. "We've had these saber rattlings before and nothing came out of it afterwards," says George Gero, senior vice president at RBC Capital Markets. "Gold today is really concerned with ... the euro selling off ... the credit default swaps widening in Europe" and technical trading.
During a shortened trading week, Gero says traders have to roll over or liquidate 200,000 contracts before December first to avoid having to put full money up on positions. "I think gold is going to be up," says Gero. "I just don't think it's going to have the strong up move that it might have
had
based on just this news ... I think we're going to look for $1,320 as a support level and we'll probably go up to the $1,400's by the end of the year." Minutes from the last FOMC meeting were released Tuesday and also paved the way for higher gold prices. The Fed reiterated that inflation was below levels that were consistent with its dual mandate for "maximum employment and price stability." The language indicated that the Fed's $600 billion bond buying program would continue despite recent protests by critics worried about inflation and a devalued dollar. The Fed will most likely keep running its printing presses and keep helping gold shine as long term inflation protection.
Silver prices
added 11 cents to $27.57 while copper lost 4 cents to $3.70.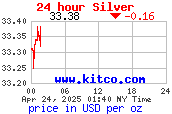 Gold mining stocks
, a risky but potentially profitable way to
buy gold
, were down.
NovaGold
(
NG
) was losing 1.30% to $14.46 while
Seabridge Gold
(
FCX
) was 1.89% lower at $27.96. Other gold stocks
Hecla Mining
(
HL
) and
Iamgold
(
IAG
) were trading at $8.95 and $16.87, respectively. --
Written by Alix Steel in New York.
>To contact the writer of this article, click here:
Alix Steel
. >To follow the writer on Twitter, go to
http://twitter.com/adsteel
. >To submit a news tip, send an email to:
tips@thestreet.com
.
Readers Also Like: