NEW YORK (
TheStreet
) --
Gold prices
were consolidating their gains Friday as
China took more steps to stem inflation
. Gold for December delivery settled down 70 cents at $1,352.30 an ounce at the Comex division of the New York Mercantile Exchange. Prices lost 1.4% of their value this week. The gold price Friday traded as high as $1,362.90 and as low as $1,341. The
U.S. dollar index
was down 0.12% at $78.48 while the euro rose 0.21% to $1.36 vs. the dollar. The spot gold price was losing 70 cents, according to Kitco's gold index. Gold prices flat-lined Friday as China's central bank raised the amount of money banks must hold in their reserves by another 50 basis points. This is the second move in two weeks and the fifth this year. By raising the reserve ratio, China is hoping to take more money out of circulation to keep a lid on inflation, which popped in October to 4.4% from a year earlier. Traders had been expecting some kind of move, although the rumor was a hike in interest rates, which the country typically does around the 20th of any given month. Raising the reserve ratio is not as aggressive as raising key interest rates, but is enough to cap gold's 1.2% rally on Thursday. "Every bit of news suddenly takes on a greater level of importance when people are at this level of nervousness," says Jon Nadler, senior analyst at
Kitco.com
. The more China takes steps to manage inflation, the more the investors buying gold as a hedge against inflation might dump their gold positions. Less cash in circulation and higher borrowing costs also cut into people's ability to spend. China is quickly catching up to India as the largest gold consumer in the world. In the third quarter, jewelry demand rose 8% and demand for gold bars and coins surged 64% from year earlier levels, according to a report by the World Gold Council. Any decrease in demand from the country would hurt a key growth factor for the gold market. Adrian Ash, head of research for
bullionvault.com
, says panic is unfounded and that central banks would have "to raise interest rates by a long way before it really makes a difference for cash savers."
Investors were somewhat calmed overnight as it became clear that Ireland would take a bailout from the European Union and International Monetary Fund. The country had been resisting any financial aid to avoid the stringent rules that go along with it. The country will have to meet certain deficit-reduction targets in order to receive lump sums and there is speculation that the country might be forced to raise its corporate tax, which is now at 12.5%. Although details of the package are still being figured out, uncertainty has ebbed for now, which is
helping support the euro, weaken the dollar
and provide a floor for gold prices. "Once this consolidation completes, we are looking for a particularly strong bull run in gold stocks," says Vedant Mimani, managing director at Atyant Capital. Mimani said he is "'only' at 75% long exposure. We will deploy the remaining 25% ... as we work through this period
of consolidation." Volatility and consolidation however might be the name of the gold game for the end of 2010. Nadler says "year-end book squaring ... year-end window dressing ... will definitely continue surprising moves day after day." Fund managers will be under pressure to show they own gold in their clients' portfolio, considering the metal is up 20% year to date, while others will opt to show profits instead. For the short term, gold futures could be even more volatile than the spot price as the Commodity Futures Trading Commission meets Friday to discuss regulations outlined in the Dodd-Frank Act. The CFTC will be debating position limits for physical commodity futures contracts and swaps. Options expiration at the end of November will also add to the volatility of gold prices as traders either roll over their contracts or let them expire. Silver prices settled up 34 cents to $27.17 while copper was flat $3.83.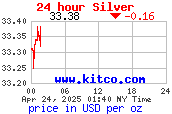 Gold mining stocks, a risky but profitable way to buy gold, were rising. Freeport McMoRan Copper & Gold ( FCX) was up 1.88% to $101.73, while Kinross Gold ( KGC) was 0.45% higher at $17.88. Other gold stocks Iamgold ( IAG) and New Gold ( NGD) were trading at $17.16 and $8.94, respectively. -- Written by Alix Steel in New York. >To contact the writer of this article, click here: Alix Steel.