NEW YORK (
TheStreet
) --
Gold prices
broke to record highs Monday as investors piled into the precious metal. Gold for December delivery settled $5.50 higher at $1,403.20 an ounce at the Comex division of the New York Mercantile Exchange and was continuing higher in after-hours trading. The gold price Monday has traded as high as $1,407.20 and as low as $1,386.60. The
U.S. dollar index
was adding 0.62% to $77.02 while the euro was losing 0.83% to $1.39 vs. the dollar. The spot gold price was up more than $13, according to Kitco's gold index. Gold prices broke through the psychologically important resistance level of $1,400 an ounce midday Monday as investors took advantage of early morning price dips to buy the precious metal. Gold prices rallied 2.7% last week after the
Federal Reserve
announced its $600 billion asset purchase program and shook off mild profit-taking to break to new highs. Helping spur gold's rally today are investor worries over the health of the eurozone economy. Phil Streible, senior market strategist at Lind-Waldock, says the "spreads between Ireland and Germany are widening, which is telling you that Ireland is become more and more risky." Streible says that the Fed's bond purchase program has provide clarity and stability for the U.S. market and that now the focus is turning on Europe. George Gero, senior vice president at RBC Wealth Management, says that gold could hit $1,500 by the end of the year as record open interest provides good support for technical trading. But not all analysts are as optimistic. Some are skeptical that gold's current rally can last. Gold "remains vulnerable to risk reduction and short-covering rallies in the dollar," says James Moore, analyst at
thebulliondesk.com
. Moore, however, does believes that investors will continue to move into gold as protection against the Fed's looser monetary policy. Investors turn to gold as a hedge against inflation, which many fear will be the inevitable long-term result of the Fed's bond purchase program, as more dollars in circulation reduce the currency's value. The U.S. is coming under some heat from the international community for its quantitative easing, round two, which is set to take center stage at the G-20 meeting in South Korea later this week. The worry is that the U.S. is purposely pushing the dollar lower in order to improve its exports and help the economy, while other higher-yielding currencies like the Brazilian real rise in value. Although the meeting isn't expected to change Federal Reserve policy, it will highlight the fragility of global currencies and only increase gold's appeal as hard money that retains value. Recent comments in the
Financial Times
from Robert Zoellick, president of the World Bank, have only supported that thesis. Zoellick said that there needs to be a global "co-operative monetary system" involving multiple currencies as well as using gold as an "international reference point of market expectations about inflation, deflation and future currency values." Zoellick says that gold is not old money but that markets are using the metal as a viable alternative to paper currencies. Jeffrey Christian, managing director of the CPM Group, says that using gold as a barometer of market expectations is "nonsense. Gold prices reflect both inflation and various currencies' values only partially and imperfectly, because gold responds to many other factors as well" such as investment demand and supply/demand constraints.
Silver
is also shining along with gold as a "cheaper" hard currency. Prices have rallied to 30-year highs settling up 68 cents to $27.43 while copper was flat at $3.95. Both metals were stronger after the Labor Department said Friday that 151,000 jobs were added in October, which was better than expected. The news along with strong corporate earnings have painted a modestly optimistic picture of a global economic recovery, which means more demand for industrial metals.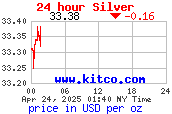 Gold mining stocks
, a risky but profitable way to
buy gold
, were rising Monday.
Freeport McMoRan Copper & Gold
(
FCX
) was up 0.27% to $105.10 while
Yamana Gold
(
AUY
) was 0.94% higher at $11.82. Other gold stocks
New Gold
(
NGD
) and
Gold Fields
(
GFI
) were trading at $8.70and $17.10, respectively.
-- Written by Alix Steel in New York. >To contact the writer of this article, click here: Alix Steel. >To follow the writer on Twitter, go to http://twitter.com/adsteel. >To submit a news tip, send an email to: tips@thestreet.com.