NEW YORK (TheStreet) -- Spot gold prices continued their positive price action Wednesday afternoon as the U.S. dollar exhibited vulnerability.
The U.S. dollar index was down 0.5% to $77.42. "Few members of the press -- and for that matter investors and speculators -- stop to consider that the rise in the price of gold is tied to the value of the U.S. Dollar and not to the rate of inflation," James DiGeorgia, publisher of the 'Gold and Energy Advisor' and author of 'The Trader's Great Gold Rush' said in a Wednesday note. "The value of the dollar, of course, is tied to full faith and credit of the U.S. government." That said, DiGeorgia thinks the level of faith and credit of the U.S. Government has become a "growing problem" over the past decade and gold has climbed in the meantime. Evidence of the falling value of the dollar, DiGeorgia believes, was recently indicated by Fed Reserve chairman Ben Bernanke, "who warned that the United States faces serious long-term challenges that could threaten the nation's economic future." Separately, EverBank World Markets president Chuck Butler, in his Wednesday note, stressed that the dollar index is in "relentless decline," falling 12% from its June high. "So, June was the end of the dollar strength, although we've had bouts of it back and forth, the overall trend since June is of dollar weakness." New York spot gold prices were rising by $8, or 0.6%, to $1,348.60 an ounce Wednesday afternoon.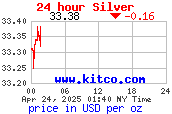 New York
spot silver prices
were popping by 32 cents, or 1.4%, at $23.19.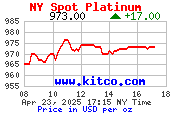 New York spot platinum prices were advancing by $3, or 0.2%, at $1,694 an ounce, while its sister metal was climbing even higher. Kitco analyst Jon Nadler said palladium remains at the top of his precious metals list given that it's a cheaper substitute for gold for jewelry and for platinum for auto catalysts.
New York spot palladium prices were adding $10, or 1.7%, at $587 an ounce.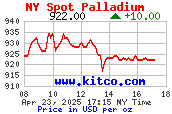 A group of mining stocks and precious metals ETFs were generally advancing Wednesday afternoon. Mining stocks offer another form of exposure to precious metals.
Goldcorp
(
GG
) closed the trading session up 2.5% at $45.18 and was flat in after-hours trading. Meanwhile,
Silver Wheaton
(
SLW
) closed down 0.3% to $26.96 and was ticking 0.1% lower to $26.93 in the after-hours market.
Barrick Gold
(
ABX
) finished 2.7% higher at $48.59 and was up 0.1% at $48.66 in after-hours trading.
Freeport-McMoRan Copper & Gold
(
FCX
-
Get Report
) settled at $93.62, up 2.7%. Shares were higher by 0.4% at $93.98 in the after-hours market.
SPDR Gold Trust ETF
(
GLD
-
Get Report
) closed at $131.81, up 0.6% and was flat at $131.85 in after-hours trading.
ETFS Physical Palladium Shares
(
PALL
) ended the regular trading session up 1.8% at $58.80. It was inching lower by 0.3% to $58.62 in the after-hours market. -- Written by Andrea Tse in New York. >To contact the writer of this article, click here:
Andrea Tse
. >To follow the writer on Twitter, go to
Andrea Tse
. >To submit a news tip, send an email to:
tips@thestreet.com
.
RELATED STORIES: