NEW YORK (
TheStreet
)
Gold prices
popped to further record highs Wednesday as momentum buying and currency fears pushed investors into the precious metal. Gold for December delivery closed $7.40 higher to $1,347.70 an ounce at the Comex division of the New York Mercantile Exchange. The gold price traded as high as $1,351 and as low as $1,340 during Wednesday's session. The
U.S. dollar index
was down 0.48% at $77.43 while the euro was up 0.75% to $1.39 vs. the dollar. The spot gold price Wednesday was adding more than $5, according to Kitco's gold index. Gold prices have gained 2% this week on high volume. Most analysts expect any profit-taking to be met with dip-buying to support higher prices. James Moore, analyst at
thebulliondesk.com
, said the buying "mentality looks set to provide additional upside momentum with gold potentially looking to target $1,400." George Gero, vice president of global futures at RBC Capital Markets, believes there is a perfect storm brewing for stronger gold prices with higher open interest in the futures market teaming up with higher moving averages and higher closes. The technicals are all met against the backdrop of weaker global currencies as governments race to debase their currencies to increase exports and spur growth. "Other currencies
are weakening to the point that the world needed to hedge the devaluation with gold," says Gero. Morgan Stanley raised its bullish forecast to $1,512 an ounce. The story continued Wednesday with the private sector shedding 39,000 jobs in September, according to the most recent ADP report. The disappointing number is helping support the belief that the Federal Reserve will expand its balance sheet and buy more government debt. The Fed could join the Bank of Japan which announced a $60 billion asset purchase program of its own earlier this week. Worries in Europe also continue as Fitch downgraded Ireland from AA- to A+ with a negative outlook due to bigger-than-expected costs related to bailing out its banks. The International Monetary Fund lowered its 2011 growth forecast for advanced economies to 2.2% from 2.4%. Record high gold prices, however, have some analysts warning of a violent pullback and increased volatility especially headed into Friday's jobs number. A strong number could crimp the size of the Fed's money printing and bond purchase program while a weak number would all but ensure another round of quantitative easing.
U.S. Trust
President Keith Banks, according to a report in
Reuters
, said that the company is not recommending gold right now because the "things driving
high prices are beyond the types of things" where they can add value. Banks is not alone in his cautious belief. Barclays Wealth has been recommending to clients that they short the SPDR Gold Shares ( GLD), the most popular physically backed exchange-traded fund. Barclays believes that when the crisis premium comes out of the market that gold could fall to $800 an ounce. The ETF currently holds 1,301.91 tons of gold. "I'm a skittish gold bug when it comes to values in the gold market being distorted by possible transitory phenomena such as hedge fund participation," says Jon Nadler, senior analyst at Kitco.com. Nadler believes gold prices should live between $800-$1,200 an ounce once the crisis abates "as investors comes back to more level headed type of asset allocation." Nadler still believes that 10% of every investor's portfolio should be in gold, which is actually higher than most money managers. Pratik Sharma, managing director at Atyant Capital, is a long-term bull but is cautious on gold stocks over the short-term. " They are failing to make new highs on a stand alone basis as well as relative to gold ... gold stocks underperforming gold has historically served as a harbinger of a period of consolidation." However, negative real interest rates seem here to stay in the short-term which is one of the most bullish factors for high gold prices. Key interest rates are between zero and 0.25% while the real inflation rate is somewhere 3% to 5%, according to analysts, which means your purchasing power is only 95% to 98% on the dollar. If the dollar is literally worth less, than investors turn to gold as a safer place to preserve their wealth until interest rates become positive again. Silver prices settled up 30 cents to $23.04 while copper closed 2 cents higher to $3.75.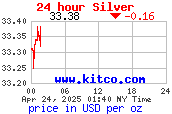 Gold mining stocks, a risky but profitable way to buy gold, were higher. Yamana Gold ( AUY) was up 0.51% to $11.79 while Freeport McMoRan Copper & Gold ( KGC) added 2.06% to $93.05. Other gold stocks Gold Fields ( GFI) and New Gold ( NGD) were trading at $15.85 and $7.07, respectively. -- Written by Alix Steel in New York. >To contact the writer of this article, click here: Alix Steel. >To follow the writer on Twitter, go to http://twitter.com/adsteel. >To submit a news tip, send an email to: tips@thestreet.com.

Readers Also Like: